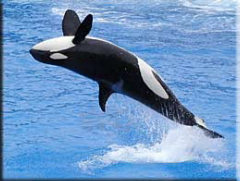 "Look, Charlie, let's face it. We all know that Christmas is a big commercial racket. It's run by a big eastern syndicate, you know," said Lucy van Pelt.
It's been forty years since Lucy spoke that cynical line in 1965's A Charlie Brown Christmas. In 2005, her words seem to ring truer than ever. For many of us, Christmas comes with the realization that dad doesn't need another tie. And Bill Gates has already earned all the cash you'd ever care to give him. It's a sentiment that has probably been around since retailers started marketing the holiday as a "Christmas shopping season" in the 1920s. Church leaders then denounced the commercialization as un-Christian.
"I think there must be something wrong with me," Charlie Brown tells Linus in the classic TV special. "Christmas is coming, but I'm not happy. I don't feel the way I'm supposed to feel. I always end up feeling depressed."
Christmas is supposed to be a time for generosity. It makes us feel good inside when we give a gift that's appreciated. But playing Santa doesn't have to mean aiding and abetting the Christmas industrial complex. There's a growing industry of gifts that benefit charities, as well.
Last Christmas, I bought my brother a gorilla. The year before, a friend of my wife bought her a flock of birds.
The gorilla, of course, didn't arrive in a cage under the tree. My brother really got a stuffed toy ape and a certificate. Most of the money I spent went to protecting gorilla habitat. The flock of birds my wife received, in fact, went to feed a family in a developing country. My wife got a small card in appreciation. Essentially, you buy someone a donation to their favourite charity and they get a token of acknowledgement of their contribution.
There are two main ways to give charity gifts. You can buy items like books, t-shirts, mugs and other trinkets from a charity where proceeds going to the cause. Or, you can make the contribution a gift in itself, usually in the form of a symbolic animal adoption. Usually, in such cases, tax receipts can be issued.
The following is a short list of charity gift ideas, but of course, it's only a fraction of what's out there. At the bottom, we invite you to add your own suggestions to expand the list of possibilities.
Gifts that give twice
Amnesty International is a worldwide champion of internationally recognized human rights. You can purchase items from their online shop or order books, videos and reports at 1-800-AMNESTY.
The BC SPCA's online store offers shirts, dog collars and other products, all at affordable prices. Proceeds help the SPCA protect the province's critters from abuse.
Canadian Feed The Children helps provide food, clean water, medical care, sanitation and education to the world's impoverished children. You can help them and help a kid in your life learn to cook by buying CFTC's youth-oriented cookbook, Feed a Young Mind.
The Canadian Red Cross makes it easy to shop and donate at the same time. By clicking this link, 7 percent of any purchase you make from Amazon.ca goes to the Canadian Red Cross. Anything from Amazon's selection of books, CDs. DVDs and video games is available. You can even buy a DVD copy of A Charlie Brown Christmas for $13.46.
The coffee-lover on your gift list might appreciate a pound of Van Houtte's Honduras San Luis coffee, which helps support CARE Canada. CARE Canada is part of an international humanitarian network committed to improving the lives of impoverished people worldwide. The coffee helps small farmer cooperatives in Honduras earn a living from their work.
In 1971, a handful of environmental activists got together in Vancouver and gave birth to Greenpeace. You can help them save the planet by buying shirts, handbags, books and "nuclear playing cards" from their online store.
The Western Canada Wilderness Committee is a BC-based organization that works to protect wilderness and wildlife in Canada. Its online store offers a wide range of books, calendars, videos, posters and other items.
The World Wildlife Federation works to protect the planet's natural environment and protect habitats for endangered animals. Its online store offers cards, mugs, shirts, backpacks, and artwork ranging in price from about $9 to $380. Many of the products come with the WWF's famous panda logo.
Can't decide? GiveMeaning.com lets you purchase a (tax deductible) gift card, then the recipient gets to choose which of their listed charities receives them. Described as a "website for the $5 philanthropist," the site can also arrange monthly donations of time or money to a specific cause or help organize a giving group - one that gets together to raise money for a specific project.
Animal and habitat adoptions
Chimpanzees are our closest animal relatives, yet we regularly subject them to abuses that make CIA renditions look like summer holidays. You can adopt a chimp from In Defense of Animals' adoption center and help provide a comfortable home for an ape rescued from abuse. Your gift recipient will receive a picture of your chimpanzee, as well as a full biography and periodic updates of his or her life in the Sanaga-Yong Chimpanzee Rescue Center in Cameroon.
You can preserve African wildlife by adopting a gorilla, lion, zebra, elephant or giraffe from the African Wildlife Foundation's adoption centre. Your recipient will get a cuddly stuffed animal, as well as a certificate and animal factsheet. Adoptions include a membership with the AWF and a subscription to its quarterly newsletter.
Pandas, polar bears, sea turtles, elephants, boreal forests and coral reefs are up for adoption at The World Wildlife Federation's online adoption centre. The WWF provides the gift recipient with a kit including a stuffed toy version of the adopted animal, a personalized adoption certificate, educational materials and other fun goodies. Tax receipts are provided. Money raised goes to protect endangered habitats.
You can also adopt a local Orca whale through the British Columbia Killer Whale Adoption Program.
Symbolic adoptions of animals are possible, as are live ones. Heifer International provides real livestock to poor families to help them sustain themselves. You can give from a wide selection of animals including goats, sheep, cows, pigs, ducks, chicks, bees and rabbits. Give a symbolic flock of chicks to a friend, and know that a flock of real chicks is going to provide eggs and meat to a family in need.
World Vision Canada is another organization that lets you give livestock like ducks and water buffalo to needy families. But you can also sponsor vulnerable children -- the human kind -- through the organization. Check out World Vision Canada's catalogue here.
Maybe you're a Grinch who doesn't like animals or people. You can still adopt real estate. The Land Conservancy lets you adopt an acre of BC land to protect, as well as offering animal adoptions. Areas include the Horsefly River in the Cariboos, The Wycliffe Wildlife Corridor in the East Kootenays, and South Winchelsea Island in the Gulf Islands. Some people adopt the same chunk of favourite land, year after year.
Still can't decide? Want to give a real gift, but one that's local? Check out BALLE BC's Buy Local site which helps connect people to local, ethical businesses.
More ideas? List them below.
Dee Hon is a regular contributor to The Tyee. This year, he was nominated for a Jack Webster Award.