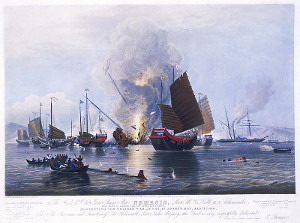 Wealth and Power: China's Long March to the 21st Century
Orville Schell and John Delury
Random House (2013)
For two centuries, China has fought a kind of intellectual civil war over its relationship to the rest of the world. Who won? As Zhou Enlai reportedly said about the significance of the French Revolution, it's too early to tell.
Up until the early 19th century, China called itself the Central Kingdom for a very good reason: it was the unquestioned superpower in the world it knew. For thousands of years its neighbours had come to it for everything from trade goods to philosophy. Its political system, a government bureaucracy run by winners of annual exams, had endured for centuries. Even Mongol and Manchu conquerors had been transformed into Chinese by a culture far more sophisticated than theirs.
After a brief exploratory period that saw Chinese fleets sail as far as the east coast of Africa in the early 15th century, China drew back into itself. The term for foreign relations was "barbarian management," and it was considered a minor matter.
That all changed with the First Opium War in 1839. The British were importing vast amounts of tea from China, but were obliged to pay for it in silver. China simply had no interest in European gadgets and trinkets. Like the drug cartel it was, the East India Company decided to force opium into the Chinese market, simply to correct a balance of payments problem.
That was only the first of a whole century of shocks. China had been running very well for millennia, and suddenly it wasn't running at all. Everything that had made the country a success was called into question. But at the same time, the idea of rejecting its own culture seemed unthinkable.
Confucians versus Legalists
As an intellectual history, Orville Schell and John Delury's new book is different from many recent histories of China, which have tended to focus on the political and military struggles and successes of the Communists since their early days. The authors argue that the Communists, whatever their policies, have been very much in the mainstream of Chinese political thought going back a century before the Long March. In fact, that tradition goes back 2,500 years to Confucius.
Confucius had argued for a government of virtuous scholars acting morally. His views had become political orthodoxy for one dynasty after another, though they were honoured as much in the breach as in the observance.
But critics known as Legalists had attacked that orthodoxy repeatedly, defining good government in a phrase: "Enrich the state and strengthen its military power." How? Whatever worked. (Machiavelli would later unconsciously echo the Legalists when he wrote, "Where the state is well armed, the laws are good.")
After simmering for centuries, the debate came to a full boil after the First Opium War. The barbarians had not just won; they had humiliated the whole empire. The humiliation persisted in every Chinese port where the British had demanded trade privileges and protection from Chinese laws.
China's intellectuals realized that something was horribly wrong, but they had to find the solution in their own culture. They had a vast literature and history to draw upon, but it was all Chinese. Scholars knew little about the non-Chinese world -- and less about the way that non-Chinese thought. Even "thinking outside the box" was an unthinkable idea.
One political scholar was Wei Yuan, who compiled a cleverly-edited anthology of Confucian thinkers that implicitly criticized Confucius and endorsed the Legalists. He argued that "Before the peace settlement, it behooves us to use barbarians against barbarians. After the peace, it is proper for us to learn their superior techniques in order to control them." Confucius would have denied the whole premise of barbarian superiority.
Every Chinese regime since the founding of the Republic in 1911 has effectively accepted Wei's advice on barbarian management as the means to wealth and power. Mao played off the Russians against the Americans and vice versa, learning first from Lenin and Stalin and then from Nixon and Kissinger. His successor Deng Xiaoping carried on the tradition, learning every superior technique he could beg, borrow, or steal. But millions died in the battles to decide how to achieve that goal.
The first of those battles was the Taiping Rebellion in 1850, led by an aspiring civil servant who failed the exams and suffered a mental breakdown. He emerged claiming to be the younger brother of Jesus, sent to rid China of the Manchus and Confucian-style government. By 1871, when the rebellion finally collapsed, between 20 and 30 million had died.
Feng Guifen, another exam failure, finally passed in 1840 but left his government job to help defend his native Suzhou against the Taipings. They drove him out, and finding refuge in Shanghai he began to study the Europeans there. He then argued that China should admit foreign superiority, adopt some of their ways, or perish.
'Self-strengthening'
That wasn't all. Feng invoked the idea of "self-strengthening" -- not just buying foreign arms, but building such arms and other new technology right on Chinese soil. In 1860, after studying American politics, he called for "village democracy," with small towns electing their own leaders.
But Schell and Delury say Feng's own philosophy was "participatory authoritarianism": using western means for eastern ends. This eventually evolved into "socialism with Chinese characteristics," and it is still the policy of today's government. (It's also the basis of North Korean juche, or self-reliance, but with less impressive results.)
By the beginning of the 20th century, everyone from the Dowager Empress Cixi to Sun Yat-Sen to the teenage Mao Zedong agreed on self-strengthening as the route to wealth and power. The question was how to do it. Cixi guessed wrong when she backed the Boxers against the Europeans, and the Qing dynasty fell as a result. The Republic of China rose in its place.
Lenin tilted the debate towards communism by a single brilliant decision: Once in power, he withdrew all Tsarist claims on Chinese territory. This made the Soviets the only westerners who weren't trying to carve up China after the First World War, and it won them enormous good will.
Lenin's ability to scare the imperialist powers also looked more effective than American-style democracy, so Sun Yat-Sen and the early Chinese Republic studied the Soviets; a promising young soldier, Chiang Kai-Shek, was even sent off to Moscow for military training; he returned to lead the Guomindang, an anticommunist party organized on strict Leninist principles.
We want results
Ideology had nothing to do with it. Communists or Nationalists, the Chinese wanted Legalist-style results, wealth and power, not some Confucian-style feeling of being moral and proper.
That wasn't all China absorbed from Western thought a century ago. Imperialism was by definition the way to become a Great Power; Japan set about building an empire as soon as Commodore Perry's steamships left Tokyo Bay, and in a series of wars it carved that empire out of China.
The Chinese, humiliated by Japan's rapid rise, weren't interested in overseas colonies. But they understood the European idea of "social Darwinism," in which each country fought with tooth and claw to survive against every other country, and the weakest would go to the wall.
Social Darwinism also motivated Chiang when he broke the Guomindang alliance with the new Communist Party of China, massacred thousands of Reds, and pursued Mao into China's hinterland. That became Mao's Long March to power; his teeth and claws were ultimately sharper than Chiang's.
Three decades of nightmare followed the triumph of Mao: Millions died in class warfare against "rich peasants," and millions more died whenever Mao wanted to show who was boss. But after all the campaigns, all the purges, after shattering the party itself, Mao could not answer China's pragmatic question: "Does this bring us wealth and power?"
Capitalism with Chinese characteristics
Once Mao was safely dead, one of his most loyal followers, Deng Xiaoping, had an answer that has lasted at least for the past 35 years: "No. But capitalism with Chinese characteristics should do the job."
And so it has. I recall buying a can of Chinese string beans in a North Vancouver grocery store in 1972 and feeling an illicit thrill: still an American then, I was Trading with the Enemy. Now, it's hard to buy something that hasn't been made in China.
Before our eyes, the Chinese have reshaped not only the Middle Kingdom, but the planet. Wealth and power? They've put a robot on the moon, black-box detectors in the southern Indian Ocean, and tourists everywhere from Venice to Vancouver. If they don't buy our liquid natural gas, Canadian leaders will be heartbroken, and the rest of us will be broke, period.
China's rulers have struggled for two centuries to manage the barbarians, and at the moment they're doing pretty well. But some billionaire's mistake, some party leader's miscalculation, could bring everything down like the Qing dynasty -- only on a worldwide scale.
And if that happens, the Chinese will look for yet another path to wealth and power.