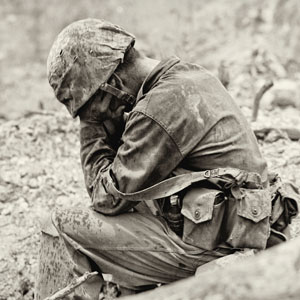 The Deserters: A Hidden History of World War II
Charles Glass
Penguin (2013)
When I was drafted into the U.S. Army in 1963, we joined the military with a symbolic step forward. The only one who didn't move was a Jehovah's Witness; I ruefully admired him as the bravest man in the room.
In those days, conscientious objection was only marginally more acceptable than draft dodging, and only outright desertion was worse. Our parents had fought in the Second World War, which had been a "Good War," a just struggle against genocidal evil. That Manichean struggle had carried on into the Cold War; we were enlisted in it whether we liked it or not.
By 1965, however, it was getting harder to tell good from evil. The Vietnam War had put us on the side of petty military warlords and against the nationalists led by Ho Chi Minh and General Vo Nguyen Giap (whose recent death, aged 102, must have resonated with thousands of Vietnam veterans).
In barracks bull sessions, we began to swap rumours of guys who had bugged out for Sweden or Canada. Fort Ord's Special Forces recruiter, Sgt. Don Duncan, widely considered the coolest dude we recruits had ever met, left for a hitch in Vietnam and came back to declare, on the cover of Ramparts Magazine, "I quit."
The myth of the Good War
But even after Saigon fell, the myth of the Good War persisted. Only gradually did it begin to weaken. George Orwell, in Decline of the English Murder, described the violent career of an American deserter in wartime Britain. Decades later, Paul Fussell and Kurt Vonnegut -- both casualties of the Battle of the Bulge -- described a war in which hapless individuals were fed into a meat grinder where life and death were purely a matter of chance. Let us hope that Charles Glass's new book The Deserters has finished the myth off.
Fear of battle is as old as war. The Greeks massed their soldiers tightly, shoulder to shoulder in the close ranks of the phalanx, to prevent anyone from breaking and running. According to military historian Richard A. Gabriel, 25 per cent of the U.S. Army deserted in the frontier wars against the natives, and Custer's 7th Cavalry was especially vulnerable to desertion.
Advancing technology only made matters worse. Modern warfare was about killing men at a distance, without even giving them a chance to show their courage in hand-to-hand combat. Instead it involved being shelled and shot at while crouching terrified in a trench or foxhole.
In the First World War, Glass tells us, psychiatric collapse in combat began to be recognized as more than a failure of character. "Shell shock" was the subject of intense study: the psychiatric casualties of the first war filled over 30,000 beds in Veterans Administration hospitals. Now called "combat fatigue," it was a hazard as real as shrapnel, and the army didn't want to deal with it in another war.
War as psychopath heaven
So the Good War had to be fought without the help of the 1.8 million Americans rejected for psychiatric disorders by 1942; even those accepted were breaking down in training at the rate of 300 a week. Six hundred thousand were discharged from the army for "neuropsychiatric reasons." And that was early in the war.
By the end of the war, Richard A. Gabriel says, it was found that only two per cent of soldiers could get through 60 or 70 days of constant combat without psychiatric breakdown. Those two per cent were already psychopaths.
Even so, desertions were relatively minor in most units (and nonexistent in the Pacific War, where there was nowhere to run). Industrial warfare was a matter of immense supply lines feeding men and munitions into the front -- and there the stress was highest and desertions most common, among the minority doing the actual fighting.
Glass gives most of his attention to just three men who deserted -- not because they were typical, but to show that there was no "typical" deserter. John Bain, an English kid from an abusive background, was a talented boxer and aspiring poet, fighting in North Africa with the Gordon Highlanders. Al Whitehead came from the rural U.S. and was in combat almost continuously from D-Day onward. And Steve Weiss, a Jewish New Yorker, fought with a Texas National Guard unit in the invasions of Italy and southern France.
All three wrote about their experiences, and Glass spent many days with Weiss, even revisiting some of the places where Weiss had fought.
No cowards
None was a coward. Bain fought bravely in North Africa, snapped, and walked away. After six months in a penal barracks, he was offered freedom if he was willing to go back into combat. He agreed, and again fought well in the D-Day invasion. Recovering in England from wounds suffered in Caen, Bain deserted again after V-E Day and disappeared into the shadow world of 20,000 other deserters.
Whitehead, early in 1945, was also recovering in a French hospital; he deserted when told he was being sent into an unfamiliar "replacement" unit rather than back to his old unit. Getting to Paris, he became one of many GI gangsters who lived by armed robbery -- especially robbery of trains and trucks carrying war materiel to the front.
This kind of lawlessness was already a standard aspect of the war: In Italy, the Allies had freed the Mafiosi from Mussolini's jails, and those professionals soon recruited plenty of American inside men and deserters to hijack military supplies for resale on the black market. It remained a profitable sideline in the Vietnam and Iraq wars.
Steve Weiss had perhaps the most dramatic story. Cut off from their unit by the Germans, Weiss and a few buddies were rescued by the French Resistance -- who recruited them rather than immediately handing them back. After a dramatic month spent blowing up bridges and dodging the Gestapo, he was back in his unit.
But the unit was too busy fighting to pay much attention. The turnover in men and officers (replacements had a life expectancy of five days) meant Weiss knew almost no one, and couldn't trust his new leaders as he had trusted his boss in the Resistance. After one brutal German bombardment in mid-October 1994, he too deserted. Returning after a few days' solid sleep in a barn, he was sent back into the line despite his warning that he was a hazard to his fellow-soldiers.
Life imprisonment at age 19
So again he left, this time with a few others. Court-martialed, he was condemned at age 19 to life imprisonment and sent to a camp that he and his fellow-inmates had to build for themselves in the French woods. There he stayed until the war in Europe ended, when he was asked if he would serve in the Pacific. He agreed at once, but Hiroshima saved him; as Paul Fussell later wrote, Thank God for the Atom Bomb.
Immense research and careful documentation make The Deserters as vivid and concrete as a Le Carré novel. Glass has read not only the deserters' memoirs but those of their fellow-soldiers, as well as the transcripts of their courts-martial. He interweaves their stories, leaving one man's account to pick up another's, and we get a clear sense of how each story fits into the immense epic of the war.
It is some consolation that these severely damaged men managed to build some kind of postwar life: Whitehead as a barber in Tennessee, his dishonourable discharge eventually promoted to a "general" one; Bain as a poet and novelist; and Weiss as an officer of the Legion of Honour, a recognition of his service in the Resistance.
Canadian deserters play a minor part in Glass's book, but we have glimpses of them, and we should already know about the "zombies" (drafted on condition they not be shipped overseas) and the mutineers in Terrace.
We should also know that they, like all soldiers, continue to suffer wounds to the soul that their political masters would not heal even if they knew how to do it.
I often wonder about the Jehovah's Witness who stood his ground that day in 1963. I hope he did all right.