Vancouver author Chris Cannon, a former U.S. Marine who has described in a memoir what it felt like to kill a man in war, decided in 2007 that he could also write comedy.
He'd been watching Jon Stewart's The Daily Show, and thought: "Hey, I could do that."
Turned out Cannon went to school with one of The Daily Show producers who agreed to give him a try-out. He wrote some sample stories, did one correspondent audition, but was eventually rejected by Stewart's team and deported back to Vancouver's dodgy freelance writing world.
Flash forward five years. Cannon and his comedic collaborator Brian Calvert have developed a series of videos and a new book of political satire that could -- they hope, but really who knows -- get them big-time exposure this fall on The Daily Show, or its Comedy Central twin, The Colbert Report.
Late last year Cannon and Calvert (the "t" is pronounced unlike in Colbert) came up with the comedic concept of The Canada Party -- a fake party that would run for the presidency of the United States.
Shifting briefly into his satirical character in a recent interview, Cannon quipped about how they came up with The Canada Party shtick: "Brian and I hire immigrant children for all of our ideas. Slave labour, put them in a room, we have air conditioning so they are not technically sweatshops, they've got cots, they're treated well."
But seriously, Cannon continued, they felt the project would resonate with Canadians and Americans who, like them, were appalled by the candidates who were about to enter the Republican Party nomination circus -- a gong show made even creepier by the Tea Party, the Birthers, the National Rifle Association, the billionaire Koch brothers and puritanical social conservatives who believe women can naturally fight off pregnancy after being raped.
"We saw the American political campaigns getting loopier and loopier, and they seemed like a prime target," said Cannon. "And we like writing satire and parody, and so you look for the absurdity and the hypocrisy, and it was just getting more obvious this was something we needed to tackle."
Or, as Calvert told an interviewer for Public Radio International's The World program, "We just want to come and help America, fluff its pillows and serve it some soup and let it just kind of rest a little bit, and let us take the helm for awhile. There's been some drinking going on and we want to take the keys and get you home safe."
They produced five YouTube videos, some of which went viral, and then spun the political satire project into a book, America, But Better, a Canada Party manifesto designed to help Canada's continental BFF. The Canada Party satire has received coverage on CNN, NPR and the Huffington Post.
The book has so far exceeded the authors' expectations, making it onto The Globe and Mail's top-ten best-seller list (with little press coverage) in mid-August for Canadian non-fiction. The book is also on the cover of Vancouver publisher Douglas & McIntyre's fall catalogue with a media campaign in the works.
D-Day beckons
Next week Cannon and Calvert head to New York City. They have a few live "Canada Party" shows scheduled in small venues and are hoping their Big Apple publicist can score them some major exposure. "We just stay measured for the sake of our sanity about what may or may not happen," said Calvert. "But to be on Stewart or Colbert would be great. Obviously, they are both inspirations."
Cannon does most of the writing while Calvert is the front-man in the videos. In The Canada Party's opening video, which was released in early January and now has nearly a million hits, Calvert says to America:
"We're your friends. We've noticed you're hurting and we're here to help. That's why we are officially declaring our Canadacy for the presidency of the United States of America. We've seen your candidates and frankly they scare the shit out of us. So were volunteering our country to lead your country."
In their America, But Better book, the Vancouver satirists write to Americans: "We want you to elect us the next President of the United States. We had a chat with the rest of the world, and everyone agrees your addiction to dangerous, divisive politics has gotten out of hand, and you're headed for an overdose...
"So this is not an invasion; it's an intervention."
They added: "We have watched from a distance with the same horrified stare one might impart on a busload of kittens being carried away by a tornado. We have watched class warfare committed by a classless bourgeoisie ... We have watched, and for years have asked ourselves: 'Isn't somebody going to help those poor folks!"
The near-million-hit video that launched an invasion. Brian Calvert as the interventionist America clearly needs.
The Van Francisco strategy
Under the slogan Yes We Canada, the party of the Great White North promises to: Change the phrase "job creators" to "job creationists"; continue building pipelines, only ones with maple syrup; and close Guantanamo Bay and move the inmates to the Arctic, where they can be legally "snowboarded."
They propose combining cities into new ones, including "Van Francisco, Dirty Hippie Capital of the World!"
"Imagine the power of combining San Francisco's caffeinated, tech-savvy hippies with Vancouver's outdoorsy, weed-savvy hippies. Interstate 5 would become the world's largest bike lane. Facebook would stop trying to improve itself and 'just be grateful for what it has.' Granola would become a verb. Ulimate Frisbee would finally be considered a sport."
There has been a long tradition of we in our northern nation committed to "peace, order and good government" making fun of our southern neighbors in the land committed to "life, liberty, and the pursuit of happiness." Despite our deep-seated sense of being a gnat next to the elephant, we've felt a certain critical smugness towards the Yanks. A smarter-than-thou attitude that extends from the United Empire Loyalists to Rick Mercer's Talking to Americans.
While America, But Better may appeal to some Canadians who find American politics a never-ending Palinesque trove of cheap laughs (Clint Eastwood's talking-to-a-chair at the Republican National Convention being just the latest), Cannon and Calvert are adamant their comedic shtick isn't about mocking Americans.
"I'm sure that's an element. But it's not our focus, or our point. We don't want to make fun of anybody. We want to help Americans back on their feet and reclaim what is rightfully theirs, which is their government and media," said Cannon.
"It is very hard to write a book of humour when you are crying at night about the things you are writing about. There are a lot of jokes written in tears in this book."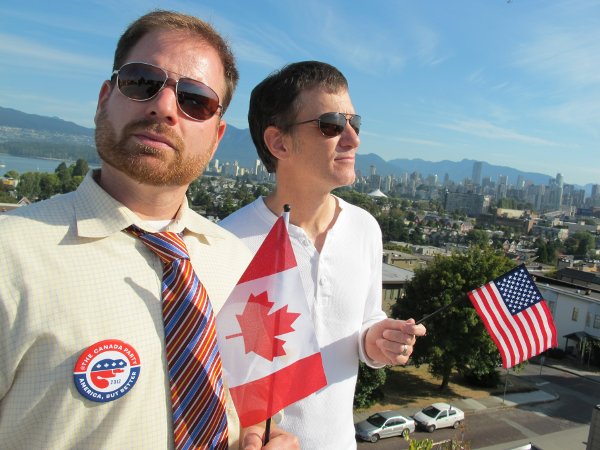 There are also jokes at Canada's expense. For instance, "Although Canada's best-known exports are cannabis and morally questionable oil, the country dominates the world's apology trade, its citizens issuing more 'sorrys' per capita than the next three most docile countries combined."
Cannon said America, But Better doesn't pander to "Canadians' smugness or on the other hand Canadians sense of inferiority -- standing next to be big guy on the block. It's much more of a coming together and helping our citizens and American citizens."
Out of the Marines, into Canada
Cannon's road to comedy is atypical. The 43-year-old native of Oklahoma joined the Marines in the fall of 1990 and served for six years, including two years at the White House under Presidents George Bush and Bill Clinton. After leaving the military, Cannon studied anthropology and literature at Columbia University and did graduate work at the University of Chicago. He eventually became a freelance writer, turning out books of rock music criticism and wrote articles for magazines, including Rolling Stone, Men's Journal, Vancouver Magazine and The Tyee.
In a memoir Little Sins, published in The Tyee, Cannon wrote about taking a life in combat. "It was ordinary, like taking the car in for a tune-up. The enemy was not a human being, he was a job to be done. The biggest event of my life seemed, somehow, tragically uneventful."
In an interview, Cannon wouldn't say where or when the killing occurred. "It's something I can't talk about. I put everything in the memoir and that's as much as I can say."
At which point, Calvert jumped in with his own biographical contribution, "I was a boy scout for about a year. I think I might have got a badge, but I never went on any of the camping trips, because I didn't want to leave my mom."
Calvert, 37, quit a career as a molecular biologist in the cancer research field a few years ago to cobble out a life in comedy; acting and producing short films, sketch comedy and multimedia live stage shows. 
While the main target of The Canada Party campaign is the Republican Party, Fox News, climate change deniers and same-sex marriage opponents, Cannon doesn't want to be seen as a political partisan.
"I don't consider myself a Democrat or a Republican. I consider myself a rational humanist," said Cannon.
"Obviously, it skews a little bit to the left. You can only make so much fun of the Democrats' ineffectiveness before you realize that Newt Gingrich is now the spokesman for the sanctity of marriage," said Cannon.
"If someone is lying, we're going to call them out on it. So we don't believe at all we are pandering to the liberal/left with our satire. Satire is a form of rhetoric and it's a powerful form of rhetoric when reason breaks down.
"We're doing what logical argumentation used to do."
Doing it well enough that Douglas & McIntyre are devoting considerable energy to promoting America, But Better, giving Cannon and Calvert time to fine-tune their fake political party project.
"It frees us up to work on the videos, the campaign posters, all these other things that we've been churning out," said Cannon.
"Also we've been writing a treatment for a screenplay, we've been thinking of a another book, and thinking of: If we had the opportunity to talk to Stephen Colbert, could we convince him to give us a correspondent gig?
"Or Rick Mercer. Or The Daily Show. In case we have any of those opportunities, we'll be ready for them."