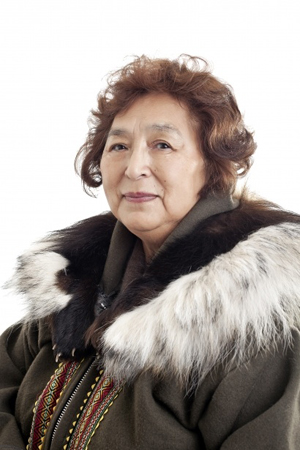 Fatty Legs: A True Story
Christy Jordan-Fenton and Margaret Pokiak-Fenton
Annick Press (2010)
When Olemaun was eight, she begged her father to let her attend residential school in Aklavik, a small community on the west side of the "tangled" Mackenzie River delta in the Northwest Territories -- far from her home in the Arctic High North.
Hearing bits of Alice in Wonderland from an older half-sister, Margaret wanted to know why Alice went down the rabbit hole -- if not to hunt the hare -- and what happened to her down in the burrow. She had to learn to read.
Her father, who himself attended residential school in Hay River, eventually relented. But before she left, he warned her that like rocks worn smooth by lapping water, her spirit would be worn down. She went on to spend two years in the Catholic school in Aklavik.
Now 76, Olemaun, whose full English name is Margaret Pokiak-Fenton, knows what happened to Alice. In those two years she did learn to read, but like many residential school students she endured bullying by caregivers, separation from her family and an education aimed at erasing much of her Inuvialuit knowledge.
It took Canada years to acknowledge the devastation wrought by residential school systems, which saw approximately 150,000 aboriginal, Inuit and Métis children taken from their parents, some forcibly, and placed in church-run, government-funded schools. Stories continue to emerge, and it's clear there is more to learn about how the emotional and physical trauma inflicted by that act echoes today.
But in her quest to learn to read, Pokiak-Fenton found ways to cope. When a mean-spirited nun's cruel deed sparked other students to call her "Fatty Legs," she stood up to her tormentors, including the nun who she calls the Raven. Hers is a story of defiance, one she told decades later to her daughter-in-law on a drive into town near her home in Fort St. John, B.C.
"Margaret's story was the first story I ever heard about residential schools that had any triumph in it, or that could be told broadly to children," says Christy Jordan-Fenton. "I started bugging her to let me write it."
Together, they did, and their jointly-written Fatty Legs has since been widely honoured in the children's book world, landing on the Globe and Mail's Ten Best Children's Books of the Year in 2010 and named a finalist for the Sheila A. Egoff Children's Literature Prize, part of the BC Book Prize awards. With 32,000 copies currently in print, a sequel just published and a picture book on the way, momentum for the story continues to build.
Pokiak-Fenton says she feels "blessed" by the book's success. She says that while she sees a lot of children in the audience during readings, the story of when she was called Fatty Legs has resonated with aboriginal and non-aboriginal adults, and residential school survivors too.
"When people feel hopeless," she says, "they read it and find there is a way."
'A chance for hope'
As the story goes, Pokiak-Fenton receives her nickname after the Raven forces her to wear red stockings -- different from the standard gray -- which accentuated her athletic legs. When she decides to protest, she is humiliated and sent to clean the dirty laundry as punishment.
There, she courageously throws the stockings into the crackling fire under the laundry vat, and avoids further punishment with the help of a kinder nun who admires her subversion.
Colleen MacMillan, associate publisher at Annick Press, says she knew Pokiak-Fenton's story was special early on.
"Margaret in her own way fought back against authority. I think the way in which she did it, the personal dignity that she showed, and her strength of character is what people are relating to," she says.
But more than a story of triumph, Fatty Legs fills a teaching resource void for middle readers, MacMillan adds, especially in recent years as Canada has worked to become more familiar and empathetic with what happened in residential schools. The federal government didn't formally apologize until 2008.
Jordan-Fenton agreed there's a need for captivating stories that introduce kids to the history of residential schools. Though her stepfather also attended a school, she says she never really knew much about them until working on her mother-in-law's story.
"There's a general consensus with Stephen Harper's apology that there needs to be education and this needs to be in the curriculum, but there's really just been so few resources out there," she says.
Few residential school survivors speak about their experience, says Pokiak-Fenton, but the book has helped spark reflection.
"So many of them have problems that they put out of their mind, but deep inside they just don't know how to cope with it. But then my book gave a lot of people a chance for hope. I think that's why, when they read the book, it makes them understand so much more than they ever knew."
Follow-up book tells of life after
While 2010's Fatty Legs continues its endurance run, Pokiak-Fenton has since penned another installment of her story, again with Jordan-Fenton as cowriter, and increased the scope of her audience. A Stranger at Home, the story of what happened to Pokiak-Fenton after her return home from residential school, was published last year, with 5,300 copies currently in circulation.
"It's hard to communicate when you first go home from school what it's like in school, because it's very hard to understand why they did things like that," Pokiak-Fenton says. "Some of the residential school students never overcame their problems."
Reuniting with her family, at first her mother didn't recognize her. And in the days following, Pokiak-Fenton found she wasn't able to stomach northern food anymore. She'd lost the naturalness of her language. A Stranger at Home tells her story of trying to fit back in again.
"We've heard a lot from residential school survivors... saying this is a story nobody ever tells and is in some cases the biggest struggle that they have," says Annick's MacMillan.
Remarkably, Pokiak-Fenton eventually returned to school. She accompanied her equally curious younger sisters, after school attendance was made a condition for receiving government benefits.
As she explains in Fatty Legs, "We Inuvialuit are headstrong. Thankfully, we are also resilient. So reluctantly, I went with them -- to make sure that they did not forget that wrens can be just as clever as ravens and owls."
The next step is to turn these stories into a picture book for young children. The hope is that When I Was Eight, currently in production, will be the first stepping stone in a child's understanding of the impact residential schools had on aboriginal families, roots, and language. The central theme will be Margaret's motivation to attend school in the first place: to learn to read.
That's something young kids can relate to, MacMillan says.
"It's similar to how people in a democracy don't vote. People who don't live in a democracy go out in huge numbers when they get a chance to vote," she says. "That's kind of Margaret's story. She didn't have a chance to read, and she wanted it so desperately that she put herself through this.
"It reminds kids that hey, you know what, you're really lucky that this is a given for you."