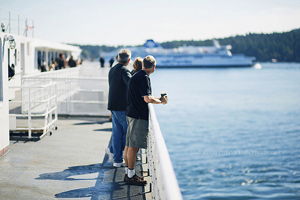 Ferry Tales: Mobility, Place, and Time on Canada's West Coast
Phillip Vannini
Routledge (2012)
For most of the morning, Sointula, B.C.'s First Street is ideal for dogs' naps. But as 11 a.m. approaches, the street comes alive.
Cars and trucks line up for the ferry from Port McNeill, carefully leaving gaps in front of local businesses. People hang out, socializing in the street or in front of the co-op. Some are hitching rides. Others are "pithering," asking ferry riders to run errands for them. As the ferry approaches, people return to their vehicles; then the newcomers arrive.
Outsiders like me anxiously await one truck from Port McNeill: it brings the day's Globe and Mail. Sointula may be thoroughly online, but visiting urbanites still like to be in touch through a proper newspaper.
That's part of the tension that urbanites and islanders both love and resent about life on B.C.'s coastal waters. An island is a great place to get away to, a place where you're free to be yourself. But you sometimes need to get away from the island as well, or you might as well be in jail.
Ethnographer Phillip Vannini has closely studied this tension and the system that both makes islander culture possible and limits it: the B.C. Ferries. His book Ferry Tales is as quirky as islanders themselves -- part academic study, part gossip, and part website.
As he observes in describing the impact of the sinking of the Queen of the North, "ferry boats [are] not just a means of conveyance, but a means to a unique way of life." Without ferries, scores of thousands of British Columbians would have to abandon their culture. Yet ferries constrain that culture, forcing them to obey its own rules.
In the course of three years of research, Vannini made some 250 trips involving ferry travel -- chiefly to and from places that have no alternative ways to be reached. In the process, he talked to hundreds of people who depend on ferries.
Utopian islands
"Just like many other rural communities," he says, "islands and remote coastal towns hold great appeal for people wishing to live alternative lifestyles and create idyllic spaces and communities."
These communities, he argues, must deal with "insulation" and "isolation" -- they're sealed off from the urban rat race, whose evils they tend to exaggerate, but they may also feel blocked from moving where they please. The ferries create both conditions.
Islanders and coasters have always been part of B.C. The colonial government encouraged the original settlement of Saltspring Island in 1859 as an agricultural provider for gold-rush Victoria. As Ruth Sandwell shows in her 2005 book Contesting Rural Space, most settlers preferred subsistence farming and to hell with the government's wishes.
Similarly, Finnish workers founded Sointula on Malcolm Island as a self-sufficient communal utopia, and American hippies and draft dodgers gravitated to the Gulf Islands in the 1960s and '70s with the same goal in mind.
Now, however, new immigrants penetrate the insulation and break the isolation. They include retirees and the creative classes that can live anywhere they can get a good internet connection. Others seek holiday getaways from their lives in California. All these newcomers bid up the price of real estate without really replacing the economic activity that once sustained places like Sointula and Texada Island.
The social and cultural tensions resulting from these changes, Vannini argues, are based on the ferry system that links so many communities on islands and remote parts of the coast. The ferries permit access in the first place -- but only to the communities they serve. Those in rarely served communities like Ocean Falls must plan on three days' ferry travel just to go grocery shopping. As newcomers arrive in island communities, they often agitate for more ferry service -- which worries permanent residents who don't always want more tourists and weekend visitors.
Ferries as playgrounds
Regardless, islanders incorporate the ferries into their culture. Communities respire by the ferry schedule. Lineups have their own etiquette. Once aboard, passengers must adjust their sense of time: For islanders, time speeds up on the ferries while it seems painfully slow for urbanites. From catching them to rolling off them, ferries provide a kind of playground for their passengers.
The big ferries permit the anonymity of a shopping mall, while small ones are extensions of their communities. Vannini tells a good story about a misbehaving Sointula teen homebound from school in Port McNeill; the ferry captain phoned the teen's mother, who marched down to the terminal and onto the ferry to make her erring son apologize personally to crew and passengers.
Yet the ferries are a corporate provider of transportation, and they run when and where the corporation pleases, and they charge what the traffic will bear. Much as the islanders may resent the ferries' schedules and prices, they're also aware that B.C. Ferries resents them too: they insist on living in remote places, draining the profits made on the big runs between Vancouver and Victoria/Nanaimo.
Transport or wayfaring?
Vannini, now living on Gabriola, shares the islanders' feelings. "In a just society," he writes, "a transport provider cannot remain unconcerned with the politics of place-making in which it is involved. A meshwork assemblage characterized by local governance, long-term foresight, and social and environmental well-being could make strategic political choices to encourage certain travel motives and discourage others -- all the while reducing islands' and coastal towns' dependence on larger centers."
He draws a contrast between "transport" and "wayfaring," between being moved like so much freight and moving where and how one chooses. The transport model, he argues, "marginalizes islands and coastal villages." He would like to see islanders as wayfarers, with "the power to foster development of their communities and ways of life along the ocean, rather than across it and in spite of it."
Vannini says we should "take back possession of marine highways as commons, to turn the ferry service into a user cooperative governed locally," creating "a meshwork of interwoven paths along which places are dwelled in -- not merely built upon -- and borne out of movement -- not merely disconnected."
Ferry Tales struggles in places: Vannini is talking both to us and to his fellow ethnographers, so he often lapses into a technical jargon of "taskscapes" and "place temporality" and "mobility constellations." But in his direct and affectionate observations of how we live and move on this coast, he captures us as individuals and as a culture.