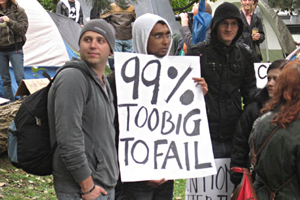 Make This Your Canada
David Lewis and Frank Scott
Hybrid Publishing Co-operative Ltd. (2001; originally published 1943)
The Occupy movement has fallen out of the headlines for now (though not out of the twitterverse). We wait to see if it moves beyond a six-month wonder, from the first announcement of Occupy Wall Street to its present obscurity.
But I've recently learned that Occupy's basic critique of society is at least 70 years old. It is essentially that of the Cooperative Commonwealth Federation, which transformed itself into the New Democratic Party half a century ago.
A friend gave me a notable Christmas present -- a book published in 1943 titled Make This Your Canada. The authors were none other than David Lewis and Frank Scott, legendary figures on Canada's left. Scott had helped to write the Regina Manifesto; Lewis was the national secretary of the CCF and the father of Stephen Lewis.
The book summarized CCF policy and principles as they had developed through the Depression and the first years of World War II. The authors' purpose was to envision a postwar CCF government operating under those democratic socialist principles. One chapter in particular might have been written in 2012, not 1943. Its title: "Political Action for the 99%." They wrote:
"Many of us have become cynical where politics is concerned. Corruption, class legislation and political irresponsibility no longer move us to indignation. Instead, we shrug our shoulders, as if to say, 'What can you expect?' This attitude threatens the whole democratic fabric of our country.
"The cause for this attitude is not far to seek. For many years now, the distinctions between the old political parties have ceased to have any meaning in the lives of our citizens. The people's experience has always been that their lot was neither better nor worse under one or the other government. Political promises seem never to be fulfilled and yet are shamelessly repeated at every election. Democracy has been frustrated by political machines and huge campaign funds supplied by those who are not in the habit of investing without profit... In short, democracy has become a form with little of soul or substance."
'The people's will must be made effective'
"Let there be no mistake: the political life of the country will be controlled, if not by the people, then by the vested interests. Indifference on our part is precisely the guarantee that special privilege will continue to rule. The people's will must be made effective. To achieve this end, they must gain control of economic and political power."
After describing the major Canadian groups -- workers, farmers, and middle classes -- Lewis and Scott drew a dramatic contrast:
"How big are these groups? All of us, of course, know from our experience that together they comprise the majority of our population, but few realize just how big a majority." Lewis and Scott cited a table, based on 1931 census data, showing the percentage of Canada's population in these three groups:
Working Classes: 815,000 families; 42.5 per cent of the population
Farm Classes: 598,700 families; 31.2 per cent of the population
Middle Classes: 492,000 families; 25.7 per cent of the population
Sub-Total: 1,905,700 families; 99.4 per cent of the population
To these they added the "Well-To-Do," defined as earning $10,000 a year or more -- the equivalent in today's money of $153,000. This group made up 0.6 per cent of Canada's people.
"The well-to-do group," Lewis and Scott wrote, "is merely a dot in proportion to all the other figures and needs a magnifying glass to be identified. It is to this dot that the whole country pays tribute. This group not only receives a disproportionate share of the national income but owns the bulk of the capital goods which are necessary to produce that income... The basic struggle to-day is between the 99 per cent who are reaching out for the economic and political power which the one per cent now effectively control."
Sixty-nine years later, little has changed. But for 30 years, it seemed to change. As the late historian Tony Judt noted, after World War I Europe's middle classes were ruined and went fascist; the working classes were ruined and went communist. After World War II, the one per cent saved itself with a modicum of regulation and wealth redistribution.
"Monopoly capitalism" accepted relatively high taxation, both corporate and personal. Unions fought for good wages and working conditions within the system, rather than stage a red revolution. Almost everyone lived well for three glorious decades into the mid-1970s. By then wages had begun to stagnate. Women went to work -- not to express their liberation, but to help support their families' standard of living.
From capitalism to cannibalism
"There is a lot of ruin in a nation," Adam Smith famously said, and it took close to 40 years before North Americans and Europeans finally realized what had happened to them. The one per cent were firmly in control and always had been. But now they had changed from capitalism to cannibalism. They were feeding off the people who had once been both their workers and their customers, people who still clung to the dreams of home ownership, steady work, and social mobility.
The Occupy movement finally arose to protest this exploitation. It has dragged income inequality into what passes for modern political debate. It has not, however, answered its own question: "What is our one demand?" No doubt it has escaped being pigeonholed by its very lack of a program and a leader.
But its demonstrators have settled for martyrdom rather than achieving real change and implementing it. Given a choice between framing an agenda and getting pepper-sprayed, Occupy has gone for the pepper spray every time.
David Lewis and Frank Scott had seen it all in the 1920s and '30s. They were old enough to remember the Winnipeg General Strike and countless other disasters. They certainly understood how hard it was to organize and articulate the protests of the disorganized and inarticulate. They understood that the continued rule of the one percent was ipso facto proof of the lack of democracy.
I wonder what Lewis and Scott would think of their own political great-grandchildren in today's NDP, who have maintained an embarrassed silence about the Occupy movement. As the one per cent steadily regained its power, the New Democrats accommodated themselves, to the point where they prefer to describe themselves as "social democrats" rather than socialists. Yet they must know that if they ever do move from opposition to government, however mildly they rule, the one per cent will fight them to the death. And likely win.
The NDP (or for that matter the Liberals) might actually strengthen themselves by recognizing the Occupiers as their brothers and sisters, not just an awkward squad of hippies and homeless. If some political party can articulate the Occupiers' problems as Lewis and Scott did, and offer solutions as they did, we might just achieve what Lewis and Scott foresaw in 1943: a genuine Canadian democracy.