At the World's Edge: Curt Lang's Vancouver, 1937-1998
Claudia Cornwall
Mother Tongue Publishing Ltd. (2011)
Curt Lang was one of those people who manages to be inside something that is happening before most people really understand its importance. He was there as Vancouver sprouted an experimental literary scene, an abstract modernist art scene, a documentary photography scene and an early geekdom inventing something called software for computers. If Lang never achieved godlike status in any of these realms, it's probably because he preferred to skip like a hurled stone from one creative passion to another, a journey Claudia Cornwall masterfully traces in her new book, At the World's Edge.
The world that produced Lang was East Vancouver in the 1940s and 1950s, a place capable of spawning a teenager who would cross the old Second Narrows Bridge with a friend in search of Malcolm Lowry. It was a time when not only might an East Van boy care who Lowry was, but actually find Lowry and get drunk and argue with him as an act of homage. Vancouver then was capable of producing many young people who aspired to become poets because they believed the world badly needed and wanted poets. How strange to read this. Was there really a moment when commercial culture was not so all encompassing, leaving room to imagine poets as brawling dynamos? So there was, Claudia Cornwall tells us, by introducing us to Curt Lang.
More than a biography, At the World's Edge is a detective story in which Cornwall investigates a man, and a kind of life, she deems elemental. The author knew Lang in his later years and, she being a gifted reporter, decided to go back and gather his story in order to retrieve glimpses of a Vancouver that now is all but polished from view.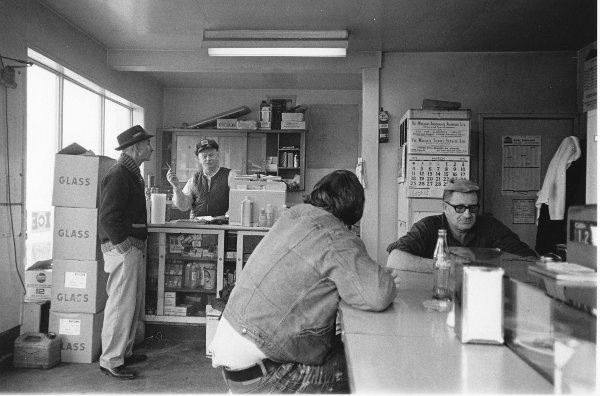 Vancouver's current brand is World's Greenest City. Before that, it wanted to be the future in a Jetsons sort of way, fashioning a metallic geodesic dome and whooshing SkyTrain to beckon the world to Expo '86. Those are the Board of Trade imaginations for Vancouver, of course, but the brands have stuck. Greenest? Cleanest? The Vancouver in this book was a muddy, mouldering, alcohol- and drug-infused Bohemia where crowds gathered to watch modernist painters debate and blood flowed at literary journal launches.
To Paris and back
This was a half century before Google Maps. Had the satellite view of Vancouver been so readily handy then, perhaps Lang and his fellow bohemians would have felt deflated by the sight of their chosen home as last urban dot before the North Pole. They might have felt at once too far from everything and too globalized, the malaise that often grips me as a Vancouverite. Instead, they treated the rest of the world as if it could be conquered from any vantage given the proper words and brush strokes. And when Lang wanted to live in Paris, he just... went. Without money or even email. He made a virtue of poverty. The economy of the day, apparently, allowed a person to push off from Vancouver with a few dollars and coast until broke, counting on his or her ability to get more cash by gutting fish or herding floating logs.
The DNA of such presumptions is visible in Vancouver's remaining single-room occupancy (SRO) hotels, once the preserve of transient men living a version of Curt Lang's lifestyle, working some, coasting some, creating some, finding a roost for a week or a decade in the neighbourhood where Lowry himself famously foraged for liquor. A friend of Lang describes their milieu as a stimulating mix of hoodlums and intellectuals. They were beatniks, who presaged the renegades of the sixties, and the mercurial Lang made me all the more curious about those bourgeois-hating Beats. Was it something heroic inside of them, or broken, that drove their reckless, yet deeply serious, pursuits? The person who just won't be ruled by money. Is he a better person? If so, what does it mean that Vancouver seems to have sealed off most decent ways to live on the cheap compared to the Vancouver Curt Lang inhabited?
Room to create
Those who now strive to encase Vancouver in glass are profoundly uneasy with the SROs of the Downtown Eastside. The poverty inside those rooms is probably meaner, the drugs harder, than in the epoch Cornwall chronicles, yet creativity survives there, too. Nowadays, however, a consensus seems to be forming around making the remaining SROs places of professional support for the addicted and psychologically damaged. This is not a medicalized caste to which Curt Lang would have seen himself belonging. He and his circle accepted squalor as a condition for creative life.
In the late 1950s, Lang and his friend Fred Douglas, having developed their own particular theory of art, inhabited a dilapidated, rat-infested studio and set about making paintings intended to bring local big shot Jack Shadbolt to his knees. I drove by the address, 1496 West Pender. There is no 1496 West Pender anymore. A drab concrete office building of 1980s vintage with a different number takes up the old spot and more. Having parked my car there, I watched one of Vancouver's current prized industries hum along, tourists walking and rolling by in happy, sun-glinted clusters. All up and down Pender, the shiny towers stacked their cubicled views of mountains and sea, views being another commodity expertly sold today in Vancouver. More bicyclists rode by. Their strained pedalling caused their candy-coloured graphite helmets to sway side to side, as if to confirm that, no, Curt Lang doesn't live here anymore.
[Tags: Urban Planning + Architecture.]