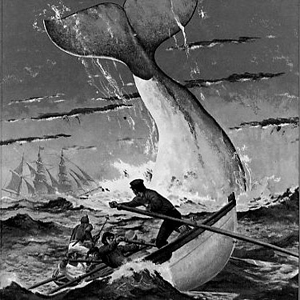 When The Darkening Archipelago by Victoria writer Stephen Legault crossed The Tyee's book desk recently, we knew where to file it. Our eco-thriller shelf is getting more packed with titles by the day.
Legault has set a murder mystery in a collection of islands off the northern end of Vancouver Island, placing at the core the damage done to wild salmon stocks by pest-infested commercial farms. (Read an excerpt at the end of this story.)
It got us thinking. Who pioneered the eco-thriller, what makes a story ecological as well as thrilling, and if you're a sucker for this sort of stuff, what are some must-reads?
The first defining rule (ours, anyway) for any eco-thriller is that nature is central to the novel, but not the villain. Authors use environmental obstacles to make broader points about the relationship between humanity and the planet in a fictional, entertainment-driven frame.
Which rules out, say, Jaws. The villain is a shark. It's big and mean, it eats people, and police chief Martin Brody needs to stop it. And though there's a wealth of human stupidity and greed impeding the hunt, ultimately the shark is the problem that needs to be solved. Jaws is thrilling, but it's not an eco-thriller.
The eco-thriller acknowledges society's influence over and responsibility for the natural world without relinquishing a basic caution towards the awesome destructive forces that can be unleashed by humanity's meddling. Dealing as it does with real or projected ecological issues, the genre often embraces sophisticated scientific exposition. The Darkening Archipelago has more to say about sea lice than most readers will ever have thought to know as it explains the dangers of fish farming in the Pacific Northwest. In its modern incarnation the eco-thriller is also deeply ideological, sitting atop profound concern for the welfare of the planet.
Setting the hook
Ecological themes pop up everywhere in fiction these days, particularly in the Pacific Northwest. Jim Lynch's very well-received 2005 debut The Highest Tide, for example, blends a teenage boy's coming of age with rapturous exposition on the marine life of Lynch's native Puget Sound. The eco-thriller, though, seems to emerge most frequently in crime novels and science fiction. By way of science fiction, authors can create or project an ecological disaster, usually in the near future, making reference to real conditions without being limited to them. The mystery frame, on the other hand, allows a writer to express environmental misdeeds through the familiar format of crime, suspect and investigation; readers can thus be given the opportunity to learn about ecology as the protagonist does, without much sacrifice of pace.
As we've been looking at them, eco-thriller narratives can be broken down into two parts. The hook is a disaster of some sort, possibly human-inspired but sometimes natural, with which the protagonists must grapple. Complicating simple survival is the catch, a human factor which provides both the real conflict and moral culpability, be it in opportunistic greed or corporate malfeasance.
With that as our guide, we humbly submit this list of five innovative, great, or otherwise notable eco-thrillers going all the way back to Ahab and his giant obsession. Please add your own, as well as any thoughts or quibbles, in the comments.
Moby Dick by Herman Melville (1851)
(the patriarch)
While it may seem odd on its face to describe the story of one man's epic quest to kill a member of an endangered species as eco-anything, closer reading reveals themes that mirror those adopted by Melville's more explicitly environmentally minded successors.
Hook: A ferocious white whale menaces the waterways and mangles indomitable whaler captain Ahab. Ahab and his crew must track down the whale and kill it.
Catch: As Ahab's chief mate Starbuck makes explicit in the book's final pages ("Moby-Dick seeks thee not. It is thou, thou, that madly seekest him!" Oxford World's Classics 1998 printing, 503), the whale isn't really the problem. It is Ahab's monomaniacal need for revenge which drives him and all the crew save one to their deaths. This is distinctly not a case of simple human error or casual irresponsibility, but instead a series of affirmative destructive choices made by a man striving to prove himself against inhuman and ultimately uncaring forces of nature. The whale is just a whale, it is human madness that makes it a monster.
The Green Brain, by Frank Herbert (1966)
(the dirty little secret)
The oil parable in Dune would be enough to justify that book's inclusion on this list, but The Green Brain is an altogether rawer, weirder expression of Herbert's concerns about environmental destruction. Though blunt and perhaps even predictable in its message to modern eyes, The Green Brain gives early voice to the fear that you can only push the planet so far before it starts pushing back.
Hook: In a desperately overpopulated future, the ironically named International Ecological Organization is in charge of clearing the Amazon, cordoning off "safe" areas for human habitation. But the jungle is not easily conquered, and the region's insect life begins fighting back in unexpected ways.
Catch: The Green Brain isn't comfortable in its heroes, condemning reactionary rejection of the strange as it addresses the question of whether humanity has the right to commit genocide for its own survival. Herbert also addresses the limits of human knowledge in the face of monumentally complex natural ecosystems; we may think we understand the jungle, he says, but civilization should never consider itself beyond surprise.
Zodiac by Neal Stephenson (1988)
(the early archetype)
Half a decade before Stephenson's slick samurai/hacker/pizza-deliveryman opus Snow Crash brought him fame and fortune there was Zodiac, sub-titled "an eco-thriller." Fans of Stephenson will appreciate his usual wit and broad wealth of knowledge, while his detractors may find Zodiac's brisk pace more to their liking than the frequent, plot-stopping academic digressions common to his later books.
Hook: Rogue chemist Sangamon Taylor, an environmental activist in the Greenpeace model who has made a career exposing industrial water polluters, discovers an alarming spike in PCB levels in the Boston Harbour with enormous ramifications for public health.
Catch: Mysteriously inconsistent lab results allow the authorities to turn a blind eye to his discoveries, and his corporate foes move precipitously to shut him down. Moreover, while trying to unravel the mystery and expose what he believes to be a wide-reaching conspiracy, Taylor is menaced by a gang who may be part of the equation or may have simply conflated PCBs and PCP.
Red Mars by Kim Stanley Robinson (1992)
(the black sheep)
Kim Stanley Robinson tackles ecological issues by transplanting them. Set in 2026, Red Mars chronicles the efforts of a small group of colonists to subsist on Mars while determining how and if it should be terraformed to make it more suitable to human life. Placing more emphasis on science than the other books in this list, Robinson is as clearly invested in the solutions to environmental problems as he is to posing them in the first place.
Hook: Mars is a hostile place! The tiny community perched on the edge of oblivion is a staple of both terrestrial and interstellar adventure stories; even in Robinson's fairly technologically optimistic future, simple survival is not a given.
Catch: Not all the colonists agree that humanity even has the right to terraform Mars. Their comparatively principled debate about the fate of the planet is undercut, moreover, by the reckless haste of transnational corporations hungry for martian resources.
Mother of Storms, by John Barnes (1995)
(the full monty)
Mother of Storms takes the disaster novel approach, following a handful of apparently unrelated characters as they navigate a world-changing catastrophe. Between Barnes' near-trademark affinity for the depths of human depravity and long digressions into extensive meteorological detail, it's not an easy read for the faint of stomach or easily distracted. But the meat of the novel concerns how society in its myriad aspects relates and reacts to natural forces beyond its control, making Mother of Storms an excellent example of the modern eco-thriller.
Hook: A missile strike releases billions of tons of methane from beneath the Arctic Ocean, and massive superhurricanes spawned by the ensuing climate change ravage the planet.
Catch: While the familiar themes of heartless corporations and untrustworthy politicians surface here, the real villain in Mother of Storms is an international media obsessed with spectacle and unable to distinguish news and entertainment even in the face of apocalypse.
EXCERPT: THE DARKENING ARCHIPELAGO
[Editor's note: Victoria writer Stephen Legault's most recent novel is the second entry in his Cole Blackwater series. The first, 2008's The Cardinal Divide, used the mystery format to talk about mining in northern Alberta. Similarly, The Darkening Archipelago intertwines a murder in Northern B.C. with a corporate conspiracy around a real environmental issue, that of parasites from salmon farms contaminating wild runs. In the flashback excerpted below from Chapter Four, the murder victim himself, Archie Ravenwing, encapsulates the problem to a representative of the provincial ministry of Agriculture and Lands. For more on Legault's books and for the entire first chapter of The Darkening Archipelago, visit here.]
They were about to untie from their mooring when Archie's cellphone rang. If the wind blew lightly from the west and the tide was high, Port Lostcoast got cell reception. He flipped it open. "This is Archie."
"Archie, this is Lance Grey." The voice crackled.
Ravenwing straightened up, looking at the sky. "Hi, Lance. Listen, I'm about to head out into the inlet."
"This won't take long, Archie. The minister has received your most recent letter about salmon farms and asked me to call you and assure you he is considering all the options about the future of aquaculture."
"That's what you told me the last time, Lance. That's why I wrote you another letter. I don't want him to consider all the options. We need you to fund closed containment pens. These open pens in the Broughton and elsewhere are disease factories and they're killing the wild salmon. I'm looking for the government to commit funding so that Stoboltz and the others can move their stocks out of the migration routes of juvenile pinks, coho, sockeye, and chum, and onto land, where the fish can't escape, shit in the ocean, or pass on parasites to what's left of the wild fish."
"Take it easy, Archie. This is just a courtesy call."
"Look, Lance, I don't need a courtesy call. I need action. Why don't you ask the minister to come and see for himself?"
"He's been up recently."
"Yeah, to tour Stoboltz farms."
"He met with the band council. You were there, as I recall."
"He invited us to an hour-long meeting and spent 50 minutes of it talking. He didn't listen to a word we had to say."
"Archie, I'm not getting into this with you right now."
"Then when, Lance?"
"Are you going to be at the next Aquaculture Advisory Task Force meeting?"
"Damn right."
"Well I guess we'll see you then."
Archie hung up the phone without saying goodbye. "Pecker head," he said, smiling.
"Who was that?" asked First Moon, starting the Inlet Dancer's motors.
"Lance Grey from the minister's office."
"You were pretty hard on him."
"A kid. They hire a kid to do the political dirty work. He can't be more than 25."
"Still, you were pretty rough. Why are you always talking that way to people, Archie?"
"Come on, Moon, don't play dumb. Sometimes it's the only way people will listen."
"Oh yeah, how's that working out for you so far?"
Ravenwing looked straight ahead. Darren piloted the boat from the slip and moved out of the harbour dead slow.
"I guess the thing is, Archie," said First Moon, pushing forward on the throttle as they cleared the breakwater of the harbour and entered Knight Inlet's open water. "You can be an advocate for wild salmon without making everybody you talk to want to wring your neck."