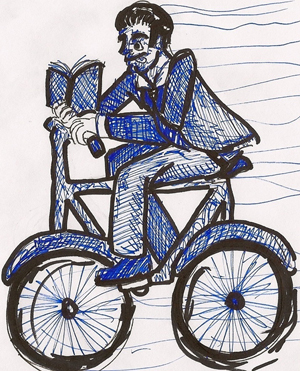 If the rain derailed your commitment to cycle to work at least one day this week, make up for it by reading about the pleasures -- radical and mechanical, physical and mental -- of bicycling through the rest of the year.
We don't recommend you read a book while you bike, but we feel safe recommending these books about bikes. And you don't have to take our word for it. Instead, these four cyclists told The Tyee what they're reading, and they didn't limit their advice to the bookshelf. As one contributor put it, "Take care and take the lane."
Superfast Sam Whittington on what to read when you're holding up traffic:
Quadra Island's Sam Whittingham is the fastest self-propelled human in the world. He claimed the title by "pedalling the tear-drop contoured recumbent bike -- the Varna Diablo III -- to a world record speed of 82.3 miles per hour (132.5 kilometres per hour), claiming the $26,748 deciMach prize as the first person to do so," as Chris Keam reported in The Tyee in 2008. (Video here.) As a bicycle designer and world record holder, the man knows a little about bikes. Here are his bike-book recommendations:
Ultimate High -- My Everest Odyssey, by Goran Kropp
"This is the true story of a man who rode his bike 7,000 miles from his home in Sweden, climbed Mt. Everest with only what he brought with him and returned home. In this modern age of rich man adventures in which you can buy your way to any corner of the globe fuelled mostly by the sweat of others, I cannot help but respect this crazy Swede who does it all by himself. I'm a sucker for tales of the impossible rendered possible."
Bicycles and Tricycles, by Archibald Sharpe
"What is the best book ever written on bicycle design? Easy, look no further than Bikes and Trikes. Written in 1896 when the bicycle was nothing but a crazy gadget menacing pedestrians and passing cars at the breakneck speed of 10 mph. Don't let the age of this book fool you! There is more logic and good ideas packed into this book than all others combined. Any book written on bicycle design after this one suffers terribly from bad science, bad research and far too much credence given to tradition or bike company hype."
The Ride of My Life, by Mat Hoffman, Mark Lewman
"Nobody has ever done it bigger or better than Mat. His exploits on a BMX are now legendary. He has been knocked out more times than most prize fighters and is pretty punchy these days. This is far from surprising when you read this account of how Mat became the Muhommad Ali of the BMX scene. After reading this book it would not surprise me if Mr. Hoffman has occasionally uttered the words: "I saw this on Bugs Bunny, and I think I can do it."
Critical Mass mover Jane Rusl on what to read before you adjust the training wheels:
Jane Rusl manages the online personalities of Critical Mass Vancouver and expresses her love for out-of-print bike magazines. The grassroots activism of Critical Mass sees dozens, hundreds and even thousands of cyclists take over city streets to remind motorists that bicycles are traffic, too. Scheduled for the last Friday of every month, Critical Mass even incited the genesis of a group called Critical Manners to push for pedal etiquette. Rusl cares that cyclists stay safe -- and that a new generation learns to ride. Hence her recommendation for children's books.
The Age of the Bicycle, by Miriam Webster
"This is a must read. It inspired our bicycle wedding. It's a world where bicycles are the dominant way of getting around. And it's fun and imaginative. Often us idealists feel lost or overwhelmed. It's really nice to have this story to inspire and have a working ideal to strive towards, even if it is intangible. I can't recommend this enough."
Old issues of Bike Culture Magazine
"This is the best magazine ever. They only made 20 issues. No ads. Mind-blowing stuff. Each cover folds out the front and back to be a beautiful mural like the one with flying blimp bicycles and butterflies. These are hard to come by. They have articles about things like prone (superman) bikes. It went under and was reformed as, Velovision, which is also a fine publication, but the original is the best and they keep well."
Carbusters
"Such a good magazine published from Prague. Hold your head high and don't feel like such an outsider, there are people around the world united by these ideals. Lots of humour and mirth in this one."
Momentum Magazine
"What can I say, our local and best source for all sorts of bike culture. Back issues are like staring into a time machine."
The Endless Pavement, by Jacqueline Jackson
"Almost psychedelic '70s dystopian kids book. Very stylish and very right on."
Road racing star Svein Tuft on what to read when cycling over-land to Whitehorse:
Svein Tuft hasn't always been the high-profile, emaciated road racer who stepped off his bike three days ago after a punishing month at the Giro D'Italia. As the New York Times explained in a feature story about the Langley rider last year: "Those who have heard the tale of Svein Tuft have wondered, could it possibly be true? How he dropped out of school in the 10th grade, lured by the freedom of the outdoors. How he evolved into a barrel-chested woodsman with Paul Bunyan biceps. How he ventured, at 18, from his home in Canada into the wilderness on a $40 thrift-shop bike hooked to a homemade trailer. They have learned of the way he traveled sparingly, towing only his camping gear, a sack of potatoes and his 80-pound dog, Bear. The way he drank from streams and ate beside an open fire..."
All this before being recruited by one of the top cycling teams in the world. No, when it comes to Svein Tuft, it's not always about the bike, much like his book recommendations:
"I don't really read any books about cycling directly. I enjoy reading travel adventure books. I grew up doing a lot of mountain climbing and exploring myself, and my adventures out in the mountains are some of my most fond memories. I don't get much free time to do these types of things now a days due to my busy race schedule. 
"Some of my favourite travel adventure books are written by Reinhold Messner. He writes mostly about his own adventures while mountain climbing. I liked the way he went about living his life. He obviously had a real belief/passion for what he was doing. People involved in cycling might be able to relate to the passion he had for his sport, as many cyclists are greatly passionate about their own sport. This passion is needed in a sport that requires such discipline both physically and mentally."
Cycling-friendly planner Stephen Rees on what to read when you're packing your bike on le metro:
Stephen Rees identifies himself as a "recusant transportation economist" (italics are his) and a former regional planner with the Greater Vancouver Transportation Authority. He came to B.C. from England, saying he was "displaced... by the abolition of the Greater London Council and a dislike of Thatcherism." On his blog, Rees fixes his informed eye on media coverage of Vancouver transit and urban planning. His own recommendation takes in the big picture, which is what you get when you view the world from the seat of a bike.
The Bicycle Diaries, by David Byrne
"Byrne is a musician (Talking Heads), an author (five books published so far) and a visual artist. He has also designed some funky bike racks for New York City. From the book blurb: 'Two decades ago he discovered folding bikes and started taking them with him when travelling around the world.'
"Reading the first chapter, which compares different American cities from a cyclist's point of view, was enough to prompt me to get my bike out, go for a ride and blog about it. It is not just about cycling. It is about all sorts of things -- but comes from having a different perspective than the one you get from seeing the world through a windshield -- or from the back of cab.
"This, it seems to me, is important. Transportation is not usually an end it itself (though when it is, a bike is more fun and better exercise than most) but a means to other ends. It is necessary for us to understand what we have done to ourselves and our communities in order to facilitate car use. Most of that has not been good for us, and it has been disastrous for the other species that inhabit this planet as well. If reading this book encourages you to get on a bike too, we shall all be better off!
"I have not tried a taking a folding bike on a trip myself -- but I do know that using the wonderful bike rental scheme in Paris gave me a completely new experience of that city. One that I have visited many times and where before now I usually used the metro. velolib is free for the first half hour --plenty of time to get to most tourist destinations in central Paris. And a lot easier on the pocket than short-term bike rentals in New York (or Vancouver for that matter), and you can pick up and leave the bike in thousands of locations. And a lot easier than worrying about what might happen if your bike gets stolen!"
Have a favourite bicycle book? Plese share your spoke 'n' words suggestions below!