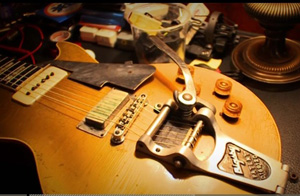 Sorry. We already wrote about Neil Young eight months ago. But the sudden arrival of any new recording by those reprobates who go by the name Crazy Horse is newsworthy, and just over two weeks ago, that's precisely what appeared on the splash page of Young's website.
Actually, what we got is a 37 minute jam session with an accompanying video that's just as meandering as the music. If you don't have the Horse running through your veins, forget it -- don't click. If you do, then you'll likely be riveted.
They call the track "Horse Back," but there isn't much to it besides what sounds like a few minutes from "Fuckin' Up," followed by some of the most vicious improvisation the band has ever committed to tape (or a hard drive). All this eventually gives way to an overdriven "Cortez the Killer," and pretty much right at the moment when you start thinking to yourself, "Hey, this is better than that insane reggae version of 'Cortez' on Live Rust," drummer Ralph Molina switches up the ramshackle beat into something entirely new and ornery. And then it's done.
The video has the same God-given sense of pointlessness, as the camera weaves around a lot of mouthwatering gear in an otherwise empty studio. Or, as one guy put it on the Rust message board, "Those close ups of Neil's Deluxe and whizzer are amazing." As we said before, for those who aren't moved by the Crazy Horse mythos -- captured here in an almost too-perfect confluence of cheap-ass sound and vision -- all this will be about as interesting as an infected molar.
For the rest of us, the message is clear. Young announced earlier in January that he was working with Crazy Horse again for the first time since 2003's Greendale (and then, it was without guitarist Frank Sampedro). As a lot of fans have already surmised, this new beast sounds like the band shaking off the rust and announcing their excitement to the rest of us. And holy shit, it's pretty infectious. Now crank it.
[Tags: Music.]