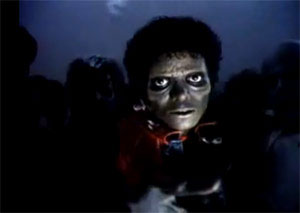 Michael Jackson was pronounced both dead and alive recently, announcing the advent of the latest trend in celebrity spook sightings -- the ghost-celebrity-caught-on-video video.
Larger-than-life celebrities -- like Marilyn Monroe, Elvis, John Lennon and 2Pac -- have long been unable to have run-of-the-mill deaths. The divinization of celebs, as promoted by US, the Weekly World News and, more recently, TMZ, leaves idolaters unwilling to quietly let go of the objects of their adoration.
So perhaps it is no surprise that fans obsessed with their favourite stars are increasingly turning to online video to keep their idols' legacies alive with stories of sightings even after they've officially been pronounced dead. While pre-Internet sightings of dead celebs had to subsist on word of mouth, websites like Elvis is Alive, Kurt Cobain Is Still Alive and others now provide platforms for witness testimonials. The testimonials have the same aw-shucks tone as gossip overheard on your granny's front porch, typically going something like: "I was coming out of the drive-thru at McDonald's and I saw him getting into a four-door sedan with tinted windows. (Insert celeb name) is alive and living in Puerto Rico! I swear! It's true!"
The King of Pop is only the latest of society's dearly departed to have earned the dubious distinction of having his death questioned: Michael Jackson Sightings serves as a clearing house for people who believe to have seen Michael, and a number of beyond-the-grave videos are making their way on to the Net.
It was Larry King, perhaps unsurprisingly, who was first to report catching Jackson's ghost on tape. The show's crew caught a lurking shadow during a tour of the pop star's Neverland mansion, shortly after news of his (purported?) death was made public.
This, the first in a string of MJ videos to get geeks all atwitter(ing) this summer, has since been viewed more than 11 million times. And subsequent videos in this fast-growing genre are no less popular: one reveals a figure sporting locks very similar to those of the late pop star, being escorted out of the back of a van belonging to the L.A. county coroner's office. Incredibly, for some, it is the lack of a time stamp on this latest video that leads to questions about its veracity; the fact that Michael Jackson's death has been certified by several autopsies seems of little import -- nor does the fact that German television station RTL has admitted to faking the video.
For some, it appears seeing is believing.