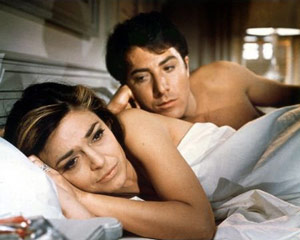 Scenes From A Revolution: The Birth of the New Hollywood
Mark Harris
Canongate Books (2008)
There's always more to learn from imperfection than those few, hallowed works of art that defy any critique. Take Mark Harris' book about the five films nominated for best picture in 1967's Oscar race. None are perfect, though two -- The Graduate and Bonnie and Clyde -- are now regarded as classics of the new filmmaking era. A third, In The Heat of the Night, was a respectable, middle-brow thriller that struck sparks with its theme of bigotry. That explosive bugaboo is also front and centre in the heavy-handed fourth, Guess Who's Coming To Dinner, a film considered schematic, condescending and old-fashioned even while it was being made, but loved to this day as the final screen appearance of Spencer Tracy. And then there's the fifth: Dr. Doolittle, an infamous bomb, a vast, creaky, interminable disaster that fatally wounded the once-healthy musical genre.
In some ways, the story behind Doolittle -- a tale of Hollywood at its spendthrift, ego-maddened worst -- is the most entertaining part of the book.
It's not just that Harris is a juicy writer willing to let you in on what a thoroughly miserable, insecure, petulant and vain human being Doolittle star Rex Harrison was (though he does, at length, along with many tales of his alcoholic wife and her penchant for, among other things, performing knickerless cartwheels in high-end restaurants). He's good at gossip, but even better at the business end of things. The bloated production is tracked from its inception at the height of the musical's last, baroque phase, when extravagant roadshow productions criss-crossed the United States bringing in boffo box-office, through a painful pre-production, a disastrous shoot and a Hail Mary marketing campaign. And of course, the backroom arm-pulling and chicanery from producer Arthur Jacob and Fox's desperate head of production, Richard Zanuck, that ended up getting this waterlogged turkey a Best Picture nomination.
What does Oscar know, anyway?
Whether 1967 really was a watershed is open for debate. As usual when dealing with any "pivotal year" theory, it begins to fall apart on closer examination. And reading the Oscars for cultural significance is always a tricky business. For instance, in 1968 the best picture nominees were Oliver!, Funny Girl, The Lion in Winter, Rachel, Rachel and Romeo and Juliet. Hardly a revolutionary crop -- and Oliver! won. But there's no denying that the cultural earthquake was starting to rattle movie houses. In 1969, Midnight Cowboy, a genuinely innovative film, won against Anne of the Thousand Days, Butch Cassidy and the Sundance Kid, Hello, Dolly! and Costa-Gavras' groundbreaking Z. And then came the wholesale studio invasions of the 1970s.
But Harris has certainly chosen an interesting year. While the Doolittle debacle is often jaw-dropping fun, the story of Sidney Poitier, then at the height of his fame, is the most resonant. Poitier starred in two of the nominated films (and was briefly considered for a part in Doolittle), and as the first black movie star, he was doomed to play perfect Negro heroes, de-sexed, denatured and beyond reproach, while all around him the Civil Rights struggle raged.
Poitier walked a maddeningly difficult tightrope: Black audiences cheered when he slapped a white racist during a stirring scene in Heat, but were disparaging of his "House Negro" role in Dinner. In 1968, he was named the biggest box office star in America by a national poll of theatre owners -- but his retreat from public life had already begun. "Poitier rarely spoke in detail of the pain he felt at being jeered at as a symbol of accommodation to white America," Harris notes in a postscript, but his eventual, voluntary 12-year absence from the screen -- from 1977 to 1989 -- speaks volumes.
As does a telling vignette about the actress Beah Richards, who played Poitier's mother in Dinner -- "meant to embody the kind of soft-spoken, well-kept, epitome-of-dignity little old black lady" the filmmakers thought would put white audiences at ease. In reality, Richards was a well-regarded stage actress (when she could get work other than walk-on maid parts), a political activist (that the FBI had been keeping a file on for 16 years) and a columnist for the civil rights publication Freedomways.
"These children are in love, and love is all that we need to consider," went the lines of her big, anodyne speech in the film. "Now, Beah knew that was a lie," said her friend Ossie Davis, and she was openly upset about the film's pathetic racial politics -- but it was the only work she could get, and so she donned makeup and a synthetic wig (she was only seven years older than Poitier) and delivered the lines. Said Katherine Houghton, who played Poitier's white fiancée: "I felt that she hated all of us."
Near-disaster flicks
Harris talks to just about everyone still alive, and there are similar vivid details about each of the five films. Even Bonnie and Clyde and The Graduate -- two movies so widely written about and so frequently revived it seems impossible to find anything new about them to say -- are brought to life with vivid and sympathetic reportage that underlines what ramshackle, risky projects they were, always a hair's-breadth from disaster.
The Graduate, which I re-watched recently for the umpteenth time as a direct result of this book -- is as close to perfect as makes no difference. Forty-two years later, nearly every scene has been homaged and ripped-off and parodied and referenced, and it doesn't matter. The film, which both cast and crew thought was a lifeless, miscast dud while they were shooting it, has survived its period trappings to become timeless, and Harris' excellent book shows how this magical result -- as much as the other, less successful films he writes about -- was the result of incredibly hard work, genius, accident and mistake.