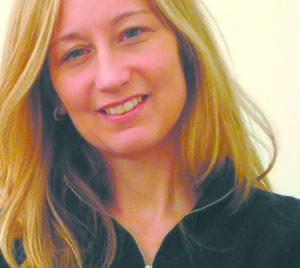 [Editor's note: At a moment when B.C. arts groups are threatened with a 37 per cent cut in provincial government funding, surviving and evolving is ever more on the minds of those who work in the arts field. This article and two to follow are from a recent address by Diane Ragsdale to the Vancouver Arts Summit hosted by the Alliance for Arts & Culture and 2010 Legacies Now at the Vancouver Public Library. Ragsdale, an associate program officer for the Andrew W. Mellon Foundation prefaced her remarks by saying her views "are personal" and not necessarily those of her employer; that she was offering a U.S. perspective "as that's the reality I know"; and that, having worked 15 years in arts groups, she has "extraordinary respect for the hardworking and resilient leaders and staffs of arts organizations".]
About three and half years ago, I attended a retreat with leaders of a dozen orchestras, at which one lamented, likely reflecting the sentiments of more than a few in the room, "I feel like I'm the captain of the Titanic, and there's an iceberg ahead. But rather than being on top steering the ship, I'm in the bowels shoving coal in the furnace. I'm afraid if I stop shoveling coal we'll run out of steam. But I know that if I don't start steering the ship soon we're going to hit an iceberg."
We'll come back to the coal shoveling later, but first I want to ask: What's this iceberg?
About 14 years ago I was teaching Intro to Theatre at a small public university and on the first day of class each term I would ask the 120 or so students to raise their hands if they had ever seen a professional theatre production.
About 10 hands would go up.
I would then say, "Raise your hand if you would like to see one." Fifteen or 20 hands would go up.
Remember, this was before podcasting, blogging, YouTube, MySpace, Twitter and iPhones revolutionized communication and social networking.
So, I would ask of the remaining students, "Why wouldn't you want to go to the theatre?" The answer was generally something along the lines of, "I've gone this long without seeing a play, and I don't feel like I'm missing anything."
These students did not have direct personal experience with "The Theatre" or, for that matter, "The Opera" "The Symphony" or "The Ballet."
I won't be telling you anything that you have not observed first hand when I say that the fine arts are facing a society that is markedly different, and a consumer that is markedly different, from those faced 40 years ago. In the U.S. this is due to cuts in funding for the arts in K-12 education, generational shifts and economic divides, increasing diversity in cities and towns across the U.S., a trend towards anti-intellectualism, changing tastes and aesthetics, the culture wars, increased competition for people's leisure time (as a result of both many more direct and substitute competitors), urban sprawl, and the decline in the quality and quantity of arts coverage in the mainstream media.
And yes, on top of all of these forces and others, over the past decade plus, and at an ever-increasing clip, new media technologies have begun to shift the relationships between people, space and time, and change the ways that people create, consume, commune, and communicate.
This is the culture change to which I am referring. And what are the implications for the arts?
'Arts have become marginal'
Russell Willis Taylor of the Washington, D.C.-based National Arts Strategies said to me a few years ago, when I asked her what were her greatest concerns for the arts, that she was troubled by the fact that arts organizations in the U.S. can't easily explain to people why they matter.
This concern was echoed at the 2008 National Performing Arts Convention in Denver, Colorado, where more than 2,000 arts organizations participated in a 21st Century Town Hall Meeting for the Performing Arts. At the closing meeting, the following issue was identified as number one: "Our communities do not sufficiently perceive the value, benefits, and relevance of the arts, which makes advocacy and building public support for the arts a challenge at every level."
And in the August 2006 issue of Inside Arts, Dana Gioia, then chairman of the National Endowment for the Arts, was quoted saying,
"...the primary issues facing the American arts at present are not financial. They are cultural and social. We have a society in which the arts have become marginal. We are not producing another generation of people who attend theatre opera, symphony, dance, jazz and other art forms. Most of these audiences have declined in the last decade, some of them precipitously."
For many organizations, this is the iceberg. So can we survive it?
Last summer, on the recommendation of a colleague, I read the book Deep Survival by Laurence Gonzales. Gonzales spent years trying to understand why some people survive harrowing circumstances -- like an avalanche -- and others do not. He tried to determine whether there are common characteristics of survivors.
I was particularly interested in a chapter in which he examines how people get lost.
Gonzales explains that the way we navigate in life is by forming and following mental maps: literally pictures in our minds of particular areas or routes. Gonzales says you get lost when you "fail to update your mental map and then persist in following it even when the landscape," (the real world), "tries to tell you it's wrong."
Edward Cornell, one of the scientists Gonzales showcases in the book, gives an example of this. He says, "Whenever you start looking at your map and saying something like, 'Well, that lake could have dried up,' or 'That boulder could have moved,' a red light should go off. You're trying to make reality conform to your expectations rather than seeing what's there. In the sport of orienteering, they call this 'bending the map.'"
Give up on being rescued
Gonzales describes five stages that a person goes through when lost, which correlate with Elizabeth Kubler-Ross's stages of dying: denial, anger, bargaining, depression, and acceptance.
Gonzales says that the final stage -- acceptance -- is the one that separates those that survive from those that don't.
Here's how he describes it, "... as you run out of options and energy, you must become resigned to your plight. Like it or not, you must make a new mental map of where you are." Not where you wish you were. "To survive," he says, "you must find yourself. Then it won't matter where you are."
He also says that one of the most difficult steps a survivor must take is to discard the hope of rescue.
A couple years ago, I interviewed a Stanford University professor named Jim Phills about his great book, Integrating Mission and Strategy for Nonprofit Organizations, and one of my questions was, "What advice would you give to a world-class orchestra whose audiences were declining and whose deficit was growing?"
He said, "If you are an orthodox orchestra, the reason you are losing audience members (from your viewpoint) could be that the world is not good enough for you.
"But," Phills asserted, "art really exists only in relation to audiences and their experience, particularly the performing arts. So if a symphony is seeing declining audiences, then the questions are: Would you sooner close your doors than change what you do? What is it that's important to you and why? You cannot, however, answer these questions without considering your need for audiences and/or enough people willing to subsidize you. And the fact is the number of people willing to subsidize something that is narrowly enjoyed may diminish over time. At which point, you will need to be prepared to go out of business."
He hastened to add, however, there is another option "there are organizations that are redefining their missions in relation to people."
In other words, they are rethinking who they are and why they exist.
See the world clearly
The late, great thinker Susan Sontag once wrote, "Existence is no more than the precarious attainment of relevance in an intensely mobile flux of past, present, and future."
I take particular note of the words, "precarious attainment of relevance." No organization can be granted relevance in perpetuity based on its laurels or the size of its endowment, or granted a pass to become static or stagnant because it is -- to use a Wall Street comparison -- "too big to fail." To exist, to thrive, to be artistically vibrant in the 21st century, arts organizations need to adapt to this culture change in order to attain, maintain, or regain, their relevancy.
As Laurence Gonzales says, "Those who avoid accidents are those who see the world clearly, see it changing, and change their behavior accordingly."
Tomorrow: Seven change-oriented ideas for arts groups wanting to survive and thrive in today's reality.