When Eugene Wilson started driving a logging truck 24 years ago, he worked out of the Bulkley Valley community of Houston three hours west of Prince George.
He recalls the trips as if they were yesterday. He'd begin the morning driving a short distance west out of town. Then he'd turn off the highway onto the first of two industrial roads that he'd follow for about 70 kilometres before arriving at the logging site.
After pulling up at a landing — a flattened, dirt-packed area where stacks of logs awaited loading — he would wait as his truck bed was filled with tens of thousands of kilograms of logs. He'd then secure the load and head back to town to drop the logs off at the sawmill.
Every day he made three round trips before heading home for supper and bed. The days behind the wheel were long. But the pay was steady and he had few complaints.
The longer he drove, though, the more things changed. The sawmills in Smithers, Houston, Burns Lake, Fort St. James, Vanderhoof and Prince George all needed lots of logs, some of them a million or more a year. Feeding them required constant logging.
The more the logging progressed, "the further and further away from the mills the trees were," Wilson says. Now, instead of delivering three loads of logs a day to the mill, he was down to delivering half as much.
The hauling distances became so great that it took Wilson 10 hours to make one round trip with one load of logs. To keep the logs flowing and the good paycheques coming, he would turn around after those 10 hours and drive five hours back to the logging site.
He'd sleep at a nearby camp overnight, then at first light the next day he'd drive back to the mill with one load and make one more round trip after that. Away from home every other night, Wilson and his wife, who does the family's household and business accounting, decided they'd had enough.
Before dawn to after dusk
Wilson's experiences behind the wheel are a brutal reality for many others. As British Columbia's primary forests (those forests never before subject to industrial logging) shrink further still, the distance from forest to mill increases, necessitating longer and longer log hauls.
Earlier this year, The Tyee published an analysis by the B.C. office of the Canadian Centre for Policy Alternatives noting that a crash in forest industry employment is underway in B.C. partly because the best and easiest to access trees are gone.
The article noted that logging truck drivers who started work at daybreak are on the highway past midnight driving through the darkness toward Fort St. James to pick up logs somewhere far beyond town. The article questioned how long such drivers must work each day.
In response, a logging truck driver contacted The Tyee to say he wanted to speak about his experiences. He said many drivers routinely work brutal hours and there is a tacit agreement between drivers and their employers that records must be falsified sometimes so that drivers appear to be at or below the maximum number of hours they are allowed to be behind the wheel.
According to National Safety Code regulations, logging truck drivers are restricted to driving no more than 13 hours each day — a work day 62-per-cent longer than most Canadians work on average.
Other rules specify that drivers' combined driving and non-driving work hours (non-driving work includes the time waiting for logs to be loaded and offloaded, putting chains on and off trucks, doing brake checks) cannot exceed 15 hours, and that they must have at least nine consecutive hours of non-driving time per day.
To protect his job, the driver requested anonymity. A second driver did the same. Both drivers were unaware the other had spoken. Coincidentally, both drivers worked recently in B.C.'s remote northwest region. Key aspects of their stories aligned and were corroborated by information in online job postings for logging truck drivers.
The first driver, who we will call Shane, is relatively new to the logging industry and describes his brief time on the job as a trial by fire.
When Shane called me one day in early February, he was near the small community of Kitwanga, which is where Highway 37 — also known as the Stewart-Cassiar Highway — begins. The highway is one of two northern transportation corridors connecting B.C. to Yukon and traverses some of the most remote and sparsely populated terrain in the province.
Shane was on the return leg of a trip that saw him begin his day at 2 a.m. when he woke for breakfast at a remote work camp near Dease Lake, a community of a few hundred people about 230 kilometres south of the Yukon border. Twelve hours later he was heading back to that camp having delivered one load of logs to Houston, a journey of 662 kilometres.
"They tell us we should be able to do the return trip in 13.5 hours. It takes closer to 15 or 16 if the weather is crap," Shane said. But there are opportunities to hide the long hours. "If you have a paper log, you can manipulate that as much as you want."
Shane added that the log load he dropped off in Houston did not stay there but was destined to be picked up by a second truck that would take the logs another 307 kilometres to a sawmill in Prince George. The total trip for one load of logs from the Dease Lake area to Prince George is nearly 1,000 kilometres.
Unbroken transportation
Prior to the arrival of trucks, conveying large numbers of logs great distances was limited by the energy required to move such heavy objects. Two key ways to save energy were exploiting gravity to move logs downhill or reducing friction.
On steep slopes in winter or during wet weather, logs could literally be slid downhill (at considerable cost in terms of damaged soils) on ground slides or on slides made of wood.
Logs could also be moved very effectively by floating or towing them on water or by damming streams. When the impounded water behind the dams was released by opening a sluice gate, tens of thousands of penned up logs would shoot downstream in the current. When logjams occurred as they often did, dynamite could be used to break up the logjams and get them moving again.
Cables were also used to elevate logs, allowing them to be moved above ground rather than across it to points where they could be put on slides or hauled away by horses or oxen pulling wagons or sledges.
For centuries, the movement of large numbers of logs occurred in three stages involving a short initial "skidding" phase where logs were dragged or wheeled a short distance along the ground, then an intermediate phase where they were slid or towed further, then a final journey by water or, later, by rail.
The arrival of the logging truck effectively reduced the transportation phases to two, with the logs simply having to be moved out of a cut block to the roadside for pickup by a truck, introducing a new "system of unbroken transportation" that remains to this day.
A not-so-novel idea — make the trucks bigger
By the 1940s, logging trucks became the primary way almost all logs were moved in the province. Harnessing the energy of the combustion engine both in the logging operations themselves and in log transportation changed everything. Now, forests that had once seemed impossible to reach were there for the taking.
One way to understand just how deep that reach became is to look at the number of "resource roads" in the province, the off-highway transportation corridors used primarily by the logging industry, but also by the mining and oil and gas industries.
Today, there are roughly 700,000 kilometres of resource roads of varying age and condition in the province. The roads reach into virtually every corner of B.C. and when combined stretch far enough to circle the Earth 17 times.
As B.C.'s forest companies grew and amalgamated, some of the largest sawmills on the planet emerged and the demand for more trees to process into lumber skyrocketed, requiring truck drivers to travel into ever more remote and in some cases extreme territory. The higher up mountainsides or the further north they went, the smaller, on average, the trees were.
This meant more forest had to be cleared to extract the same volume of wood. Data analyzed by the CCPA show that about 10 per cent less "fibre" — the logging industry's word for trees — came out of the forests per hectare between 2011 and 2019 as came out of the forest between 2001 and 2010.
With more forests being cleared to extract the same amount of logs, the costs inevitably went up, leading transportation engineers working for the not-for-profit research and development organization, FPInnovations, to come up with a not-so-novel idea: make some trucks bigger by adding a ninth axle.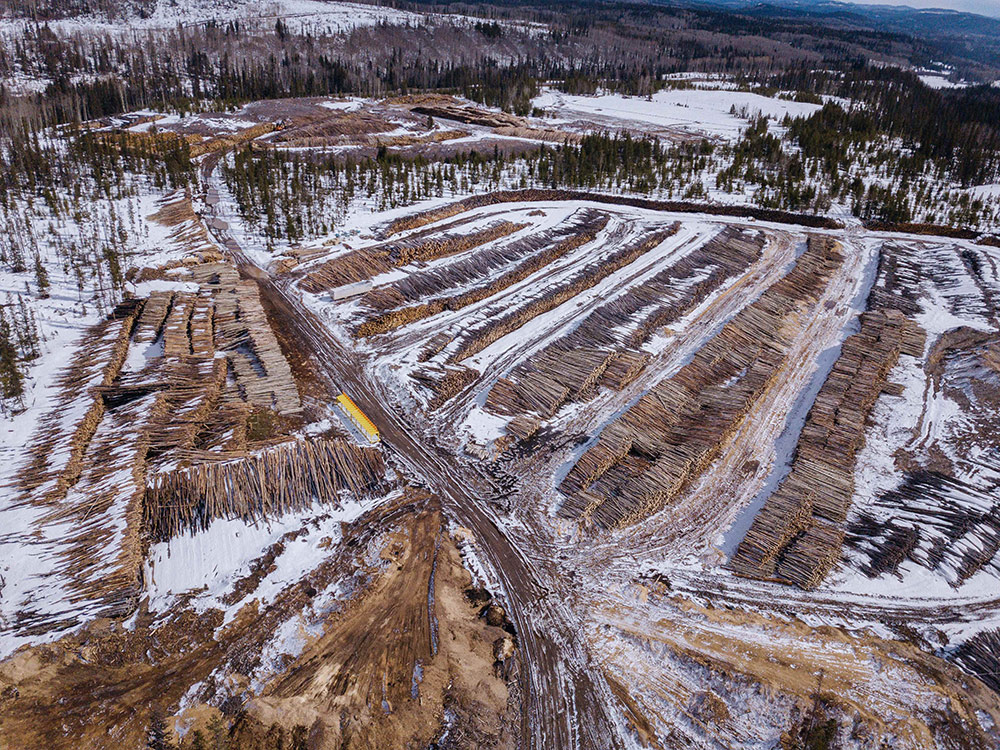 The new monster trucks feeding the monster mills, which were approved for some routes in B.C. in 2017, were capable of delivering 15 per cent more logs per trip. This resulted in energy savings of about 10 per cent, because less fuel was needed per unit of wood delivered.
But the bigger payloads did nothing in terms of energy saving for the drivers themselves.
A world of extremes
Shane describes the area he drives in and out of each day before reaching the highway as "steep terrain," before chuckling and correcting himself. "That's an understatement. You're driving at maybe 10 kilometres an hour because you're basically on the edge of a cliff. This is extreme logging. 'This is where people die.' That's what an old-timer told me and I believe him."
The second driver, who also spoke anonymously and who we will call Phil, confirmed that the driving conditions on some logging roads in the Cassiar Timber Supply Area — the most remote forest administration zone in northwest B.C. and where Dease Lake is located — are, indeed, extremely challenging.
He most recently hauled logs out of Bell II, an unincorporated community south of Dease Lake which gets its name because it marks the second bridge crossing of the Bell-Irving River.
"That Bell II country is for the very experienced," Phil said. "It's very adverse there, very adverse. You're driving on anywhere from a 25- to 30-per-cent grade carrying 140,000 pounds." 
Phil said to make one round trip from the Bell II area to Houston is 14 hours. And that's for an experienced driver, someone like Phil with 40 years' driving experience. Even so, Phil said experience only takes you so far.
"Even the experienced guys will have trouble every once in a while and you have to accept that. Weather is a major factor, right. You've got snow, freezing rain, every variable Mother Nature will throw at you. If it was easy, everybody'd be doing it."
Phil said most of the time he was driving out of the Bell II region, he was dropping off logs in Houston where they were stored for subsequent trucking to Prince George. The odd load of logs he took, though, had to go directly to Prince George. In that case, he'd do one day of at least 14 hours, then overnight in Smithers, and make a trip to Prince George the next day. Two days of driving to deliver one load of logs.
Fudging the books
This summer, all commercial truck drivers, including logging truck drivers and their employers, will no longer be able to skirt the rules limiting the hours behind the wheel — at least not as easily. Using paper logs to record hours at the wheel will be eliminated, and all truck drivers will be required to drive in vehicles equipped with electronic logging devices.
Dave Earle is president and CEO of the BC Trucking Association. The association's members include the owners of 400 trucking fleets in the province and account for more than half of the roughly 45,000 commercial trucks on the road, including some logging trucks.
Earle says the introduction of the electronic monitors is a welcome development.
"The carriers have been calling for this — my members have been calling for this — for years," Earle says. "The industry has known for a long time that there's many people in the community that cheat and fudge the books."
Earle stressed that while certain drivers falsify written travel logs, they are not doing so in a vacuum. Who they pick the goods up from and who they deliver the goods to may place entirely unreasonable expectations on drivers that result in unsafe conditions.
"Exploitation of drivers absolutely happens," Earle says. "The Motor Vehicle Act says that no person can pressure a driver to work more than the permissible time. But I have never seen where a customer has been written up."
Two things that are immutable are distance and time, Earle says. You start at point A and end at point B. Electronic logging devices will capture both distance and time. What they won't capture, but other equipment increasingly installed on many commercial vehicles will, is speed.
Earle admits that with the installation of electronic logging devices the temptation to speed may be there. But his hope is that more companies will adopt technology that's already in place in some fleets — including fleets owned by companies in his association.
That monitoring equipment "can detect things like speeding in specific speed zones, hard acceleration or braking, or sudden stops. Driver performance is measured not just by getting the job done, but getting it done safely and efficiently," Earle says.
He added that such technology, if widely deployed, would improve working conditions for drivers themselves and for those who share the road with them.
Stay home or haul?
For years, Eugene Wilson drove trucks owned and maintained by local trucking companies. The expense of buying his own truck and being his own boss was a daunting financial proposition.
But after nearly two decades on the road, he and his wife decided to take the plunge. He put a down payment on a new tandem axle Kenworth that all-in cost $220,000.
And that was just for the truck itself. The trailers that would hold the logs were extra.
"You're up to $300,000 just to haul logs," Wilson says, adding that's all you need to know about why you sometimes see big, shiny new logging trucks parked outside mobile homes. The truck is worth way, way more than the house a driver lives in, the house the person rarely sees because they're always on the road.
Wilson says he did everything he could to lower the amount of interest the bank got by paying down the principal as fast as he could. For the first year, he paid $5,200 a month on the truck and another $1,200 on the trailers.
"The name of the game is to pay it off as quickly as possible," Wilson says.
That means working constantly.
"When the mill says they have wood for you to haul, are you going to stay home or are you going to haul? You're going to haul if you want to continue running your business. There's no stopping."
When Vladmir Putin invaded Ukraine and gas prices shot through the roof pushing prices past the $2-a-litre mark, Wilson had enough.
"I was completely burned out. I couldn't do it anymore," he says. "We weren't making any money. We could afford a pickup and a house, but there was no other money." 
An early grave
As he drove back toward Dease Lake, Shane said he was mystified about how what he and others are doing can possibly be sustained.
"How they're making money out of this I do not know," Shane said. "They're using diesel from Alberta to cut down trees in B.C. My fuel consumption is going to be anywhere between 500 and 750 litres of diesel a day."
For each day that he's on the road driving out of B.C.'s remote northwest corner, Shane gets about $700, which is the only reason he's sticking with it. He says he won't last long.
The driving conditions are too hair-raising and the constant pressure to exceed maximum hours to ensure that the logs are delivered are too intolerable to continue for much longer, he says.
"I was talking to another driver who said what's happening in our company shouldn't be happening," Shane said. "The squeezing that's going on, the pressure and the squeezing to make the mill turnaround... I could keep working here all year and not have a day off. But I don't want to do that. It will send me to an early grave."
Life after trucking
When Wilson sold his Kenworth, he took a job as a forklift operator at Seaton Forest Products, a small sawmill in Witset, a short drive north of his home in Smithers. He likes the scale of the operation where a relatively modest 80,000 cubic metres of logs is all that is needed each year to keep more than two dozen mill employees working.
In his years hauling logs, pretty much everything Wilson delivered went to West Fraser or Canfor, two companies that dominate the Interior forest industry and whose mills are among the biggest consumers of logs in the province.
But that industry, dominated by big mills with huge appetites for wood, is now in a full-blown "timber supply crisis." There's simply not enough wood to go around, forcing mill after mill to close.
Seeing that crisis build over 20-plus years of driving, Wilson decided it was time to change course. He thinks others should too, before it's too late.
"I'd love to see our province go back to the smaller mom-and-pop mills. My folks homesteaded out of Houston. They had a little sawmill behind our house and everybody had a little piece of the pie. And now two companies own the whole thing — West Fraser and Canfor. Government should take back the rights to the timber and let the people of the province have a share in it."