A marketing company called Social Know How that claims to have worked on Doug Ford's Ontario PC leadership campaign purchased the domain "anyonebutford.com" and most likely "anyonebutford.ca," The Tyee found while examining domain registrations.
The registrations took place on Jan. 29 — only four days after Patrick Brown resigned the PC leadership amid allegations of sexual misconduct and the same day Doug Ford announced his intention to run for the job.
The move is a sign that the quickly mobilized Ford campaign team likely knew then that a great danger facing Ford if he won the PC leadership race was an effective campaign of strategic voting by supporters of his opponents.
But as the Ford Nation team was relieved to learn a second time on June 7, such a campaign largely did not occur.
PC candidates won 35 seats where their vote total was less than the NDP and Liberal split vote total — far more than the minimum 19 seats that needed to change hands to change the election winner. In fact, the total of NDP and Liberal votes in those cases was significantly higher than for the PC count, averaging 5,489 more votes for the second and third place combined, or 11.4 per cent of each riding's voters.
The win margin of the PC candidate over the next contender was an average of 8.9 per cent or 4,537 votes in those ridings — very close to the eight to 10 per cent of voters that appear to have been movable between the two other parties.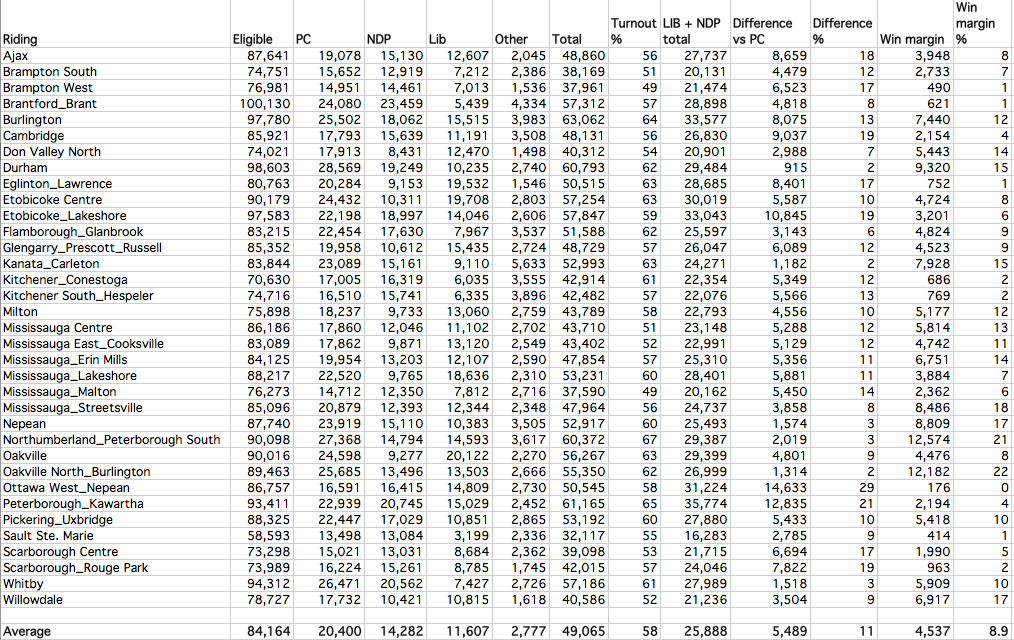 Strategic voting is thought to have been a contributing factor in the 2015 federal election result that delivered a decisive defeat to the federal Conservative party.
Leadnow's votetogether.ca and other similar organizations analyzed close local ridings in detail and made recommendations with the rallying cry "anyone but Harper."
Their message appeared to have been heard by voters, and subsequently many Conservative incumbents lost their seats in closely contested ridings where they might have won with more typical levels of local NDP and Liberal vote splitting.
Conservative commentators accused Leadnow of funneling foreign money into the election, though less than 18 per cent of its funding came from outside Canada. Three people with connections to the Conservative party, including one MP that narrowly lost her seat, sent a report to Elections Canada with great media attention. But nothing came of the report and its claims were largely debunked . The Liberals campaigned to change finance laws and rules on foreign funding are still being considered.
In Ontario this past spring, it would have been apparent to the Ford campaign that it needed to rely heavily on vote splits to win a close election. The Ford team would have known this based on simple projections from the last provincial election as impacted by the shift in popular vote polls, although made a bit more challenging by new ridings and boundaries.
The Ontario NDP campaign saw a similar percentage of moveable, less partisan, progressive voters hop aboard the NDP train as those who jumped from former federal NDP leader Thomas Mulcair's campaign to the Justin Trudeau campaign in the 2015 federal election. Roughly 10 per cent of voters moved camps in the closing weeks when the strongest of the two non-PC choices became clear to voters.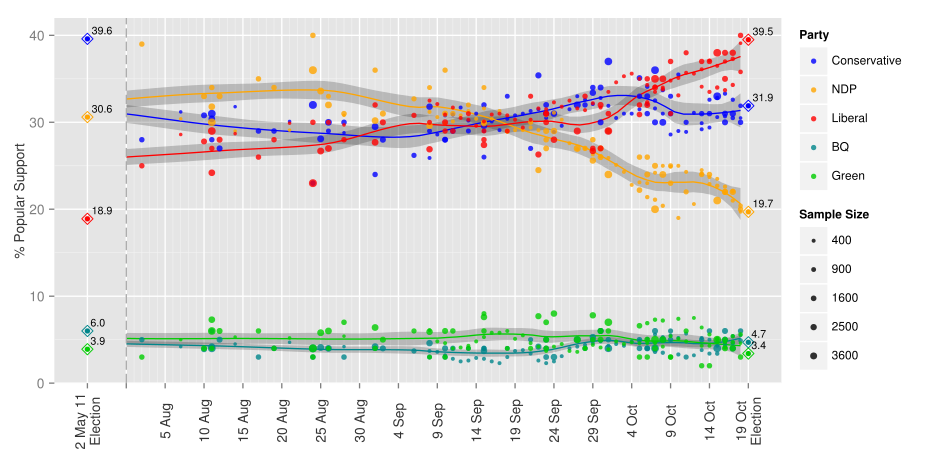 That shift to the NDP appears to have been a first level of strategic vote. But the transfer wasn't sufficient or cohesive enough for the NDP in Ontario's contest. The NDP gained most but not all of the 10 per cent the Liberals lost, suggesting there was an "anyone but Horwath" contingent among soft Liberal supporters that more easily swung to Ford.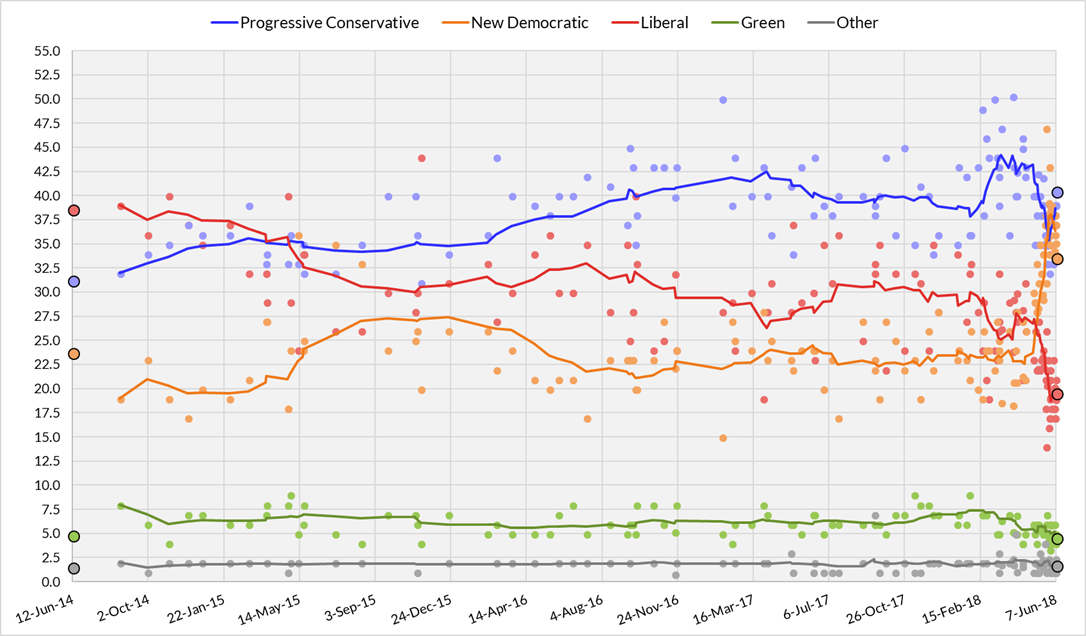 A second level of strategic vote, where broadly progressive voters took into account which of the candidates were best positioned in their own riding to defeat the PC candidate, failed to appear or make an impact, given the heavily split results.
During Ford's late brother Rob Ford's Toronto mayoral re-election campaign, a group calling itself "No Ford Nation" rolled out a citywide campaign. The ads figured joke candidates with pledges like "promises to smoke pot, not crack" with the tagline "anyone is better than Rob Ford."
The Ford campaign's domain purchases certainly didn't stop others from surfacing this time around. Campaigns at Notdoug.ca, notford.ca (quickly disassembled after June 7) both put out anti-Ford messages and found some coverage. More people certainly did vote for anyone but Doug Ford, but neither site offered breakdowns and advice for voters by riding as occurred in the federal election.
Leadnow also organized a campaign targeting key ridings with volunteer phone banks, reaching 197 campaign registrants of the 250 goal found on the #Neverford campaign website. But it also did not offer a wider guide to strategic-minded voters.
If federal elections are any indication, it may take the majority of voters eight years of looking at their least favoured choice before they reach the cynicism required to adopt coordinated strategic voting. The NDP has also criticized strategic voting in the past when it was hurt by such campaigns, which may mean that supporters were less willing to promote strategic voting heading into what became the party's second best showing in Ontario's electoral history.
With no great momentum towards electoral reform on the horizon in Ontario, Ford now has four years to find out if he will inspire strategic opponents or win some of them over.