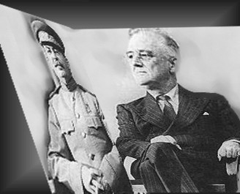 How interesting it is that within the last 20 years we've seen the death of two great economic systems, communism and capitalism, for reasons that are two sides of the same coin.
The Soviet Union, either because of or in spite of Joseph Stalin, developed a very strong manufacturing base under Stalin's five-year plans. As long as the product was not a consumer good and as long as the only customer was the state itself, it looked to all the world like a miracle.
When it came to farming machinery, Stalin's agricultural plans would have been realized except he tried with considerable success to get rid of the farmers through collectivization and cold-blooded murder. It was the communist economic and political dogma, not equipment, that held back the farmers who, being farmers, were stubborn folks and wanted their own land.
Guns over butter
It was in military weapons that the Soviet Union stood out. Again, with the state both the manufacturer and customer, great planes and tanks were made and in time for Hitler's invasion. Most notable amongst Stalin's armament were the T-34 tank and the Yakovlev Yak-3 fighters, both widely believed to be the best in the war.
The Soviets made an atom bomb five years before anticipated, and their timely creation of the H-bomb dazzled and scared the world. It was Soviet science that launched Sputnik I. This technical achievement caught the world's attention and the American public off guard. Then the Soviets did it again. On Nov. 3, Sputnik II was launched, carrying a dog named Laika.
Alas, while a communist state demonstrated that it could manufacture the best when it came to armaments, when trying to produce consumer goods within a non-competitive market, it failed abysmally. Hedrick Smith's 1990 book The New Russians offers an excellent description of what happens when the state tries to manufacture goods for the market without having any idea of what a market is, and how state planning for consumer goods was a catastrophe.
It's argued that the fall of communism was due to an inability to match American expenditures. This may be so but all the same, communism demonstrated to its citizens that it could never supply the goods that the West provided, goods Soviet citizens could see off their satellite dishes.
Rigid regulation simply didn't work in a competitive market. You just couldn't just set quotas without knowing the consumer demand.
Capitalists hate, but need, regulation
What I find fascinating is that merely 20 years after the Berlin wall came down, capitalism collapsed not because of rigid regulations but by the absence of them. Back in the 1970s, businesses began to bitterly complain that they couldn't do business, so shackled were they with government bureaucratic red tape.
I well remember 1978 when, as consumer and corporate affairs minister, I required that prospectuses or material statements of facts must be vetted through the superintendant of brokers, not just the stock exchange, and all hell broke loose. The stock exchange could police itself, I was told.
We now know what happens then. In fact, we knew it after the 1929 crash, but forgot all about it. (Franklin Roosevelt, seeing that the market needed to be regulated, put the buccaneer Joseph Kennedy, father of JFK and RFK, in charge of the Securities Exchange Commission, saying that he was "setting a thief to catch a thief".)
War on oversight
In the '70s, governments in the western world especially did deregulation exercises. B.C. appointed a Minister of Deregulation, Sam Bawlf, in 1979.
Without any question, rules and regulations had piled up everywhere. No better proof of that was in government liquor laws that I had to deal with as minister in 1976-8. The trouble was that the disease of overregulation was "cured" by government abandonment of its responsibility to protect the public. All over the world, the astonishing outbreak of private greed was allowed to run stock exchanges and business in general. We saw, as recently as a month ago, companies going into bankruptcy while paying its sales people and executives huge bonuses.
A few weeks ago, the longest "bull" market in history came to an end and at long last business practices were put under the glass (it didn't need to be a "magnifying" glass). The savings and loans debacle of the 1980s came back into view as mortgage companies, huge investment banks and brokerage houses collapsed. Memories being notoriously short, we looked again at Enron and, as we contemplated a depression, even staid Canada looked at Bre-X, the great mine salting case, and the crash of Nortel. Somehow all of this didn't look like "just one of those things" -- aberrant misbehavior by a few bad apples. To the public if not its political masters, this looked like a debacle caused by lack of regulations and lack of enforcement of those that did exist.
We have then, a Russian system that didn't work because there was far too much regulation and a western financial collapse because there was too little.
Pointing the finger
How did this happen?
Companies successfully lobbied politicians to whose election coffers they filled handsomely.
The media also has much to answer for. The Canadian press, run by a very few who don't want to make waves in a system from which they profit, don't look very carefully if at all at obvious mismanagement and corruption.
We, the public, are also to blame because we have believed, contrary to all the evidence, that large corporations are motivated to help the community and to provide jobs. In fact, they are motivated by one thing only, maximizing profits to become dividends in the pockets of shareholders. The jobs they create are the minimum necessary to make that profit.
There is nothing wrong and a lot right with profits. Money is what motivates all of us and markets are competitive. What is wrong is the self delusion that if we leave business alone, all will be well. Surely we must now be able to look at the facts not our dreams.
Capitalism as we knew it is dead. Socialism is also tits up. New capitalism will come and be successful when we pass laws of behaviour by which companies will be governed, and we enforce them.
Related Tyee stories: