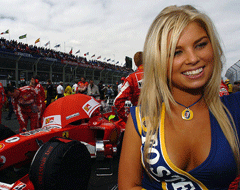 I admit it. I like Formula One. I started watching about a year ago and got hooked. I like its implicit anti-Talladega Nights ethos. I like following the big stars and watching them in the after-race media conference. And I like the simultaneous thrill and zone-out from watching moving objects go round a winding track. It may have started as my end of a trade-off for foreign flicks with subtitles. But now I'm actually a fan.
There's just one issue with my newfound sport soap opera. One pesky problem distracting me from this weekend's Montreal Grand Prix.
Formula One is dirty. Like three "r"s, Christina Aguilera circa 2001 in assless chaps, dirrrrty.
Racing super-fast cars around a track every week, it turns out, is a bit like running a Hummer Tour de France. So while I'm trying to protect my green halo, my new Sunday morning viewing habit is leaving elephant-sized carbon footprints all over the globe.
Even if you ignore the dozens of jumbo jet flights it takes to cart 22 cars and crews around the world for the 17 Grand Prix races, there's still the impact of the race itself. Every F1 car pumps 50 tons of carbon dioxide each race season, and goes through over 200 tires.
But I don't have to get a pit crew to work on my guilt-induced breakdown any longer. F1, you see, is going green. In three big ways. For reals.
First, the Honda team (driven by British playboy Jenson Button and Brazilian Rubens Barrichello) switched to the "Earth Car" at the beginning of this season. The "Earth Car" is quite the wonder. Like every other F1 vehicle, it still belches 1500 grams of carbon dioxide per kilometre (nine times more than the average new road car). But instead of sponsorship logos pasted on its sides, the "Earth Car" is enveloped by a picture of our globe. Now some may say that's a bit like painting an oil rig with trees and flowers, but they're clearly missing the point.
The point is that Honda is using its "huge global reach to highlight a huge global problem." The fact that they're not doing anything themselves is irrelevant. Duh. The picture of Earth is actually made up of little tiny names, the names of all the people who pledged on the Myearthdream.com website to "change something in [their] lifestyle in order to help the environment."
See, pledging on My Earth Dream is a bit like promising not to have sex before marriage. It's foolproof. Everyone knows that once you make a semi-public pledge to do something, it's as good as done. Just look at how successful all those virginity pledges in the States have been.
But wait, there's more. Unlike the other F1 drivers who motor around in Ferraris in their spare time, Honda's boys, Button and Barrichello, drive hybrids. Sure they still have private jets and yachts, but their cars are clean. So it's not just all talk.
And here's the clincher. At the last race, F1 announced that by 2011, it might switch to V6 turbocharged engines instead of the V8s they now use. All that, PLUS, they're also taking a serious look at biofuels. And those work perfectly.
So as I sit on my couch this weekend, inhaling the virtual carbon fumes, I'll be secure in the knowledge that while it may be dirty now, F1 is cleaning up its act. Yep, with these boys on board, we should have this whole global warming thing licked in no time at all.