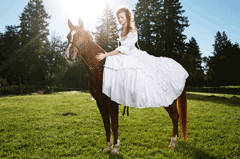 There is a distinct joy to be had in reading the Globe and Mail's Saturday Style section, so much so that, after taking in the New Yorker, consuming it is an event I plan my Saturday morning around. Sure, there is much to be found in the news pages, but in the ease of the weekend, I delight in the smart social anthropology offered alongside service journalism about exquisite lamps I can never afford, shoes I could not walk in, and wines to go with meals in restaurants I cannot eat in because they're on the other side of the country. But in that moment, I don't care a fig if it's all a trifling indulgence. The offerings are pretty, and I like looking at them.
In short, Style is a perfect regular appointment with fantasy lifestyle to ease the pains of the real, ugly world, most of it well written and the rest by "Mommyblogger" Rebecca Eckler.
But inside the Globe's silly fantasy section is a contest too ridiculous even to appear next to 1000 words on a 1000 dollar chapeau for your chien. Presenting: Canada's Most Stylish, the Globe and Mail's search for the nation's most sartorially gifted.
So far, so fluffy good. But here's the deal: it's embarrassingly square.
Oven mitts and army jackets?
The kick-off of the contest contained a two-page spread in which the judges (fashion editor Leanne Delap, "Best Dressed" columnist Russell Smith, "Noticed" columnist Karen von Hahn, and the Globe's newest fashion writer, Amy Verner) define the quantifiers and qualifiers.
Von Hahn offered that "The stylish are those who not only like what they like, regardless of whether it's 'right' this season, but also have the 'I-don't-give-a-toss-what-you-think-of-my-outfit' nerve to wear oven mitts and an army jacket if it expresses their own attitude and sensibility."
Delap chimed in with: "True style is confidence. It's knowing who you are, what you do and where you're going in that outfit."
Smith, one of Canada's most prominent dandies, keenly noted that: "Some of the most stylish people around are the least wealthy. The art students are always the most stylish in any town. I think the secret to their success is quite simply expression: if you see clothing as a means of expression, you will be stylish, and if you see it as a practical necessity, you won't."
And Verner, in a comment she'll surely shudder at in a decade, added, "I am constantly, constantly, experimenting with different looks every day. I don't expect to be deemed an icon tomorrow. Or even by the time I'm 30."
Klassy?
It was an interesting discussion on style as personal expression and on fashion and clothing as an art form. Indeed, it fairly justified the section's whole existence. But the contest? Exceedingly lame.
Take, for example, the fact that contestants nominate themselves. Now, I may be wrong on this, but it seems to me that style is like class. If you go around pointing out how you have it, you probably don't. Also, despite the judges' claims that they were looking for wild individualism and a sense of the iconic, the two twenty-something women who have thus far been picked as finalists are veritable cookie-cutters of each other, with one embarrassingly dressed, Halloween-costume style, as sixties it-girl Edie Sedgwick. The men, an art-dealer and a dancer, fare slightly better, but so far (this will be the third week of finalists) it's cringe-inducing. If anything, it gives one a sense of why the Canadian fashion designers, some of the most talented and visionary in the world, are still often ignored.
The Globe could've given us a newspaper version of Project Runway, but instead we're treated to a 21-year-old who thinks she's at Warhol's factory. The world gives us Isabella Blow and Lynn Yeager, and we give back this? Somewhere Tim Blanks must be weeping.
Yes, it may be daft to critique something as whimsical as a national fashion championship, but there are real artists at work in this country, and that the Globe's Style has squandered space on this seems, well, terribly un-stylish.
Related Tyee stories: