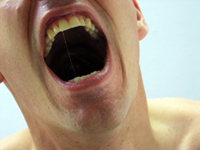 I suppose I must start this piece on civil rights by enunciating, one more time, that I haven't a soupcon of anti-Semitism in my body. I say this because more than once, when I've talked about matters that involve Jewish people, or anything the Canadian Jewish Congress doesn't see as in agreement with its core beliefs, it has brought my editors a call or even a visit.
I ask this question: why is Ernst Zündel in a German prison and David Irving in an Austrian one?
Because both those countries, based on well justified national shame, make it a law to deny the Holocaust.
Surely this is unacceptable.
I can deny that there was a Second World War, that Sir John A. Macdonald was ever a Prime Minister of Canada or pronounce moon shots faked and that the earth is flat. My only punishment would be that I would rightly be seen as a kook. I can deny that any Canadians died at Dieppe, deny that Hong Kong Canadian defenders were imprisoned in ghastly Japanese prisons or that Pol Pot all but exterminated the people of Cambodia. Now I become a kook that has insulted the memories of literally millions of people. But I don't go to jail because in Canada we still have some, though it's dwindling, free speech.
Holocaust incontrovertible
The evidence of the Holocaust is incontrovertible (as are the other events cited above, mainly), in large part because the Nazis kept meticulous records of what they did.
Free speech is not an absolute right. It can be constrained in times of war, for example. It should also be restrained if it used to incite violence against a person or persons or any identifiable group. But, as always, the devil is in the details. How do you go far enough without going too far?
Section 319 (2) of the Criminal Code of Canada makes it a crime to communicate, except in private conversation, statements that wilfully promote hatred against an identifiable group. The courts have had difficulty with the words "wilfully promote hatred against an identifiable group." Surely it's not trite to point out that political parties do that all the time. So do sports fans who cheer on the local ruffian every time he provokes a fight. It's little wonder that the courts, mandated to find guilt beyond a reasonable doubt, have difficulty finding guilt unless it's clear that the accused not only produced "hate" literature, but intended it to do specific harm to a specific group. It must be noted, too, that the courts have held that "wilfully" doesn't include "recklessly."
Parliaments always have trouble when they try to pronounce upon public morality. And that's what we're dealing with here for the most part. We are attempting to legislate against bad manners, hurtful speech and terrible insults.
Is aim to incite physical harm?
The stand I take today is not new. I believe in free speech even when it hurts people's feelings, even badly. The slur, the gross insult, the expressions of prejudice all belong in the sphere of human expression that must be dealt with by the disapproval of decent people, not the courts.
It's hard to imagine any uncomplimentary remark that couldn't be construed by some as preaching harm to the object of the remark. Indeed, as I mentioned, things as common as sporting events and political campaigns include, automatically, intemperate statements that could easily be construed by some as calling for bodily harm and worse.
What the law is aiming for, I think, is criminalizing serious calls for harm to be done. "Let's go and burn the synagogue," "let's get the niggers" and that sort of thing clearly must be proscribed by law and prosecuted vigorously. Surely all decent people should agree with that. The trouble is the law goes too far when it says one must not wilfully promote hatred against an identifiable group. If the term "physical harm" were to replace "hatred" that would cover the situation we're trying to deal with, but I suspect that wouldn't satisfy the Canadian Jewish Congress and similar groups.
The infamous Ernst Zündel underwent two criminal trials in 1985 and 1988. The Crown, knowing that Section 319 of the Criminal Code would be tough to make stick, chose lesser charges under Section 180 alleging that he "did publish a statement or tale, namely, 'Did Six Million Really Die?' that he knows is false and that is likely to cause mischief to the public interest in social and racial tolerance, contrary to the Criminal Code."
Zündel was originally found guilty by two juries but was finally acquitted by the Supreme Court of Canada, which held, in 1992, that section 180 was a violation of the guarantees of freedom of expression under the Canadian Charter of Rights and Freedoms and the section was struck down as unconstitutional. If the "easier" section was unconstitutional, it's safe to infer that Section 319 is also all but unenforceable.
Beneath contempt
Let me pause here to say that I count myself as a pretty fair history buff who was a teenager when the full horror of what the Nazis did to Jews and others came to our movie screens. I have never had a moment's doubt that the Holocaust and all its attendant atrocities happened as described in Sir Martin Gilbert's seminal treatise The Holocaust.
David Irving, acknowledged as a brilliant researcher, has been rightly and roundly criticized for apologizing for Hitler and the Nazi regime, his hatred of Jews and denial of the Holocaust -- and writing rubbish about Churchill.
It was he, you may remember, who exposed the "Hitler Diaries" as frauds thus greatly embarrassing the famous British historian Hugh Trevor-Roper (Lord Dacre) who had confirmed them as being legitimate. When Stern magazine held their sensational Hamburg press conference to announce the find of "Hitler's Diaries" on April 25, 1983, Irving was smuggled in as special correspondent for the rival Bild mass-circulation newspaper with the task of torpedoing it. Bild editors, you see, knew that Irving alone had duplicate copies of the fake Hitler documents, including pages of the "diaries" that Stern actually began publishing that day.
Unfortunately Irving was also a neo Nazi, a devoted hater of Jews and a denier of the Holocaust. Ernst Zündel is a Jew baiter and a denier of the Holocaust. They are both beneath contempt.
Insuring liberty
There is no doubt that both Zündel and Irving carefully calculated to deeply wound Jewish people and there can be no doubt that both are vicious anti-Semites. But they are not in jail because they tried to incite violence, but because of their idiotic denial of the Holocaust.
Freedom of speech should never be diminished on the basis that doing so makes prosecutions easier. The fact that Zündel escaped the consequences of his filthy mind and actions tells me that Canadians are much inclined to regard freeing people like that as the insurance premium free people pay for the preservation of that freedom.
May it stay that way.
Related Tyee stories: