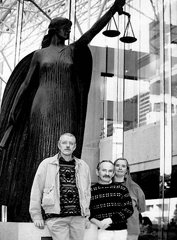 Perhaps only a small minority of Canadians care about whether the gay and lesbian community in Vancouver has access to erotic fiction or comics in a timely manner. Whatever your taste in books, the Supreme Court of Canada's recent decision to deny funding to Little Sister's Book and Art Emporium in its charter fight with Canada Customs should be mandatory reading. The majority found that because the dispute was limited to only four books, it was not "exceptional" and did not "transcend the litigants' individual interests."
Debatable, perhaps, but the fuss over the facts of this particular case obscures a larger issue: if charter rights are practically unenforceable against the government they were designed to protect us from, do they exist at all?
Do pixels on a piece of paper ratified by Parliament create rights in Canada, or are they created only at the instant when an ordinary citizen has a remedy for their violation at the hands of state officials?
One-sided fights
The reality is that as much as we Canadians admire the charter and take solace in its provisions, it may as well not exist for all the good it would do us if we needed it. The average Canadian makes $38,000 a year. In a previous public funding case, the Okanagan Indian Band calculated that its logging dispute with the British Columbia government would cost over $800,000 to take to trial. Lawyers for Little Sister's estimated their case would exceed $1 million.
In lawsuits, there is a financial incentive for both sides to avoid the expense of going to court. Unfortunately, this doesn't apply in charter cases because the defendant is always the government. And suing the government is like suing Microsoft: you are likely to be bankrupt and exhausted before the other side opens its briefcase.
The lack of funding for cases like Little Sister's does "transcend the litigant's individual interests" because without test cases to delineate the scope of legal government action, the judiciary will be unable to perform its constitutional role as a check on unfettered government power. In effect, the Canadians who risk their livelihoods, privacy and life savings to pursue charter claims against the government serve as auditors of the legal system. By pursuing diverse constitutional challenges, these individuals test the legality of our government's actions and preserve our liberties.
11 cents a year for protection
So who should bear the cost of ensuring the government respects our rights? We all should. The Liberals addressed this problem in 1994 by funding the Court Challenges Program of Canada, which gave grants to advance important constitutional cases dealing with equality and language rights. Stephen Harper, admittedly no fan of the charter, cancelled the program in 2006, with little media fanfare.
Given that the program cost a piddling $2.75 million and funded close to 100 cases a year, the cancellation seems driven by something other than fiscal concerns. Surely most Canadians would be willing to pay 11 cents a year to make sure that Mr. Harper refrains from using the charter to line his french-fry basket. By taking away the only publicly funded program for enforcing charter rights, Harper has forced citizens to appeal to the very limited common law grounds for the court to grant advance costs.
Which brings us back to Little Sister's. After over a decade of litigation, Little Sisters will likely have to drop its case, in light of the court's decision to refuse funding. Little Sisters is an esoteric little bookstore, clearly no match for a behemoth Department of Justice, buttressed by the resources of the entire federal government.
Now it seems that Customs Canada will never have to justify its seemingly random censorship decisions, which have seen graphic heterosexual pornography admitted into Canada without a blink, while gay fiction has been detained for months and sometimes years.
This is a loss not just to the gay community, but to everyone who cherishes freedom of expression and recoils at the prospect that a government may ban books without review or reproach.
Related Tyee stories: