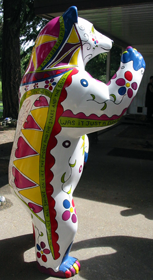 Last week, I schlepped around Vancouver's Gastown with some relatives. I took photos of them next to the Gassy Jack steam clock, beside cruise-ship couples in matching windbreakers. But I drew the line. And snapping a photo of my charges with a seven-foot anthropomorphized fibreglass bear was that line.
I'm referring of course to "Spirit Bears in the City," the highly visible fundraising venture of the B.C. Lions Society for Children with Disabilities. Hot on the heels of 2004's successful "Orcas in the City" project, these stylized replicas of the rare kermode, or spirit bear, have popped up like ursine carbuncles on many a city sidewalk this summer.
And now they're gone, auctioned off last night at a gala fundraiser. Last year the orcas pulled in $400,000 for the Lions, the Easter Seals, and the Canucks for Kids Fund. That's serious money going to a good cause. But we've got to figure out a better way to promote public art in the city.
Not made in Vancouver
The bears are based on a public art project that began in Zurich in 1998, and has since trickled down to nearly every major North American city. The Spirit Bears in the City website lists numerous noble goals for the project, including "celebrating cultural diversity," "capturing imagination," and "encouraging "the 'Arts' [their quotes], local businesses and individuals to come together in a spirit of community fundraising."
But for every tourist who flings her arms around one, there seems to be a local who'd like to take a mallet to it (the bear, not the tourist). I've heard words like "ugly," "goofy," and "embarrassing." No one's suggesting that a fundraiser to help kids with disabilities is a bad thing, but does it have to be quite so hokey? And because the artists and sponsoring businesses are encouraged to "collaborate" on the bears' design, some of the finished pieces serve as little more than cringe-worthy billboards for the companies in question.
Stephen Miller, president of the Lions Society http://www.lionsbc.ca/, not surprisingly, disagrees. He's already planning the third iteration of the project (and keeping secret what animal it will be). Miller says for every letter to the editor criticizing the project, another praises it.
Miller says the project has strong artistic merits. "We've taken the rectangular canvas and put that into a form and given it to the artist, people who've got talent and their work is usually sought after and they apply their art work to that form. It seems that the people who get upset or say they don't like it are looking at the form and not the artwork, which is unfortunate for them."
Missed opportunity
But Richard Tetrault, a Vancouver artist and muralist, believes that the spirit bear project demonstrates a lack of trust in artists' own work, and instead forces them to produce something "cute and frivolous." "Take something that's a template, that's really hard to work with," he says, "then give artists all these conditions about not making any political or social statements...then strain all that out and see what they can come up with."
The lack of a real art legacy in Vancouver bothers him and many other artists. "There are all these issues, substantial things that can be expressed in content in public art, a tremendous untapped dimension that we aren't even tapping," laments Tetrault. Another artist, who, because of his contribution to the spirit bear project, asked not to be named, expressed similar feelings. "Why does art for the masses have to be such pablum? I don't want to see the same thing over and over, just these different variations on the same thing. I want to see things that are different and controversial, that make people think."
Most artists I've spoken to are critical of the project, mostly because it's a missed opportunity to do something more worthwhile, but not every artist involves feels quite so strongly as Tetrault. Arnt Arntzen, who's contributed both an orca (one that fetched the highest bid at auction) and a spirit bear to the project, admits that the bear is "somewhat limiting" as a medium. But he does it because he says he likes a challenge. As a furniture maker, Arntzen doesn't have any illusions about the promotional nature of the work, and got involved entirely because of the charitable aspect. "Good for them, you know? This is high-profile stuff, and the Lions have gone about it the right way. This is how you raise that kind of money. You're just not going to get it from Joe Public."
Mansion lotteries only
Maybe that's the core of the problem. The average Vancouverite isn't forking over wads of cash for charity, except when a sweepstakes to win a mansion in South Surrey is involved. The Lions have found a way to raise money while getting a buttload of media coverage. Artists get the promise of exposure, the city gets to call it a tourist draw, the corporations get publicity, PR points and fat tax write-offs, and everyone looks good.
So why do I still want to punch the damn things right in the face every time I see one?
To my eyes, the bears represent something diluted and insincere, both artistically and culturally. They're Disney-fied symbols that have about as much to do with our city as do the maple syrup samplers and buckskin-clad squaw dollies in local souvenir shops. As Tetrault points out, "It's about making our relationship with nature glib and consumable -- let's take these animals out of their habitat and impose them on the urban landscape. It creates a discomfort in me; it's like nostalgia for something that we're already trampling over."
Spirit bear depths
And while I might feel some relief when the auction aftermath moves a number of the bears to other locations, the temporary nature of the work will continue to trouble me. So many human and financial resources expended on objects that won't leave a lasting impression, and aren't designed to. If this becomes a Vancouver institution, will there one day be an "Animals in the City" graveyard, filled with weather-beaten orcas, bears and whatever other critters are next in line?
Instead of lifeless and temporary public art, how about charities work with artists and corporations to create works that actually encourage meaningful discussion of culture, origins and community?
Here are a couple of ideas. Since many of the spirit bear artists essentially use the fibreglass form as a painting canvas, why does the bear have to be a bear at all? Why not a cube, or a ball? This would be more likely to "capture the imagination" of the artists involved, as the goals for the project suggest, while allowing artists to discuss issues of more importance to our city. What kind of dialogue do spirit bears generate, other than "like it/don't like it"? How do they help us understand ourselves or our environment?
Or why not showcase the actual output of the contributing artists? A juried exhibition of several disciplines could be shown, and then auctioned off. Given the massive administrative, publicity and financial thrust that's on tap, one large collaborative project could even be mounted, involving various artists and funded by groups and businesses, to create a permanent Vancouver landmark that says something of more lasting value than "Oh, look -- that bear's wearing sandals!"
You can view all the spirit bear artworks in Vancouver by clicking here.
Jenn Farrell is a Vancouver writer and editor. Her first collection of short fiction, Sugar Bush and Other Stories, will be released in November by Anvil Press. She writes the Sugarbushbook blog.
Got an idea for how B.C. cities and towns could handle public art and charity? Please comment below.