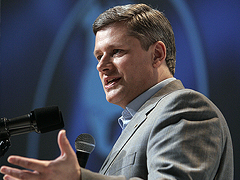 I have this feeling that we might indeed have a national task force looking at electoral change. With several provinces committed to a look-see, Stephen Harper knows that there is an appetite for change -- not a ravenous one to be sure but perhaps an unstoppable one in the long term.
Any sort of proportional representation gets the insiders upset because they lose control for the same reason prime ministers and premiers do. When there's a minority government such as will certainly happen under proportional representation, the MPs gain power at the expense of the government, which is to say the prime minister and cabinet -- especially the prime minister.
I don't have the passion for majority government that many Canadians do. I think that many Canadians are far more concerned with "peace, order" than with "good government." They like things settled -- who it is they like, who it is they hate.
Reforming institutions of reform
The picture in our minds of one Mountie leading Sitting Bull and 10,000 braves out of the country is hard to shake even though it's not true and the real story is better.
Suffice it to say that we weren't born out of the crucible of violent revolution but a series of deals, some good, some lousy. Having sprung from the loins of the Law of Contract we tend to look for loopholes rather than pistols when disputes arise, which is perhaps more civilized but it does tend to extend the lives of terrible deals, such as the Senate, Equalization and an electoral system that gives 100 per cent of the power to 50 per cent plus one of the vote.
The trouble is that politicians and judges can maintain the status quo by using the very places we need to reform, such as the Senate, the House of Commons and the Supreme Court.
Political bravery, defined
In effect there can be no meaningful change without the unanimous consent of all the provinces and the federal government. It takes a very special sort of politician to propose changing the way he got elected for a system wherein he might lose. And the Canadian woods aren't full of such people.
Given that there is no way to get change, and the need for change is already critical and will increase, Canadians should ask themselves this: what happens in the days to come? If our country can't remedy its own system of governance, how does it deal with the concomitant anger that will, for different reasons in different regions, surely seriously threaten the unity of the country?
Maybe we'll just muddle our way through...though I wouldn't bet on it.
Rafe Mair writes a Monday column for The Tyee. His website is www.rafeonline.com.