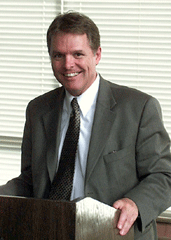 There are signs in Gastown stating "The End Is Near." Such proclamations used to be the domain of zealots announcing the imminence of Armageddon, but this message is being used to sell the Terminus condominium development. Nonetheless, in Vancouver the end is near.
We are coming to the end of an era of planning in Vancouver. We do not have many more parcels of downtown industrial land available for large-scale construction. This means that development interests will shift elsewhere in the city or in the region. Furthermore, on Friday, June 30, both co-directors of planning, Dr. Ann McAfee and Larry Beasley, are leaving the positions they have held since 1994. The city is looking for a single person to replace them both.
For most cities, such a change would not be as momentous an event. But as a Seattle-based architecture critic said at the Dialogue of Cities symposium earlier in the month, "As we understand it, Vancouver is run by planners." Kirsten Tisdale at Korn Ferry International, the recruitment firm hired to find the new director, told me the three-month research process to determine the job description indicated "the public and the city council feel this is one of the most important decisions to be made in Vancouver."
Korn Ferry talked to senior city staff, planning staff, and the mayor and council, as well as business associations and prominent architects. The company heard from the public through a forum of more than 400 people held at SFU and moderated by former city councillor Gordon Price. In deciding what the job entails, the city's current and future planning needs are being crystallized. This is vital, as it has been a long time since Vancouver's planning direction has been critically reassessed, and the current co-directors are not the ones to do it.
Prior to their roles as directors, both McAfee and Beasley had worked in the Vancouver Planning Department for many years. At least one of them has been on staff for every major planning decision since the mid-1970s. As planning heads, Beasley focused on current planning, building out the downtown area and working directly with developers, while McAfee focused on long-term planning, policy creation and the largely low-rise areas outside of the downtown core.
Downtown: our suburbs' bedroom?
Larry Beasley's "Living First Strategy" has promoted dense residential development in the urban core. Local architecture critic Trevor Boddy has pointed out that Beasley's reputation hinges on the apparent success of the "Living First Strategy" and as such he would likely continue to promote it -- despite the fact that it is a major factor in jobs moving out of the downtown core. Living First has actually been so successful that it is turning Vancouver into a bedroom community for its suburbs.
Was the Woodward's redevelopment marketing slogan "be bold or move to suburbia" referring to downtown Vancouver? In the documentary film Vancouverism in Vancouver, screened recently at the Access Gallery, Beasley says suburban values were intentionally brought to planning in the downtown core to make living in Vancouver seem safe and attractive to those who would otherwise not be comfortable in the city centre.
At the Royal Architectural Institute of Canada's annual conference this year, Calgary architect Marc Boutin said: "Downtown Vancouver has been reshaped through a single gesture [the condo tower and podium] the same way that suburban communities are realized through a singular planning concept in rapid execution." Flexibility and variety have been sacrificed for a uniform urban model built across the entire city at once. This model does not cover our current needs, never mind that it may be difficult to adapt to unknown future needs.
In the last decade, "view cones" and the skyline's shape dominated downtown planning decisions, yet in Vancouverism in Vancouver Larry Beasley claims to be interested in livability more than architecture. The problem is that when he says "architecture," he means superficial aesthetics and not the space inside the building where people live. What he refers to as "livability" can be translated as panoramic views and waterfront parks. When I spoke to Dr. Ann McAfee in April about the history and future of planning in Vancouver, she said an interesting thing: "When I sit on the development permit board when Larry is on holiday, everyone jokes that I am sitting in the building wondering what it is going to be like living in the building, whereas Larry is standing on the street looking at how this building fits with the environment around it."
The first sentence of the director of planning job posting states that Vancouver "has been consistently rated as one of the world's most livable cities." But the growing numbers of people living with a family in a 500-square-foot condo, or in substandard SROs, or on the street, have grounds to disagree with such ratings and the factors they measure. The Vancouver Planning Department is consistently cited as "award-winning," but awards can't make up for the fact that we are failing our most marginalized citizens.
Condo frenzy marginalizes poor
Raymond Moriyama, architect of the Canadian War Museum in Ottawa and former resident of Vancouver's Little Japan near Oppenheimer Park (before World War II), was disgusted and appalled by a recent visit to his former neighbourhood. He described the area as a ghetto when he lived there but that now, instead of improving, it has gotten worse and felt it was shameful that the City of Vancouver could allow this condition to evolve without doing more about the problem. The Downtown Eastside has complex social issues that cannot be fixed through planning alone, but the current models of planning downtown are aggravating the problem through decreased affordability and fewer options for family accommodation.
Bob Rennie of Rennie Marketing Systems (the top real estate marketing consultancy in Vancouver) gave a speech last month to the Pacific region's annual meeting of the Urban Development Institute in which he suggested "politicians and planners need a huge wake-up call" on the crisis of affordability, otherwise "where the hell will our children live?" This message is offensive coming from a person substantially responsible for rising housing costs. It is in his company's interest to drive up prices, and it has done so by manufacturing a buying frenzy. This has, in turn, increased the price of the land and the cost of construction for market and social housing alike. When Dr. Ann McAfee started working in the Vancouver Planning Department in 1974, affordability was already a concern. Yet according to her, "One of the main issues that the new director is going to face is the supply of housing in the city, as this has an impact on housing affordability."
In Rennie's address, he asked: "What if the city of Vancouver and surrounding cities and municipalities bonused density to provide affordable housing?" This has been a long-standing option in the city's Discretionary Zoning process. Section 6 (II) of the Downtown District Official Development Plan allows for an increase in density "in exchange for public, social or recreational facilities which have a demonstrated need [italics my own]." A similar arrangement to Discretionary Zoning exists in many British cities under the name Section 106.
At the Dialogue of Cities discussion, Yasmin Shariff from London called the transaction a "legal bribe" since senior planners broker deals with developers allowing them to build more profit-creating space in exchange for various public amenities. The final decisions still have to be approved by city council, but this process leaves a lot of power in the hands of the city's planners. This by-law has blessed Vancouver with an abundance of parks (even if some, like the Wall Centre Plaza, are designed specifically to discourage use), but the city needs to get its priorities straight. As citizens, we shouldn't accept any more park space in exchange for higher densities until we have housing for everyone -- including families and people with low incomes.
Can consultation stifle revolt?
Well-known architectural historian Joseph Rykwert, who also spoke at the Dialogue of Cities symposium, said we should not be content to be merely consumers of the city, but that we should strive to be citizens in the full meaning of the word. An example he gave came from Bologna in the Middle Ages: the city was building a great cathedral to rival all other cities including Rome. Due to papal pressure and money shortages, the height of the dome was lowered by 50 per cent. The citizens rioted and beat up city officials because civic pride meant that much to them.
The public consultation has long been an intrinsic part of the planning process in Vancouver. More than 100,000 people contributed to CityPlan's neighbourhood visions, and people come out in droves whenever there is a public open house regarding proposed construction plans in their neighbourhood -- whether it's WalMart, Woodward's or the Whitecaps Stadium.
I admire the desire and action Vancouverites take to shape their own city, but I sometimes wonder if the public consultation process, intentionally or not, acts to quell our revolutionary spirit by providing a means to vent and not much else. The planning director's job description sates that whoever fills the position will benefit from "a legacy of vision and strong policy work, which will require evolution and gradual renewal...but not revolution."
Why not revolution? The interviews for the new position are taking place this week and a new director will be appointed shortly. If that person is not ready to shake-up the tired planning model of Condos First and bonus amenities that don't meet the city's bare necessities, then we may have to shake up the planning department ourselves like a pack of medieval Bolognese.
Helena Grdadolnik writes an occasional series on B.C. architecture for The Tyee. We acknowledge the support in this work of the Canada Council for the Arts, which last year invested $17.6 million in visual arts throughout Canada. Grdadolnik is an architecture critic and an instructor at the Emily Carr Institute of Art and Design. She can be reached at hgrdadol@eciad.ca.