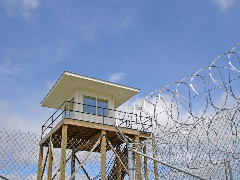 I'd feel a lot better about Prime Minister Harper's new fight on crime if I knew what background information went into the decision.
Has he considered some of the unintended consequences of longer sentences?
There are some, and while they may not seem to amount to much, I believe that the public, which always responds to tougher crime laws with grunts of approval , needs more that just the opinions of Vic Toews, the Minister of Justice.
Of course, as a general proposition, the law must discourage offenders by making the consequences of crime mean something. But an unanswered question, because right-wingers seldom ask it, is this: what happens to that (usually) younger, (usually) male offender who will now spend perhaps two more years in jail? Will he come through the experience not only chastened but a better person to go back into society?
If the answer is "no", then perhaps we should think beyond the trial and sentencing and the aforesaid grunts of approval from the bottom feeders and look at what the consequences for society really are.
If, for example, we throw impaired drivers who have killed someone into jail for a long sentence, what happens to the family of that (usually) young, (usually) male offender if he is the main breadwinner for a wife and young children?
However guilty he may be, his wife and kids are not. Surely we must consider whatever social consequences will befall the innocent family. Do we see a marriage split-up with a resultant new impact on social services? Will more police money needed because the fatherless kids get into trouble?
Deterrence is overrated
Some will reply 'what about the families of the victims'? But when all's said and done, extra jail time for the transgressor doesn't help them bring back their lost loved one. That terrible loss will be there no matter what happens to the offender.
Is the Harper government (if we and they are honest with ourselves) simply catering to the victim's - and the public's - natural demand for revenge? It's not called that, of course. It's called deterrence because we don't like to admit the "vengeance" factor.
What we, as a civilized people, should be seeking are outcomes which will deter others, be appropriate punishment and rehabilitate offenders. And we must have a proper mixture of those three needs, though it would take the wisdom of Solomon to find it.
Deterrence is overrated. Long sentences don't deter crimes of passion and it's appropriate to remember that when petty thieves were publicly hanged, the spectacle drew huge crowds, including pickpockets doing a brisk business as one of their mates was strung up before their very eyes.
I raise these questions because any party that would send an MP (with the marvelously appropriate name "Hanger") to Singapore to see if flogging miscreants deters crime, doesn't strike me as one which has given much thought to these issues.
Putting more people behind bars for longer terms will have one obvious consequence: we will spend a hell of lot more money, over $80,000 a year per prisoner in federal prisons. And we'll need more capital to build more prisons.
This raises in my mind this obvious question: is the added expense the best way to spend our money?
Power up parole
To answer that, we must look at the alternative of a much better administered parole system. And it's here that I think the public is really at when they demand more law and order. They see the courthouse simply being a revolving door where he who enters is met by an army of bleeding hearts just slavering to get him back on the street with what amounts to a token nuisance of occasionally reporting to a parole officer. I think many who think this matter through would agree that it's not the principle of parole that's the problem but the administration of it.
What happens if we take the money the Tories' new policy will cost and make a better parole system? A system which is strictly enforced so that there really will be a deterrent to the parolee who knows that any breach of his parole will see him back behind bars.
This will require a better and thus more expensive parole system, but wouldn't that be a better way to spend our tax dollars than more jails and longer sentences?
Sooner or later, all offenders get out of jail and if it's later, surely we must be satisfied that the increased cost has been to the public's advantage. Does jail, far from deterring, simply act as a finishing school for first time offenders?
'Hang 'em high'
I don't know the answers to the questions I've raised and I suspect that most readers don't either. And that's what's so troubling. The politics of a justice system are that the more people we punish more severely, the better the polling results for the government. But surely, public popularity for a government policy doesn't tell us that the policy is right - only popular.
If more and longer jail sentences are the road we're going down, mustn't we the public be convinced that there's not a better alternative? That a much better administered, effective parole system, while not being perfect, may be a better investment than simply throwing more people in jail for longer sentences?
The question of criminal justice is not an easy one and easy decisions that bring instant applause ought to trouble us as a society. For me, I just don't believe that the Conservative Party with its long tradition of "hang 'em high" has thought this through or done much more than consider that which seems to confirm their own prejudices.
Rafe Mair writes a Monday column for The Tyee. His website is www.rafeonline.com.