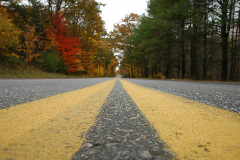 The coming three years leading to an election in '09 will be interesting to watch for both the Liberals and the NDP. They have the same problem coming from different directions. Both want to win over the "centre."
The NDP have had a couple of serious problems over the years.
For starters, until last fall, they have been officially in bed with the labour movement and tailored their policies to that large, money contributing source. The trouble has been that many people of the centre, often small business people, see this as a threat. Moreover, by no means do all workers support union-selected candidates - indeed, many resent it.
The other problem goes to the root of the matter. The NDP have always spoken for the poor, the disadvantaged, the unemployed, the halt, the lame and the blind. And thank God they have done this or there would be precious little help for those of our fellow citizens who are in need. The difficulty is that many of these people don't vote for various reasons and many of the better off don't give a rat's ass for disadvantaged and take the position that like themselves, "those people" ought to get off their hindquarters, get a job and be prosperous.
In short, the NDP must learn that it can be a movement if it wishes, but that won't get them enough votes to become government - unless the government screws up as badly as the last two NDP administrations did.
A new middle?
The Liberals want the "middle" as well and realize that there's no need to be especially nice to people who will never vote for them anyway, namely the poorly off.
The trouble is, the "middle" isn't much fonder of the rich than they are of the poor. They see life through their own prism which says, in the old saw "Don't tax me, don't tax thee - tax that man behind that tree."
There is, however, a new and growing group in the "middle" which should trouble Mr. Campbell very much - those who are to the right on fiscal matters but on the left for social issues.
What is, or appears to be fiscal mismanagement, as was seen with past NDP governments, will drive this group into the arms of the Liberals.
On the other hand, this same group can be handed to the NDP if the Liberals don't demonstrate that they care for those who can't care for themselves.
Ms. James and Mr. Campbell have interesting issues before them - For Ms. James it is to present a party of the left than can look fiscally responsible; Mr. Campbell must demonstrate that his version of the "right" has compassion for those who need help.
Challenges, big time, for both of them.
Rafe Mair writes a Monday column for The Tyee. His website is www.rafeonline.com.