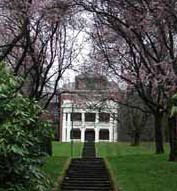 Riverview Hospital for the mentally ill is closing and the government insists that the patients will be transferred to new, smaller facilities around British Columbia. Riverview will remain open for new patients unable to care for themselves.
Not answered is this: what about those now homeless and living in the streets?
The current budget sets aside $8 million over three years to deal with this horrible and embarrassing situation.
This government knows dick-all about mental illness and chooses not to learn anything because that would open the treasury to huge sums for mental illness not now covered.
Set up to fail
The first Campbell government set up a minister for mental illness which was condemned to failure as soon as Mental Health Advocate Nancy Hall was let go in November 2001. Her first report to the Liberal government noted that "while treatment and care for the mentally ill is moving the right direction, the current system is not achieving acceptable results." The report is also critical of the province's bureaucracy for its non-caring attitude. [She] says that mental illness is like no other affliction and demands sensitive handling and more than simple health care services.
"Clearly, British Columbians do not understand mental illness. We do not understand that one in five of us, some 643,000 in any one year, may experience a mental disorder." (emphasis added)
Nancy Hall's mandate was to look for the mentally ill who needed help. For her efforts, she was fired. At that time, I editorialized thusly. "I believe the minister, Dr Cheema, to be a very sensitive, well motivated man who sincerely wants to make things better for the mentally ill. I believe the premier shares that feeling. But they are not going to identify the problem, nor be able to bring solutions to bear, without help from those whose jobs don't depend upon results."
The Campbell government, concerned only with the bottom line, could see that if Nancy Hall were kept on much longer, the mentally ill would be found and that would add significantly to burdens on the health care system. It is not, therefore, extravagant to say that a solid part of the first Campbell government's fiscal savings were on the backs of the mentally ill.
Why does this happen? If we were talking about cancer victims here, or AIDS or Hepatitis 'C', not only would the patients rise as one to protest, but the public would back them. There would be crowds swarming the parliament building.
Disbelievers
Mental illness isn't neat and tidy like most physical illness. Physical illness can be detected for the most part. No one disbelieves it when a woman goes to the doctor with a lump on her breast. Yet, while the ability to actually see causes of some mental illness is greater each year, the public, and especially the media, just don't believe in most mental illness. Unless the patient is running around slitting throats, the public suggestion for those who claim mental illness is "Go home, have a large scotch and hum a few bars of 'Land of Hope and Glory' like your father did before you."
Even if helping the mentally ill had no positive effect on public expenditures, surely as decent people, we would want them helped. The fact is there's a big public saving. When one assesses the problems raised by mental illness, also included must be the untold thousands in our province who self-medicate with alcohol and other drugs.
The toll on families, friends, employers and fellow employees, on the costs born by social services ministries and the attorney general, whose law enforcement people are on the front line, is incalculable but obviously is enormous.
Courage and delay
The real tragedy is this: a person in mental distress finally summons up the considerable courage it takes to seek help, goes to the doctor who doesn't know much about depression and so passes the patient over to a psychiatrist who can give an appointment in six to 12 months time!
There are simple remedies:
1. Every doctor, before getting a licence, must have a thorough grounding in mental illness. This requires the coming together of government, the medical school, the British Columbia Medal Association and private agencies.
2. The BCMA should maintain a list of family doctors who are able to deal with mental illness and will take new patients.
3. Recognizing that dealing with mental illness requires more time with the patient that usually expended on patients, Medicare must recognize this fact with a better fee schedule.
4. The office of mental health advocate must be resurrected with the mandate to see that those who are mentally ill have access to help as well thus guiding the ministry of health to where the problems are.
I know something about this subject since I was diagnosed with depression nearly 20 years ago and because I was lucky enough to have the right doctor, thus having been treated and able to lead a full, productive life.
I close with a line I've used many times before but it's no less apt. If physically ill people were treated by the system as mentally ill people are, the legislature would be jammed with protesters.
Rafe Mair writes a Monday column for The Tyee. His website is www.rafeonline.com.