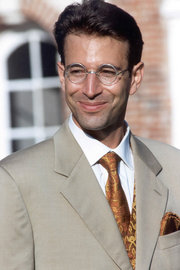 As the controversy over Danish caricatures of the Prophet Mohammad unleashes a firestorm of outrage in the Muslim world, it's clear that efforts at cross-cultural understanding are urgently needed. Like an ugly internecine feud that is about far more than it appears on the surface, it will take more than a few discussions to determine and treat the root causes. Tamara Pearl, eldest sister of the Wall Street Journal bureau chief Daniel Pearl, who was murdered in Pakistan, spoke in Vancouver on Sunday about her family's attempt to turn the pain of their loss into something constructive, something that might stimulate such efforts. "Alchemy," as she calls this process, is defined as "transmuting something horrible or crude into something precious."
Given the intensity of the subject matter, it came as a relief when the first story she told of her brother was of the time, as a young man, when he shaved his legs and donned a wig and lipstick in order to infiltrate and report on a "ladies' night" involving male strippers. Some of the women recognized an imposter in their midst, and one amiably felt him up. Tamara tells this story to illustrate her brother's sense of humour, his love of life, and just maybe, to let the audience enjoy a brief moment of levity before launching into the details of his death.
Kindnesses small and large
Four years ago this month, Pearl was killed by militants while working in Pakistan. They had tricked him into believing that they would connect him to a source for a story, and his Jewish identity was a factor in his murder. Shortly before his capture, he communicated with Tamara. At the time, Daniel's wife Mariane was four months pregnant. Tamara urged him to promise that he would leave Pakistan if he ever felt endangered. He promised.
After the trauma of his death-the month-long uncertainty after his disappearance, the news that he was about to be released that sent her packing her bags to meet him, the reporters camped out around their parents' house when the truth was finally revealed-Tamara recalls talking to her best friend. "I blurted out, 'But life is still good.'" It was a strange thing to say, she admits. And the start of a quest to find out if it was true.
In the aftermath of his death, the family received hundreds of letters from people who had known him, who remembered his kindnesses, small and large. The family reflected on his openness to cultures other than his own; on his desire, for instance, to move to Iran at one point. Danny, Tamara recalls, was the kind of person who, when a pregnant friend was overdue, had written a song for the unborn child. He wanted to coax it out "in case it was afraid of the world."
Being fearful of the world was one potential response to her brother's death; a desire for revenge was another. Tamara's family decided instead to "transform our horror into something life-affirming." They launched the Daniel Pearl Foundation, which runs journalism fellowships, international youth programs, music concerts, lectures and a dialogue for Muslim-Jewish understanding. Prominent figures are involved, from Elton John and Yo Yo Ma (on the music side) to Bill Clinton and Queen Noor (on the foundation's board).
Next generation
With names like that, and with an audience at Vancouver's King David High School that didn't appear to include a single Muslim, it can all sound rather clubby and self-congratulatory. A Pearl Foundation-sponsored lecture series featuring a tiresome "war dove" like Thomas Friedman pontificating about how to bring about peace in the Middle East (by flattening it, perhaps?) isn't going to make it happen. But it's the sum of the efforts, and the spirit in which they're made, that offer an element of hope.
A six month fellowship for mid-career journalists from South Asia and the Middle East provides opportunities for cultural exchange in American newsrooms (most of which don't contain a single Muslim either, to their great detriment). And a web-based student news service operating in high schools in 109 countries gives young people an education in what journalism can be, and might yet be, in the hands of the next generation. The photograph of Daniel Pearl on his wedding day that was projected against the wall throughout Tamara's talk was replaced by one of the young son he never met: it's an image more powerful than any idea Thomas Friedman could ever come up with.
Or Bernard-Henri Levy for that matter, according to Tamara Pearl. She advises the audience not to read the French writer's sensationalist book Who Killed Daniel Pearl? which alleges that the journalist was killed because of what he knew. "I think Bernard-Henri Levy just needed a good premise, a good conspiracy," she says. "Danny was just in the wrong place at the wrong time." She also condemns the "fictitious liberties" that allowed Levy to relay what Pearl was thinking on the day of his death.
'Oppose the divisiveness'
Tamara Pearl doesn't have much to say about terrorism or its causes. "I have many more questions than answers," she says. And at times, the references to Daniel, as charming and good-willed as he sounds, border on hagiography. To her credit, it's a pitfall she seems to recognize. A few months ago, she says, she dreamed that Daniel came up to her. "You know, I'm not as perfect as you make me out to be," he said. She also dreamed that he invited her to see his new house-one built by the network of new connections forged by his death. Connections that "oppose the divisiveness perpetuated by much of the media and the world."
Her words lead me to reflect on recent events in light of historical contexts that rarely penetrate news reports: it was the West, for instance, that drew the borders of the modern Middle East after World War I; that installed their leaders and deposed them at will; that is immersed in a war both bloody and horrifying, the victims of which we generally hear of only if they are westerners. A cartoon lampooning a cherished religious figure is much more than that to a people betrayed, as hysterical and frightening as their response may be (and how dare they lump all westerners together!). As divisiveness, sectarianism, cultural arrogance, and hostility toward "the other" threaten to engulf the world, the house that Daniel Pearl built is one we would all do well to visit.
Deborah Campbell is a Vancouver writer and author of This Heated Place.