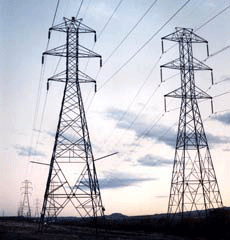 We've become so cliché ridden … "at the end of the day" … "in the fullness of time" … a new "paradigm" (whatever the hell that's supposed to mean) and the worst of them all, "stakeholder".
There is, however, a cliché that as a political commentator I have found helpful, namely, "connecting the dots" - if only because it allows one to bring out facts and innocently ask "can these dots be connected?"
Electrical energy used to be simple to understand. W.A.C. Bennett dammed a couple of rivers and gave us lots of electricity and even if he didn't factor inflation in, got us some downstream benefits from the Americans. The main argument always was how much money BC Hydro could charge for its rates and every once in awhile an issue would pop up about whether or not we have enough electricity to sell some to the US, a question which was, for the most part, political, and the "left" always said no.
Random facts?
Let me muddy these formerly placid waters with some dots.
Dot - there's a hell of a lot of money to be made selling power.
Dot - the Americans want water too and are going to get owlier and owlier about this as time passes.
Dot - BC Hydro says we need more power, especially to Vancouver Island.
Dot - Hydro spends $120 million in direct costs alone to get the Duke Point Power project, to bring power to Vancouver Island, up and running.
Dot - Over the past couple of years there's been a lot of pressure placed on Hydro by Norske, the pulp and paper and forestry giant, to buy lots of power from their sources (including a coal fired plant on Vancouver Island) so that Hydro won't need Duke Point.
Dot - environmentalists opposed Duke Point, challenged the process, got second prize in court, won a right to appeal, an appeal no one thinks they could have won. Hydro tubed the Duke Point project even though the appeal was to be heard just a few weeks later.
Dot - Last May Gary Collins former Liberal finance minister became a director of Norske for up to $50,000 per year.
Dot - When Hydro announced it was abandoning Duke Point, who should be there but Norske, looking like the kid wanting to be picked for the team, jumping up and down and waving all sorts of solutions they happen to have for Hydro's problems.
Dot - Norske habitually gives $25,000 per year to the BC Liberal Party.
I can't say - nor should you unless you're naughty - that there's any connection between the tubing of Duke Point, the passionate entreaties of Norske, the contributions of Norske to the Liberals and the amazing coincidence of Gary Collins bringing his skills as a flying instructor to Norske's Board. No, I aver nothing and merely ask - can any of these dots be connected?
How about a couple more?
A dot called Kitimat
Dot - Alcan, which long ago admitted it's in the power game, not aluminum smelting, is incrementally abandoning its Kitimat smelter and sees immense profits in electricity sales, sales that were denied them when the Province shut down Kemano II a decade ago.
Dot - Alcan is clearly in violation of its agreement with the government (as put into statute form) that it can only produce electricity for "the works and the vicinity".
Dot - Alcan is being sued by Kitimat for breaching this agreement and starting them on a fast roll to being a ghost town.
Dot - Premier Campbell has hinted that some new arrangement with Alcan (shall we call it Kemano III?) would be ducky, if Kitimat loses its case, which it likely will, so that more power is available to Hydro. (Kitimat will lose on the technicality that the only people who can sue on the agreement are Alcan and the government and the government, being up to its eyeballs in letting Alcan breach the agreement, has rather grubby hands.) Since Kitimat is, for Mr. Campbell, enemy political territory anyway, are these dots connectible?
Finally this end to this dotty exercise.
Dot - In 1945, in 1955 and again in 1971 the senior governments looked long and hard at damming the Fraser north of Lytton ("Google" Moran Dam).
Dot - on all three occasions it was the irreparable damage to salmon that stopped the project.
Dot - any sort of Kemano III will wipe out the sockeye runs that traverse the to be even more depleted Nechako River (which flows into the Fraser at Prince George).
Dot - even if the Department of Fisheries and Oceans and the provincial government are not deliberately killing off all salmon runs in the Fraser, it sure looks that way.
Dot - the Moran Dam would be the power equivalent of Grand Coulee Dam and two Hoover Dams and would be able to sell oodles of water to thirsty Americans.
I say no more, dear stakeholders, except that here we are, at the end of the day, in the fullness of time with the new BC power paradigm unfolding and all those dots to consider, digest, and, if appropriate, after considering all the evidentiary material before us, connect.
Rafe Mair, a regular columnist for The Tyee, can be heard every weekday morning from 8:30-10:30 on 600AM, His website is www.rafeonline.com.