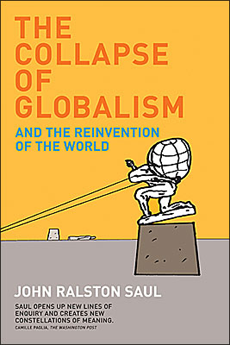 [Fans of John Ralston Saul say he has sway because he gets beyond the "sound bite" of any idea and into the complex nitty gritty. In books such as Voltaire's Bastards and The Unconscious Civilization Saul has argued for rationalist democratic values and liberal humanism at moments when powerful ideologies seemed to surge in the opposite direction.
Now, in The Collapse of Globalism and the Reinvention of the World, from which this piece is excerpted, Saul cuts against the grain again, this time taking on cheerleaders for globalization. Belief in globalization's ability to deliver wealth and progress without huge costs is waning, he argues. What comes next?]
Globalization emerged in the 1970s as if from nowhere, fully grown, enrobed in an aura of inclusivity. Advocates and believers argued with audacity that, through the prism of a particular school of economics, societies around the world would be taken in new, interwoven and positive directions. This mission was converted into policy and law over twenty years-the 1980s and '90s-with the force of declared inevitability.
Now, after three decades, we can see the results. These include some remarkable successes, some disturbing failures and a collection of what might best be called running sores. In other words, the outcome has had nothing to do with truth or inevitability and a great deal to do with an experimental economic theory presented as Darwinian fact. It was an experiment that attempted simultaneously to reshape economic, political and social landscapes.
That very clear idea of Globalization is now slipping away. Much of it is already gone. Parts of it will probably remain. The field is crowded with other competing ideas, ideologies and influences ranging from the positive to the catastrophic. In this atmosphere of confusion, we can't be sure what is coming next, although we could almost certainly influence the outcome.
Leading figures who once said nation-states should be subject to economic forces now say they should be reinforced to face global military disorder. Prophets of Globalization who said "Privatize, privatize, privatize" now say they were wrong, because the national rule of law is more important. Economists are angrily divided over whether to loosen or tighten controls over capital markets. Increasingly strong nation-states, like India and Brazil, are challenging the received wisdom of global economics. Pharmaceutical transnationals find themselves ducking and weaving to avoid citizen movements.
Dozens of examples like these tell us that we are transiting one of those moments that separate more driven or coherent eras. It is like being in a vacuum, except that this is a chaotic vacuum, one filled with dense disorder and contradictory tendencies. Think of it as a storm between two weather fronts. Or think of those moments in fast-moving sports, like soccer or hockey, when a team loses its momentum and there is furious, disordered activity until one side finds the pattern and the energy to give it control.
These moments tend to begin with denial on all sides. The confusion frightens those who thought they were setting the direction. And it disappoints those who criticized that direction. There is nothing decisive or noble about the situation. The options are not clear.
Yet, a period of uncertainty is also one of choice, and therefore of opportunity. We cannot know how long it will last. Probably not long. And those choices that set the future will come insidiously, in fits and starts. Some have already presented themselves and somehow been processed, without our fully registering that a determining step was taken.
The shape of what comes next will therefore be decided - a conscious act - or it will be left to various interest groups to decide for us, or simply to fate and circumstance. It will probably emerge from a mix of all three. The soundness of the outcome will depend on the balance between these necessary mechanisms. The most dangerous disequilibrium will have favoured fate and circumstance over the other two. The most mediocre, interest groups. The soundest equilibrium would be led by conscious public decisions.
This book is about our ability to choose. It is also about where those choices might lead us.
To believe in the possibility of change is something very precise. It means that we believe in the reality of choice. That there are choices. That we have the power to choose in the hope of altering society for the greater good. Do we believe that our governments must inevitably tax the poor through stealth taxes such as state-controlled gambling? Or do we believe there is a choice? Do we believe that unserviceable Third World debt could be written off, if we chose to do so? The conviction that citizens have such power lies at the heart of the idea of civilization as a shared project. And the more people are confident that there are real choices, the more they want to vote-a minimal act-and of greater importance, the more they want to become involved in their society.
From: The Collapse of Globalism by John Ralston Saul. Copyright © Towards Equilibrium Inc. 2005. Reprinted with permission of Penguin Group (Canada)