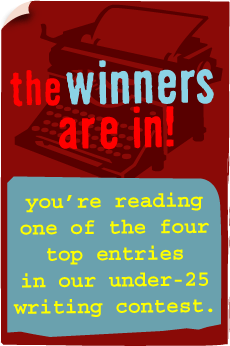 [Ed. note: this article correctly replaces an earlier draft version of the same piece posted yesterday. Apologies for the mistake.]
Back in the 1970s, the conceptual artist Vincent Trasov ran for mayor of Vancouver as Mr. Peanut. He got 2,685 votes, a grand total of 3.4%. One of the highlights of his campaign was his public appearance with Williams S. Burroughs: "I would like to take this opportunity to endorse the candidacy of Mr. Peanut for mayor of Vancouver. Mr. Peanut is running on an art platform, and art is the creation of illusion. Since the inexorable logic of reality has created nothing but insoluble problems, it is now time for illusion to take over. And there can only be one illogical candidate, Mr. Peanut."
These days, Burroughs could probably say the same things for the Marijuana Party, but he and Trasov had a point. There is an art to politics, but politics doesn't pay a lot of attention to the arts. As an artist, I think that's all the more reason to engage with politics. They have a lot to learn from us, and we will all be better off when they do.
Politicians, like most of us, lie, change positions, and break the occasional promise. Some of them do this more than others. By running for mayor as a fictional character--better yet, the caricature of an upper class twit created to sell over-salted peanuts--Trasov brought out the fictional parts of his fellow candidates' campaigns, and made a few points about politics in general.
I know he never meant to, but part of me wishes that Trasov, er, Mr. Peanut, had won, for the very reasons that neither Mr. Peanut, nor the artist himself, ever could. We need more artists in politics. We also need more miners, bakers, environmentalists, schoolteachers, anarchists, and homeless people in politics. In the system we have now, the people we elect to represent us are often demographically and philosophically pretty similar to each other, and pretty different from most of us. So how representative is that?
It takes a certain type of person to get elected to political office, because it takes a certain type of person to work within the political systems we are currently governed by. And once they begin that work, politicians are often too busy to really engage with their constituencies in meaningful ways. Instead, they fall back into the worlds they know. And these worlds, and the views which they draw from them, can be very different from ours.
Voting and crying
Knowing all that, I still vote. Not just federally and provincially, but locally as well. I vote for my city councillors, my schoolboard trustees, and the directors of my university student society. And I cry every time. I cry because, as limited as that political action is, there are millions of people in the world who can't even do that. And there are millions more who can vote, but have to fear for their lives if they vote for the wrong person, assuming their ballots even get counted.
I cry and think of Canadian women like Nellie McLung, just a few generations before me, who fought so hard for the right to vote. I cry and think of Canada's First Nations, who had to fight even longer. Until 1960 they could only vote if they had somehow been legally 'set free' from their native status, either by joining the army or clergy, or by owning land off-reserve. If nothing else, I vote to honour them and their struggles.
No one I have ever voted for, above the municipal level, has ever been elected. It was a close race a couple of times, but most of the time I vote with absolutely no hope of being represented by my chosen candidate. But I still mark that x, I still partake of that democratic sacrament, because I do not just vote to win. Every vote for that sweetly awkward fringe candidate gives their party a certain amount of money for them to keep doing the research and advocacy that I do believe in. And every vote is an encouragement to them, to their ideas, and to everyone else who shares those ideas, but who voted strategically instead. Every vote legitimates my beliefs and values in a system whose beliefs and values I often do not share.
Are you pro-evil?
Of course I act on those beliefs and values in other ways as well. There are a lot of ways to make positive changes in this world, and voting is only a small part of that, but it's still a very important one. As Rick Mercer said on the day of the last federal election, the lesser of three evils is still a lot less evil. "If you don't vote, you're pro-evil."
This May, I have another reason to vote. There is a referendum question along with the usual ballot, and it will ask me whether I think BC should change its entire voting system from the current winner-take-all arrangement to a fairer type of election, where every vote really does count. It's not a perfect system, but I think it offers an improvement on the one we have. This election, more than any other, is the chance for us to make our voices heard. I'll bring the tissues, you take care of the peanuts.
Cathleen Thom is a 25 year old artist, writer, and aspiring filmmaker studying Art History at the University of Victoria. She always carries a handkerchief.
The Tyee will publish the other runner-up, and the high school winner, in the coming weeks. Read the winning entry, published last week, here.