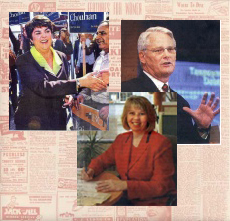 Like it or not, politicians are living labels. They convey the brand identity of not just their political party but, if they are successful, a set of qualities that connects with the voters. And in this age of glossy photos and mute buttons, for many it's the picture rather than the platform that says a thousand words.
We put together a panel of Vancouver-based experts to watch the news on writ day and talk about how each of the politicians is branded through their clothes, hair, glasses, makeup, accessories, and body language.
Sarah Bancroft is the Western Editor of Fashion Magazine.
Rob Tarry is the Associate Creative Director of Rethink Advertising.
Amanda Gibbs is a team leader at Envisioning and Storytelling, currently on maternity leave.
Branding Carole James
RT: She looks like that aunt in Victoria. You know -- the one who sends you socks for Christmas?
SB: Her look is middle management. It's not top heavy but not offensive -- the same as her policy.
AG: She's a soccer mom who just threw on a suit. She's the mom-ish counterpoint to Campbell. Which is probably good positioning.
RT: She's Tyne Daly in Cagny and Lacey. She's tough -- but kind of squishy.
AG: She looks grassroots.
RT: With sensible earrings.
SB: And a bit of schoolmarm
RT: She's just the right kind of bland. And trying to be unlike the usual NDP -- you know, the strange goatee and stringy hair.
AG: That haircut needs to be softer – like around her face. It's a little tight right now.
SB: There's a rule in TV -- never wear anything that's more exciting than you are. She's hit that on the mark. I think she's done well -- she's wearing some color too, which is good. For men, the power symbol is the red tie. So she's got the equivalent with a flash of color in the green shirt.
AG: She's reaching out with the business suit. She's saying she's Chamber of Commerce.
SB: She looks polished. And she has good makeup.
AG: It looks professional. And dewy.
SG: Can you be too feminine?
AG: Definitely. And you can dress too well. And she has big shoes to fill -- Joy McPhail used to be a model and is always turned out very well. Not flashy, and no one ever commented on her clothes, which is how you know she did it right. Remember when Condoleeza Rice wore those boots and there were so many news stories about them. They were too stylish.
SB: James is feminine without being flowery. Feminine and businesslike is really hard to pull off.
AG: Basically, with her whole look, she's saying she's trustworthy.
SB: And approachable and friendly.
Branding Gordon Campbell
AG: He needs rims around his glasses -- his eyes look too beady with those glasses.
SB: Glen Clark's image turned around when he got glasses. Outdated eyewear shows you're out of touch.
AG: Gordon Campbell looks like he went to Pearle Vision 2 for 1.
SB: But glasses aside, he looks too natty. Too sharp.
AG: He used to have a bit of feather in his hair. Like before he was in provincial politics, he looked somehow softer. He looked better pre-Atkins. Now he looks a bit gaunt. The scandal really aged him. And there are no more Hawaiian vacations to give him color.
RT: With that hair, he's the silver fox, the steady hand on the tiller. But if I was a director, I'd tell him to stop looking so nervous. He looks like he's always trying to convince us. Just be more natural. Also, I'd get him to stop staring – pick an eye line and stick with it. Enough with the 10 foot stare.
SB: His movements and expressions are without any charisma or warmth.
RT: He always looks painfully uncomfortable.
AG: His look says humorless. Actually, there's something about his look that makes it hard to trust him. But then, that's why the party is erasing him. Carole James is on everything, and his picture's on nothing.
RT: I heard the other day he's charming and funny. His look says the opposite.
AG: His look is all about "safe".
RT: He's the CEO. The new BC: American-style open-for-business. Part of the new BC brand. People think of BC like "open a surf shop not a head office." His look is about saying we're head office material. Blue suit, tie, business hair.
SB: But CEOs can be irreverent, charming. He's more of a CFO-look.
RT: An accountant trying to be a swashbuckler.
Branding Adriane Carr
RT: That thing about not wearing anything more exiting than you are?
SB: Well, she's got nothing to lose, so she's pulled out the red suit.
AG: It was a good move to fix her teeth. Ed Broadbent had crooked teeth and when it got them fixed, it changed everything. It's the same with her.
SB: Her look says, "take me seriously."
AG: And "look at me, look at me."
RT: The European Green party is positioned as the voice of reason. She needs to become that -- the Ikea of political parties.
AG: Her hair is good. A conservative bob that she's blow dried. It's good.
SB: She's made a start, but she needs to complete her look. She's got the suit on but no makeup. So it just looks disjointed, incomplete.
AG: It fits with everything else about her. But that said, she should be aware of too much image handling. People are savvy, and there's a danger of being overmanaged. Her look right now says she's a bit disorganized, but she shouldn't go too far the other way and look like something she's not.
SB: Over the top fashion only works for people with obvious style: like Pierre Trudeau. If it's not authentic, it backfires. People don't always know what's stylish, but they know when it's inauthentic.
RT: When people are dressed up like dolls they have no legitimacy.
AG: Stay away from the velvet capes or berets.
SB: Stick to dark suits and flashes of color. The suit gives authority and the color gives confidence -- things both her look and her policies don't have right now.
Vanessa Richmond focuses on culture issues for The Tyee.