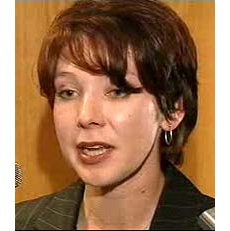 Mary Polak, the newly anointed Liberal contestant for the Surrey byelection, is a "great candidate who the community knows," declared Premier Gordon Campbell.
But certain members of Surrey's community, teens needing information about sex, or teens wanting to declare their homosexuality without threats or bullying, have reason to wonder if Mary Polak really wants to know them.
Her political stance against gay friendly books in early grades is well chronicled. I also vividly recall the conversation I had with Polak and her political mentor seven years ago in a Surrey coffee shop.
When I met Polak then, she was a smoothly groomed 31-year-old mother who made no bones about higher political ambitions. Already she was chair of the Council of B.C. School Districts. And she arrived with her mentor, then-Surrey School Board President Heather Stilwell, the two of them staunch allies in the eventual Supreme Court suit over attempting to ban books about same sex couples from kindergarten and first grade classrooms.
Planned Parenthood banned
That same Surrey school board had also banned condom machines from high school washrooms and Planned Parenthood from classrooms. Stilwell had just taken over the board's reins from Robert Pickering, an activist crusader against the notion that homosexuality might be "normal, acceptable, or must be tolerated." Stilwell, who had herself decried "special rights" for homosexuals when she ran for premier as the candidate of the Christian right-wing Family Coalition, made no apologies for Pickering's views other than to call him too much "a lightning rod."
Polak put it a bit differently. Pickering's problem was that "he is without guile. He says exactly what he thinks." Such is the lineage of anti-gay politics among the Surrey Electoral Team that produced Polak, who was recruited to the board by Stilwell.
Side by side in their coffee shop booth that day, the two women smiled and explained that just because Planned Parenthood couldn't enter Surrey schools didn't mean the group's materials couldn't be used by teachers -- as long as each item was approved by a newly created, parent-dominated screening committee. It was all about giving parents control, they said.
"The other day I was little irritated," says Polak, "to hear a kid say: 'We learned some things about sex in class, but the teacher told us she wasn't supposed to tell us.'" That teacher, in Polak's view, had unfairly painted school authorities as prudish enforcers.
Teachers feared parental retribution
What was all the fuss about then, I wondered … until later I spoke with students and staff who'd spent the past several years within those Surrey classrooms. Most said they did not want to see their names in print for fear of repercussions in their jobs and lives. They tended to echo what one staff member, who had worked in two Surrey high schools, told me:
"Based on what I see and what my friends who work in other Surrey schools tell me, basically I don't think there's any sex education going on anywhere. I don't know who would teach it. Nobody has the skills. That's why teachers have always brought in experts like Planned Parenthood. But now there are no real sex ed speakers brought in, and so there's no sex ed.
"I run into students all the time, though, who are having sex and having problems dealing with it. 'My girlfriend is pregnant.' 'I think I might be pregnant.' 'I've had sex and I didn't really want to.' 'I'm thinking of getting involved in a sexual relationship. What should I do?' Fifty percent of the kids who graduate from Surrey schools will have been sexually involved, and I don't know where these kids are going to get their information. I know the parents aren't giving it to them, because I ask the kids, and they say their parents are too embarrassed."
He and fellow teachers and counsellors weren't willing to step up to the job, he said, not just because they lacked training, but because they feared a parent might take offense, and in such cases it was assumed the school board would forcefully back parent against teacher. "It's just not worth the trouble, the risk." And so, while Heather Stilwell and Mary Polak may have disavowed any active campaign by the Surrey school board to monitor and punish teachers for saying too much about sexuality to students, what was achieved, all the same, was an effective muffling of the matter.
Students feared beatings
Like bad mime, the silence could be painfully comedic. A gay teen I'll call Daniel, who graduated from Semiahmoo High the year before, remembered: "In PE they'd tell us what a condom is and where it goes, but not what it was for. In science class, they'd tell us about sexually transmitted diseases, but not what to do about them." Good luck, kids, figuring out a survival strategy. So oppressive was the quiet around safe sex issues that Daniel and fellow drama students tried to stage an AIDS Awareness Cabaret. School authorities promptly banned it from campus, though the show had a brief, well attended run at the local youth centre.
"There are two gay bars in the world. One in San Francisco and one in New York, and maybe five gay people to go to them." That's what Daniel, aware of his homosexuality from the age of 11, found easy to believe even as he entered his last year in the Surrey school system. "It never occurred to me that being gay wasn't the most freakish thing in the world."
If Daniel's coming of age in a vacuum of gay identity was the common experience in Surrey's schools, that is just as Heather Stilwell and Mary Polak would have it. For as they told me at the coffee shop, the best policy regarding homosexual students is for no one to acknowledge their sexual nature. "Don't ask, don't tell," was how President Clinton defined it for the U.S. military.
'People don't know or care'
Stilwell and Polak saw no reason why it wouldn't work in Surrey high schools.
"Unless people are told about a sexual preference," Stilwell reasoned, "people don't know or care. Kids are kids. They get teased about sticky-outy ears and anything else different, so you try and teach them to be kind to everyone. Even so, I don't see people going out of their way to be mean [to out gay and lesbian students in schools]."
There was, unfortunately, a major flaw in this low-key account of how life goes in the Surrey school setting. Polak's and Stilwell's own school board had just surveyed more than 14,000 Surrey students in grades 8 to 12, only to find that 30 percent of them identified homophobia as a serious safety issue in school. That was no news to Daniel, who said that especially in grades 10 and 11, "people would beat you up for being different. They didn't have to have proof you were gay. They sure didn't wait for you tell them. Lots of straight people get gay bashed, that's for sure."
"If you're a person elected to office," stated Mary Polak, calmly, reasonably, "your responsibility is to do what you've said you are going to do. We said we didn't want to see schools trampling on the rights of parents."
Though one might imagine that the board's policies reflected the wishes of Surrey's many traditionalist immigrants, Shaleena Theophilus of the Vancouver-based Youth Community Aids Society (Youthco) cast doubt. Growing up in Kentville, Nova Scotia, her immigrant parents were loath to discuss sex at home. That's why they were happy to have the school handle it.
Parent poll close to 'meaningless'
But Surrey would not allow Theopolis into its classrooms to teach about sexual behavior, even though Youthco instructors were doing so to good reviews in other schools around the region.
Seven years ago, as today, high HIV rates and gay bashing incidents in the region made it easy to see that access to sex information, and the right to be safely out as a gay person, were life and death issues for young people.
Youthco went so far as to commission its own Viewpoints Research poll of adult attitudes toward sex education in the Lower Mainland. Seventy-six percent of respondents agreed that sex education was important in schools because parents can't be expected to teach their children everything they need to know. An even higher number agreed in Surrey.
Stilwell branded the poll "close to being meaningless."
Her protégé, Mary Polak, smiled and nodded in agreement.
David Beers is editor of The Tyee.