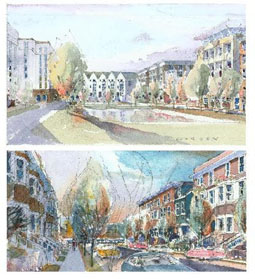 A decade ago Vancouver officials, urged on by visionary public officials and citizens, declared their intent to build a world-class green, socially sustainable neighborhood on the southeast shore of False Creek.
The final plans are now headed for approval by City Council, and they are troubling. This neighbourhood that was to be so different looks a lot like all the other new neighborhoods. Blue glass high rises and park lawns.
But we could have a bustling diverse lower rise community, one that truly shows the entire world the advantages -- for people and the planet -- of a state-of-the-art eco-village for our Olympic guests first and for permanent residents after that.
Land values don't add up
City officials say this is the best we can get because their hands are tied by economics, given that the city must spend millions to clean up toxins in the old industrial site's soil, and given that $1 million an acre is all the city could get from developers for the 50 acres of
land it has controlled.
Call me slow, but I just don't understand why the City of Vancouver feels lucky to get one million dollars an acre for Southeast False Creek waterfront land when most other land in the city is worth many times that.
If my duplex here at 7th and Collingwood were to burn down tomorrow, the charred 3,300 sq. foot parcel would sell for about a half million. That is about 150 dollars per square foot, or over six million dollars per acre! Moreover, that's without a view of anything but the schoolyard across the street and the nearest water a ten minute walk away.
OK, sure, the surrounding streets are not counted in that amount, and you need roads and such; but even if you include my share of the roads on my 600 foot by 300 foot block (with city lane) and subtract the value of the pavement, pipes, and utility infrastructure necessary to service it, my lot still has a value in excess of 4 million per acre.
Now again, call me naive, but I think the land at Southeast False Creek is at least as valuable as mine. So why doesn't the city simply do it the old-fashioned way, just like in the rest of our beautiful city: subdivide the land into urban blocks and sell off lots at 150 bucks a square foot?
Using simple math it looks to me like the 50 acres might return, after deducting servicing costs, a cool $200 million. Take $30 million off the top for soil remediation, set aside $50 million to produce 500 units of affordable housing, $20 million for community facilities and sustainable infrastructure and, well, you get the idea. There is still $100 million left in the pot.
Why Yaletown works
In short, what Southeast False Creek needs is a sustainable development strategy based on traditional blocks and small lots. I may be in the minority, but my favorite part of our redeveloped downtown is the part of Yaletown that occupies traditional 300 by 600 foot urban blocks. There high rise towers press party walls against low-rise buildings, all on relatively small lots ranging from 3,000 to 35,000 sq. feet.
This might seem crazy, but small lot low-rise development can provide just as many housing units as large lot high rises can.
Under existing guidelines, densities in the developed parts of Southeast False Creek are not to exceed a floor surface ratio (FSR) of 3. That's "planner speak" for a prohibition on floor space area such that it cannot exceed site area by more than a factor of three. An FSR of three can be met in many ways. It could be met by three story buildings covering the whole site, or 5 story buildings covering 60 percent of the site, 20 story buildings covering 15 percent of the site and so forth.
High-rise districts are not as dense as you might think. Towers must be widely spaced to prevent shading the streets below and the buildings beyond. Lower buildings don't have this problem and can thus cover more land. That's how low rise buildings can get you as many units per acre as high rise.
Mega-project trumps creative diversity
A small lot, low rise strategy would also allow hundreds of local, national, and international architects to participate in the project. Hundreds of different examples of sustainable architecture would emerge: a showplace for the world and a lasting legacy.
Not just architectural practice would benefit. A small lot strategy would allow scores of small developers a chance to participate, rather than the two or three out of town developers with access to billions. It would allow all of our local financial and credit unions to participate in the construction of this once in a lifetime opportunity, rather than the few global financial consortiums that finance mega-projects.
It would even allow individuals or groups of citizens a chance to buy their own lot, hire their own architect, and work with their own developer in bringing to life their dream home or co-housing project. In short, it would keep the money local, and draw on the talent pool and resources of British Columbians. This is sustainable economics for a sustainable South East False Creek.
The city could take some of the apparently ample financial resources generated by the project and apply them to installing sustainable infrastructure systems on the site: community gardens, green sanitary and storm water systems, renewable and shared energy utilities, car sharing co-ops, streetcars, and neighbourhood recycling centers. Would this not give substance to our claim that Southeast False Creek will be North America's most advanced sustainable community? And if we don't do those things (and they are very much at risk) how can we make such a claim?
It's called the Olympic village, right?
What better way is there to develop an Olympic village than for it to truly BE a village, comprised of the built expressions of hundreds of individual aspirations? One suspects that the alternative approach, where one developer builds a single project on a large parcel will be as much real village as Disney's Frontier Land is a real western town.
The city could market test this idea at almost no risk. The Olympic Village area will most certainly be low-rise buildings and will be built first. Certainly, the City could subdivide two or three 5 acre blocks now to test this idea. What has the city to lose? It has sustainability and 150 million dollars to gain!
But the experts say otherwise. They say that 1 million is the most you can get and that the only building you can profitably sell in Vancouver is a high rise. They say that only big developers and big projects are marketable: "This is the market in Vancouver! That is what people want!"
They say that, even though here I sit, on a demonstrably less attractive parcel of land, worth four times more than they are offering. I just do not get it.
Patrick M. Condon patrick.condon@ubc.cais UBC James Taylor Chair in Landscape and Liveable Environments www.sustainable-communities.agsci.ubc.ca