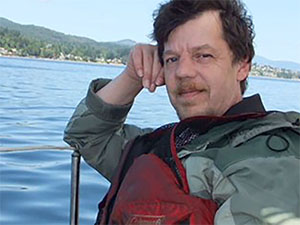 B.C. voters will make a historic decision this fall on changing the way they elect their provincial government. It's the third referendum on electoral reform this province has faced in recent years, and the conversation toward the fall vote is intensifying.
Thanks to the generous support of a group of readers, The Tyee will be a key part of that conversation with the Merv Adey Memorial Fellowship.
Merv Adey was a passionate British Columbian and a regular and welcome fixture on the Tyee's comment boards. Following his passing in 2017, a group of his friends sponsored a fellowship in his name to promote journalistic excellence and insightful debate on electoral reform.
His family submitted this explanation on who Merv was and why the fellowship will carry on his legacy:
"Silence is consent. Silence is approval of … deception." With these words, Merv Adey published his first post to his website bcveritas.com on June 5, 2015. He had maintained a voice in provincial political commentary for some years, primarily through Twitter, but this was the beginning of a frequent, vibrant and insightful exploration of provincial current affairs through his website. His purpose was to uphold the values of independent journalism, journalistic integrity, and fair comment based on factual evidence.
Above all, he wanted to "speak the truth to power." Although he did have personal opinions, he valued truth above partisanship, and abhorred political deception and corruption in any place on the political spectrum. He was also willing to move beyond words, into action, as shown in his successful activism against conflict of interest and misleading government advertising. Sadly, his voice was silenced by cancer on Aug. 20, 2017. He is deeply missed by his family, but also by the many people he was able to reach through his online publication. The fellowship is intended as a tribute to his leadership by example, and his dedication to the values of honest, independent journalism.
The fellowship is open to recent graduates of a recognized journalism program (from 2016 to 2018) who are embarking on or have started a full-time career in journalism. The winner of the fellowship will produce a feature story or feature series examining the issues British Columbians face on whether to adopt proportional representation for their electoral system. High importance will be based on a thoughtful, thorough and reader-friendly approach to a complicated topic that explores proportional representation as it has been practised in other parts of the world and what it might look like in B.C. with various consequences considered. Depending on the strengths of the winning candidate, the story or series can include audio, video, visual and data elements in addition to text.
The fellowship will include:
a financial stipend to cover the equivalent of approximately two to three weeks of full-time work on the series;
editorial support, mentorship and guidance by Tyee editors;
desk space and logistical and peer support in the Tyee offices.
The finished project will be published in The Tyee in the fall of 2018.
---
UPDATE: Thank you for your interest. We are now interviewing applicants. Contact
[email protected]
for more information.