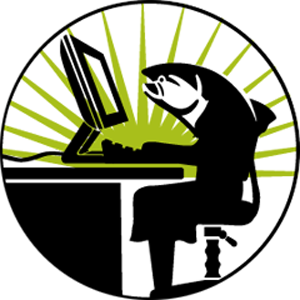 Before we lay down the commenting law on you, we'd like you to pause for a moment and think back to the days before the internet. No Facebook. No blogs. No feisty Tyee.
You pick up the newspaper and read something that gets your heart pumping. Maybe you're in a rage. Or maybe you're so enamoured that you've cut out the piece and enshrined it on your fridge with magnets.
Whatever the case – reading's not enough for you. You have something you want to say. And you want everyone to hear it.
So you write a letter to the editor. But if you want someone to print it, you gotta add your real name. "The thinking was that if you want to make some bold statements, you ought to be willing to take responsibility for them," wrote the editor of American Journalism Review in 2010. Some news organizations asked for an address and phone number too, just in case.
Then the internet came along with the ability to comment anonymously. And with that virtual anonymity came trolls and hate speech and rape threats and assumed identities and even stalking.
Big names like NPR and Reuters shut down comments.
In Canada, most publications have chosen to hearken back to the first-and-last-name policy of letters to the editor when it comes to commenting. CBC, which allowed anonymous commenting until March 2016, now requires users to register an account with their full name, and even then, not every story is open for comments. Postmedia publications allow readers to comment via Facebook accounts so that "real people can debate real issues." This is the direction many media organizations have taken: commenting that's linked to other social media.
(Of course, you can still put in a fake name. We went on a CBC story just now and found Charlie Brown in the comments. Though statistically, we assume there's got to be one of you somewhere...)
So why still bother with anonymous comments?
Well, we still see some good in it. Anonymous commenters can offer useful information or context to a story, information they may not provide under their own name. Maybe some of you work in the areas we write about and can't afford that kind of public attention.
And besides the feedback, we love the discussion, and even the deep debates. (After all, we don't want to turn into an echo chamber.) Judging by the calibre of some conversations, we feel proud to be able to host one of the smarter comment sections out there in the media world.
One of our most compassionate commenters in Tyee history, Ed Deak was a testament to that.
Then there was this touching exchange we read last year, when a commenter shared how he lived in poverty, and others offered to help out.
Some of you stepped out from behind your usernames in those cases. You saw the value of having your real name out there. Kudos to you!
We also recognize the value of the opposite: keeping your real name hidden at times.
Streamkeeping life
But there's a problem. We've noticed more awfulness lately in our comments. We have some guesses why.
Generally we still see value in your comments, and want to keep them around. Disqus, the system that hosts comments on The Tyee — and is still used by news outlets like Mother Jones and The Atlantic — has some good moderation tools that help keep things in order.
But we're a small team, and we can't sift through every thread at all hours. This means we may close a thread if it's too much to handle.
We want to keep the level of discourse high, and we want to keep our comments around. In the words of an irritating Disney tune, "We're all in this together... come on, let's do it right."
So we've decided to repost our guidelines below, and we'll soon be incorporating them on every story thread.
Thanks for abiding, dudes and dudettes. We appreciate you keeping us feisty.
Dos and do nots
First, heed this commenting pledge:
This is the law of all comments
Judged by The Tyee's right hand
The one that shall keep it may prosper
The one that shall break it be banned
Do not:
Use sexist, classist, racist or homophobic language
Libel or defame
Bully, threaten, name-call or troll
Troll patrol. Instead, downvote, or flag suspect activity.
Attempt to guess other commenters' real-life identities
Go on tangents
Do:
Verify facts, debunk rumours
Add context and background
Spot typos and logical fallacies
Highlight reporting blind spots
Ignore trolls and flag violations
Treat all with respect and curiosity
Stay on topic
Connect with each other
In short, here's something to ask yourself when you're thinking of posting. Does it add to the discussion, even if it doesn't really violate the "do nots"? If it doesn't, maybe you shouldn't post it. This is the first and great commandment.
Your comments welcome below.