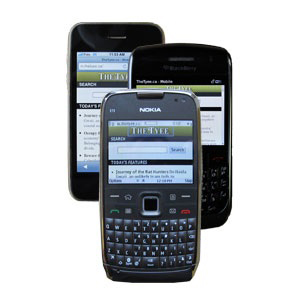 Remember in the past when reading The Tyee on a phone (a phone that didn't use our app, that is) was like reading a billboard through a microscope?
And, yes, by "in the past" we mean "yesterday."
Well, today is a new day, mobile news-reading friends.
Through the efforts of our technical team (Phillip Smith assisted by Greg Heo), we've optimized our site for the mobile viewing pleasure of any phone with a built-in browser.
What does this mean for you?
It means the next time you go to TheTyee.ca on your phone, you'll be automatically redirected to a simplified version of our site that loads quicker and is easier to read and navigate than our full site. It doesn't have all the content of our full site (some limitations listed below) but it gets you the essentials... fast.
In fact, if you're reading this story on a phone, you're already seeing the new mobile version of our site.
If you did actually want to go to the full version of our site, the mobile-optimized version has handy links at the bottom of each page to take you there.
How is this different from The Tyee mobile app?
Well, for one thing, you don't have to do anything to use it.
Click on a link in an email on your phone, and we'll open the m.thetyee.ca version of our site to show you the story.
Click on a link in Twitter on your phone, and we'll open the m.thetyee.ca version of our site.
Click on a link in Facebook on your phone and, well, you get the idea.
When the site opens, you'll see that, in appearance, it's similar to the app we released recently for our iPhone readers. The layout is just a simplified list of stories that are easy to navigate with one thumb.
We like to think of it like this:
The app is the Cadillac -- it has some handy tools built-in, like the ability to save stories on your phone for later offline reading, and thumbnail pictures associated with each story. And we may add features like this in the future if the times and technologies demand it.
The streamlined mobile site, what we're releasing today, is more like a well-built compact car -- it gets you where you want to go quickly and efficiently but lacks the electric windows, air conditioning, and automatic cupholders that make long journeys more bearable.
Plus, this mobile-optimized version works on any phone with any browser, be they smart phones -- Blackberries, Androids, iPhones -- or dumb phones -- Nokia, Motorola, and so on.
(No offense to dumb-phone owners, who may, in fact, be smarter than many smart phone owners.)
So, if you're on an iPhone, you can enjoy both -- download our free app or just surf to our regular site, TheTyee.ca, and you'll be redirected to our mobile-optimized site.
And here, Android users, is a dirty little secret about our mobile app:
It actually does work on most Android-powered phones. We've not "officially" announced it yet because we're still chasing a bug that stops it from working on older Androids. But for most of you, it should work just fine. Again, download it here.
What about comments!?
Unfortunately, adding comments to the mobile-optimized site is a bit more of a heavy software lift, since comments are managed by a separate content management system than our story content. We hope to include comments in the future, but for now, if you really need to read or add to the comments, just click the "Full site" link at the bottom of the story you're looking at and it will open the story on our regular site, with comments showing.
Other limitations?
We're not including some of the elements on our home page, like the Flickr pool or our Reported Elsewhere list. And there are as yet no ads, which, of course, many will see as a bonus.
We sacrificed many of these elements in order to ensure quick and easy mobile access to what we feel is the heart of our site -- credible, original journalism.
We hope you like it.
If not, or if you'd like to see changes, please let us know in the comments below, or send feedback to us on Twitter (use the #gofishgo hashtag), or email here.