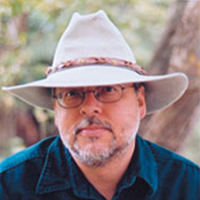 Tar sands journalist Andrew Nikiforuk will be in Vancouver on Monday, focusing his investigative laser beam on whether Canada's oil industry regulators are doing their job to protect nature and the public.
He speaks Sept. 13 at the University of British Columbia Graduate School of Journalism at 12:45 p.m. Admission is free and open to the public. The event will be held in the school's main lecture room.
Nikiforuk's talk, co-sponsored by The Tyee and the UBC J-School, is titled "Who Regulates Canada's Oil Patch and For Whom? At stake: billions of dollars, the environment and Canadians' faith in government."
The Calgary-based Nikiforuk is The Tyee's first writer in residence, publishing columns and news reports here on the Alberta tar sands and Canada's changing character as it verges towards becoming a petro-state.
You can read an interview with Nikiforuk about his Tyee project here and find his work, so far, here.
Prize-winning journalism
For the last two decades, Nikiforuk has written about energy, economics and the West for a variety of Canadian publications including The Walrus, Maclean's, Canadian Business and The Globe and Mail's Report on Business.
In the late 1990s, he investigated the social and ecological impacts of intensive livestock industries and the legacy of northern uranium mining for the Calgary Herald. His public policy position papers on water diversion in the Great Lakes (2004) and water, energy and North American integration (2007) for the Program on Water Issues at the University of Toronto's Munk Centre sparked both discussion and reform. Nikiforuk's journalism has won seven National Magazine Awards since 1989 and top honours for investigative writing from the Association of Canadian Journalists.
His dramatic Alberta-based book, Saboteurs: Wiebo Ludwig's War Against Big Oil, won the Governor General's Award for Non-Fiction in 2002.
Pandemonium, which examines the impact of global trade on disease exchanges, received widespread national acclaim. His latest book, The Tar Sands: Dirty Oil and the Future of the Continent, examines the world's largest energy project, and is a national best seller. It recently won the 2009 Rachel Carson Environment Book Award and was listed as a finalist for the Grantham Prize for Excellence in Reporting on the Environment.