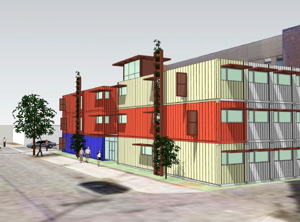 "I think we should start from the assumption that what homeless people need is a home, and a meal, and to be treated with dignity and respect."
That's part of the advice that housing manager Janice Abbott will share with architects, designers and planners at tonight's kickoff of the Quick Homes Superchallenge, organized by Architecture For Humanity/Vancouver.
Abbott, whose firm manages about 20 residential hotels in the Downtown Eastside, will be among more than a dozen experts offering advice to volunteer teams exploring how modular housing might be adapted to provide affordable green housing for Vancouver's growing homeless population. The design charette will consider the potential for housing crafted from reused shipping containers, such the projects described in The Tyee series, Green Homes, Out of The Box.
"Architecture For Humanity believes that adequate shelter is a basic human right, and that housing the least privileged provides an opportunity to demonstrate both creativity and social responsibility," said Linus Lam, who directs the international non-profit organization's Vancouver chapter.
The event begins tonight with a series of 10-minute presentations, and continues on Saturday with the design challenge.
Homeless need respect and security
"I think one of the big flaws in the system right now is that a lot of folks start from the assumption that people who are homeless are profoundly mentally ill, and profoundly addicted," explained Abbott, the CEO of Atira Property Management.
"I'm not saying that those two things aren't true, but I don't think that's where you start from. You start from assuming that people's situations and their mental health is directly related to the fact that they are homeless," she continued.
"You get them into a home. You get them a safe home that's their own, where they are treated with respect by the staff -- and hopefully by their neighbours -- where they feel like they are part of a community," Abbott said.
"Once those things are in place, then you'll know what the extent of their mental illness is, or their addition."
Abbott, who also directs the Atira Women's Resource Society also said that appropriate security is required in order for a respectful community to thrive.
"When you move someone in off the street in the Downtown Eastside, you definitely need staff in place to keep the predators out," Abbott said.
"There are a lot of predators down here. There are drug dealers. There are pimps. There are people who are not vulnerable making profit off people who are vulnerable," she said.
"These people will come in and take over peoples' rooms in order to conduct their business. You need staff to make sure those folks don't come in and take over the facility."
Inspiration sought
Other speakers on tonight's roster include Vancouver City Councillor Kerry Jang, Street to Home president Barbara Grantham, container home pioneer Keith Dewey, as well as architects including Michael Geller, Gregory Henriquez and Oliver Lang.
The Quick Homes Superchallenge has been organized by the Architecture For Humanity/Vancouver in association with the Design Foundation of British Columbia, and has been co-sponsored by the Tyee Solutions Society.
"I think the homelessness issue is not something we can simply throw money at even if we have it. It is a complex issue and requires constant effort from professionals, as well as periodic bursts of inspiration from the community," said organizer Linus Lam.