Planning the future of British Columbia's fastest growing city is no simple task. About 1,000 people move to Surrey each month, and it's projected to surpass Vancouver to become the largest city in the province by 2041.
As Surrey faces the challenge of accommodating this anticipated growth, its residents have high expectations.
On Nov. 7, Simon Fraser University and the City of Surrey hosted a residents' lab at Surrey City Hall, where dozens of people from different demographics came together to tackle the city's biggest issues, and imagine what they want Surrey to look like by the year 2030. The event was part of SFU Public Square's annual community summit that ran Oct. 30 to Nov. 7.
Attendees raised a wide range of challenges, hopes and dreams for the city, from new gang prevention programs to schools that serve as neighbourhood hubs for newcomers.
The Tyee sourced four ideas from residents, city officials and Surrey's long-term vision for sustainability, which you can read in full here.
On schools for newcomers:
With a third of Surrey's population under the age of 19, making room for newcomers in the city's overcrowded schools is a top priority, says Surrey Schools spokesperson Doug Strachan. He said the district has seen steady enrolment growth for the past 25 years and is bracing for the influx to continue.
Strachan said construction is underway on three new elementary school additions and will soon be underway on a new secondary school, but that will only subdue the issue of ongoing overcapacity in Clayton, South Newton and Grandview.
"The school board has very few levers to manage growth and over capacity aside from getting a new school built, which isn't really our lever, it's the provincial government's," he said. "All we can do it build portables or change boundaries to redistribute students . . . It's a challenge and it carries with it difficulties for staff, students and parents."
The school board is asking for funding for three new elementary schools and another secondary school. "We could fill those schools pretty much right now, or in the next year or so, if the growth continues."
In the meantime, the city and school district are looking at ways to make elementary schools community hubs to serve Surrey's newcomers. Community planning manager Don Luymes envisions shared facilities that can be used by everyone.
"What that looks like exactly and how you start to have more community usage of school facilities is always a challenge," Luymes said. "Maybe it's a public library embedded in the school, or maybe there's more shared use of gymnasiums."
On greener buildings:
Luymes said one of the Surrey's most prominent challenges is balancing the need for rapid expansion while respecting the environment. He said Surrey is focused on environmental planning so that it can grow both quickly and sustainably.
The city is currently updating its sustainability charter, which includes plans to establish green building guidelines and make new development both environmentally friendly and less expensive.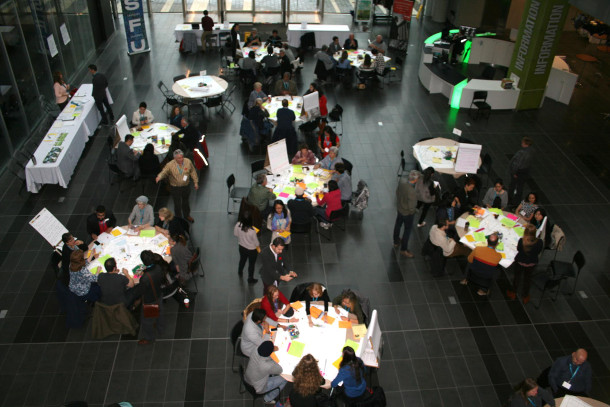 For example, the city is aiming to increase the use of renewable and recycled construction materials and cut down on construction waste. It is also looking at using greener building materials such as porous substances that absorb stormwater.
Luymes said rainwater that falls on roofs can funnelled into porous rain gardens "where it can soak back into the ground and have a beneficial effect for fish."
"That could lead to a reduction in the cost for stormwater infrastructure," he said.
On reaching kids before gangs do:
Surrey has struggled with a bad reputation around crime --something that was in the spotlight earlier this year when the city and neighbouring Delta experienced a spate of more than two-dozen gang-related shootings. A number of people at the residents' lab agreed that youth engagement is crucial for crime prevention. RCMP Sgt. Paul Hayes said what the city will look like in the future is uncertain, but officials are constantly researching and developing prevention programs and initiatives in order to try and keep up.
"The only thing that's constant is that nothing's constant," he said. "The City of Surrey is going to grow and develop in 15 years, and we're going to grow and develop at the city does."
Surrey adopted a continuing crime reduction strategy in 2006 that has resulted in the formation of a number of new programs, including the creation of a reference guide for parents about gang prevention and a crackdown on illegal marijuana grow-ops.
The city's sustainability plan also aims to introduce 10 community safety officers, and partner with schools to identify youth at risk of becoming involved in gangs.
On diversity as strength:
Coun. Dave Woods says most of B.C.'s immigrants come to Surrey, and the city is planning to accommodate more of them even though the future growth is unknown. That includes the possibility that the city will soon see an influx of Syrian refugees -- including what school board estimates would be at least 500 children coming to its schools.
As Surrey grows, officials plan to add to an existing roster of events that celebrate the city's multicultural fabric including concerts and food festivals as it grows.
According to Surrey's sustainability charter, it will also work with higher levels of government to funnel a "significant proportion of future social infrastructure investments into Surrey," including more cultural amenities and community services.
Woods said the city is already talking about adding another festival on B.C. Day in August to celebrate Surrey's diverse mix of music, food and culture.
"I think there's going to be a lot more of that," he said.
Though Luymes acknowledges rapid growth can put pressure on a city, he sees Surrey's population boom an opportunity to create a better community.
"We're really trying to take advantage of those opportunities that growth brings."

This article is part of a Tyee Presents initiative. Tyee Presents is the special sponsored content section within The Tyee where we highlight contests, events and other initiatives that are either put on by us or by our select partners. The Tyee does not and cannot vouch for or endorse products advertised on The Tyee. We choose our partners carefully and consciously, to fit with The Tyee's reputation as B.C.'s Home for News, Culture and Solutions. Learn more about Tyee Presents here.