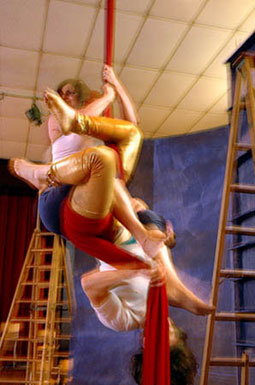 It's a dusty gravel soccer pitch in East Vancouver, the kind that leaves kids picking rocks from their flesh when their exuberance causes them to tumble. But not so for ten days this July, when Britannia Field transforms into ancient Mesopotamia and home to Ziggurat! - Leaky Heaven Circus' biggest extravaganza to date.
The big top tent is there. So too are the carnies and their games. Ziggurat! is Leaky Heaven's latest witches' brew of circus acrobatics and theatre. Trapeze artists and actors, musicians and dogs - they all get thrown into the mix. This time the classic Greek tragedy Orestes by Euripides gets stuffed through the Leaky Heaven blender.
"What is theatre and what is circus?" Ziggurat!'s Spencer Herbert asks. He's in charge of the carnival attractions outside the big tent. "Can you really define one as one, and another as another?"
Brainchild of scholars
More theatre than Cirque du Soleil, more circus than Bard on the Beach, Leaky Heaven Circus is a brainchild of two scholars of Simon Fraser University, Steven Hill and Michele Valiquette, who make a serious study of carnival.
The rehearsals of Leaky Heaven are intricate affairs involving artists, their families, friends and lovers, children, dogs, occasionally an odd photographer as well as the spirit of Mikhail Bakhtin and Jacques LeCoq. A fine balance--painstakingly achieved--is intended to make you laugh without blowing your critical thinking away.
The pictures in this story were taken during some rehearsals in May 2002, and in June of this year while the troupe worked on Ziggurat.
Electra-fied tale
Ziggurat! strays far from the classic Greek tale of murder and revenge. The original sees young Orestes' father Agamemnon murdered upon returning from the Trojan War. Orestes watched his mother Clytemnestra and her lover Aegisthus, commit the evil deed. And so he plots and enlists his sister Electra to avenge their father's death (the Hollywood version would star Brad Pitt in Troy II: This Time it's Personal).
But the Leaky Heaven version somehow throws in the story of the Tower of Babel (a ziggurat is a temple tower in ancient Mesopotamia - what's now called Iraq) and also some modern myths from the Mess O' Potamia.
"We always go for touchy areas," Herbert says. "Controversial areas, but to we try and open them up for discussion."
There's a lot going on in Ziggurat! So maybe it's appropriate the company found a new locale to contain it all. "The idea of creating such a large project… It's not something we've done before," Herbert says.
For Ziggurat!, the Leaky Heaven crew dropped its usual midwinter production at the Vancouver Eastside Cultural Centre to bring their anarchic blend of song, theatre, clowns and acrobatics to a bigger, more circus-like summer setting.
"I don't think we're going to lose the theatricality," Herbert says. "But it seems that by moving it to a tent we've picked up a lot more of the circus with the carnival barkers outside, people selling popcorn in the stands - that kind of idea. It's much more of a circus atmosphere."
For all ages…on stage, too
Those familiar with previous Leaky Heaven productions will still recognize some of the cast. Joining new trapeze artist Ruby Rowat are old hands Colin Heath, Manon Beaudoin, Lesley Ewen, Peter Anderson, and Mosey, the basset hound-shepherd cross. Mosey's roles in past productions have included camel, wise man, and prince.
Also on stage will be an ever-changing number of toddlers and kids - some them are children of other members of the cast. Leaky Heaven is partnered with two centres for at-risk youths - eight of the youths have joined Ziggurat!'s ensemble. So much for the saying you should never work with children or animals.
Providing the sounds behind the sights is Vancouver "hillbilly-circus-art-punk" band They Shoot Horses, Don't They. You can get a taste of what that means here. The six-piece group has composed original music specifically for the show.
Ziggurat is the sixth, full-size theatre production of the Leaky Heaven troupe. It will open under a big-top tent at Britannia Centre grounds at 1700 block William Street, off Commercial Drive, on July 3, 8 pm. Tickets available through Festival Box Office: 604-257-0366 or at http://www.festivalboxoffice.com/. For more information about Leaky Heaven and the show, go here.

Dee Hon is on staff at The Tyee. Christopher Grabowski contributed to this report.