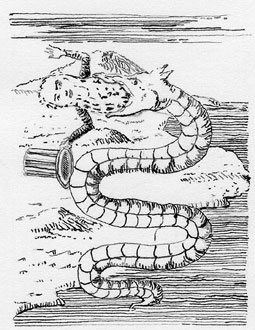 Vincent Trasov's new series of Mr. Peanut drawings, "Histories," is elegant, playful and yet, at the same time, the drawings offer some surprisingly astute commentary about contemporary politics and our understanding of history. The more than 40 drawings in the exhibition (a sampling of which you can see by clicking the gallery button on this page) also represent the latest turn in the 57-year-old, Edmonton-born artist's career-long relationship with a famous advertising icon. The figure that Trasov has variously portrayed over more than three decades is the Planters Peanuts company's emblematic Mr. Peanut, a suave cartoon character with a peanut head and torso, leotard-covered limbs, and such swanky sartorial accoutrements as a top hat, monocle, white gloves, cane and spats-bedecked footwear.
Trasov's association with the Mr. Peanut figure goes back to the late-1960s and early-1970s when he was affiliated with a large and lively group of multimedia Vancouver artists, one of whose best-known personalities is Michael Morris, Trasov's long-time artistic colleague and collaborator, and whose central locale was the still-existent Western Front artists' collective. Trasov's adoption of Mr. Peanut, as one curator notes, "was one of a myriad of alter egos, art personae, and mythologies" developed by this network of artists. Linked to similar groups and artists' projects in Toronto, New York, and elsewhere internationally, the multiple roots of the Morris-Trasov-inspired Image Bank in Vancouver can be found in such 20th century oppositional artistic movements as Dada and Fluxus and, more broadly, in the aesthetic thinking of surrealism, absurdism, and philosophical anarchism.
Peanut for Vancouver mayor
Mr. Peanut's most spectacular manifestation occurred in 1974 when Trasov donned a peanut costume and ran as a mayoral candidate in the Vancouver civic election. The dandyish and photogenic candidate regularly upstaged most of the other contenders in the name of art. A contemporary Vancouver Sun report from the campaign captures some of the flavour of the serio-comic intervention into political life: "Mr. Peanut managed to make his statement at the [candidates'] meeting by posing a 'visual question' to the other candidates during the question period. A retinue of his followers, including pretty girls in leotards and a band with kazoos disguised as leopard-skin covered saxophones, marched down the aisle of the auditorium… The girls flashed glittering letters spelling out Mr. Peanut's name while singing 'Peanuts from Heaven' along with the band. Mr. Peanut did a little tap-dance at the end, but did not explain what his 'visual question' meant."
The elements of critique, parody, and enigmatic meaning that characterised Trasov's initial use of a mass-culture commercial icon reappear in this latest series of drawings. In "Histories," Mr. Peanut is on the road, in a sort of rock-star world tour of international monuments, artworks, and imaginary scenes. Several of the drawings play on famous paintings. For example, in "Sphinx," Mr. Peanut takes on the role of Oedipus in Jean Ingres' "Oedipus Answers the Riddle of the Sphinx" (1808). The mythical figure of the winged, taloned, bare-breasted Sphinx (monumentalized at Giza in Egypt, it's the oldest and largest sculpture in the world, dating back some 5,000 years), asked, "What has one voice and is four-footed, two-footed and three-footed?", to which Oedipus correctly replied, "Man."
Trasov's caricature partakes of a long tradition of responses to, and variations on the Ingres painting that includes artists and versions as diverse as Gustave Moreau's high-camp rendition and Francis Bacon's grim, personalized incorporation of the mythic story in two "Oedipus and the Sphinx" paintings (1978 and 1983). In other drawings, Trasov's Mr. Peanut appears in works by Goethe, Rodin, and Seurat. In the latter's "La Grande Jatte," Mr. Peanut doffs his top hat, cane and spats, and dips his feet in the pond, among the bathers and Sunday afternoon visitors to Seurat's pointillist landscape.
A new Mr. Peanut to 'connect with consumers'
The most politically poignant of the drawings is the figure of Mr. Peanut standing in the place of monumental statues of the Buddha in Bamyian Valley in Afghanistan, destroyed by the Taliban religious fundamentalists in 2001. The Bamyian drawing is only one of several monument-appearances by Mr. Peanut, ranging from the Marx-Engels monument in Berlin, to the totem poles and long houses of British Columbia. The message suggested by this recurring thematic in the "Histories" series is a warning, pointed but not heavy-handed, that our representations of our history are under threat. Mr. Peanut's presence on the walls of Babylon in Iraq, or at the temple of Delphi represents an abiding concern with the destruction of memory.
Meanwhile, in the world of real advertising, Mr. Peanut is also undergoing an image refurbishment. Mr. Peanut was created in 1916 by a 13-year-old Virginia schoolboy, Antonio Gentile, who won the grand prize of $5 in a logo contest sponsored by Planters. Coincidentally, just as Trasov was putting together his show, Planters announced that a new advertising campaign for the peanut company is giving its icon a "more contemporary persona to better connect with consumers." In a new series of ads, "Mr. Peanut shows off his moves on the basketball court and dance floor, takes a centrefold-style pose to promote his products as low in carbohydrates, and even looks back on his days as a baby legume, reports the New York Times. Considering that Vincent Trasov had Mr. Peanut doing Fred Astaire-like tap dances a quarter of a century ago, it's just another case of art being far ahead of the marketplace curve.
"Histories" runs to July 10, 2004 at the Tracey Lawrence Gallery , 105-1529 W. 6th Avenue, Vancouver.

Stan Persky is a Vancouver-based writer and philosopher now in Berlin.