Yesterday Meta, the colossus that owns Facebook, Instagram and Threads, flexed its muscle and we at The Tyee felt the sting.
We're blocked from posting news stories on two of the giant's platforms — Instagram and Threads (the company's new rival to Twitter) — and it seems the same may soon be true on Facebook.
Apparently, the bombing campaign that Meta founder Mark Zuckerberg and his brass vowed has commenced. The digital multinational is starting to target Canadian news providers and stop them from sharing their content across its platforms within Canada.
And so we ask you Tyee readers: Will you help us gauge the scope of the blast radius?
Are you having trouble sharing Tyee news items on Instagram? On Facebook? On Threads? If so please send an email letting us know at editor[at]thetyee[dot]ca. If you get any kind of error message, please screenshot and send that to us, too.
And check back here regularly for updates on how goes the escalating battle. It soon could include Google, which, like Meta, has vowed to strip Canadian news from their platforms in resistance to Bill C-18, federal legislation that would compel the tech companies to sign commercial deals with Canadian news organizations for content that is shared on their platforms.
This represents a truly weird and pivotal time for digital news publishers in Canada, and other countries who are considering similar moves. That's why we're eager to explore how a public good — journalism — has become so entwined with multinational tech companies, and what this says about our crucial information ecosystem.
Our occasional series written by various Tyee team members will address questions such as:
What are the implications for our democratic conversation in Canada if these giants strip Canadian-produced news from their realms?
What are the provisions of Bill C-18, how did they come about and why is the world watching Canada intently to see how this regulatory struggle resolves?
What is this new era for news media and democratic discourse we are entering, which some call "the end of social media," and how did we get here?
How dependent is The Tyee on Meta and Google in terms of reaching people and sustaining our business model?
What are alternative ways to share content by The Tyee and other news media beyond Google and Meta? The short answer is handily summed up here (and please share!):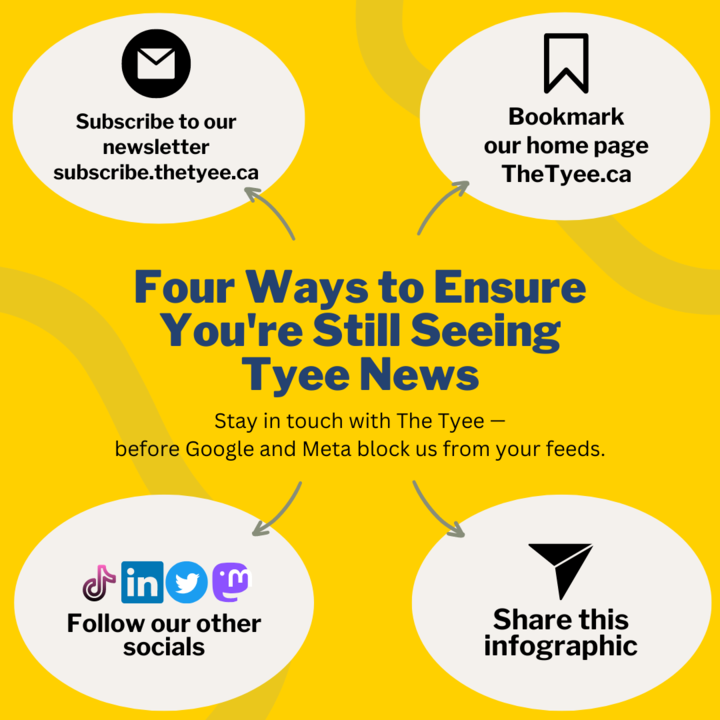 Well before Bill C-18 became law last month, Google and Facebook, which together have a net worth of US$2 trillion, were loudly declaring the regulations were too rich for their taste. Not only did they oppose the law, they said they'd retaliate by depriving their Canadian audiences of Canadian news on their platforms.
The bill, modelled on one passed in Australia, requires the platforms to pay news publishers undisclosed amounts for the production of the news content that is shared on their platforms. The amount of that fee and other details remain to be negotiated and Minister of Canadian Heritage Pablo Rodriguez has recently indicated that the overall amount that the platforms will have to pay will be capped somehow.
This latest move seems to be a concession by the Canadian government. But Google and Facebook have so far not publicly called off their plans to block Canadian news.
The Tyee, thankfully, has over 75,000 free newsletter subscribers we reach directly via email, so we'll survive. (If you're not currently a newsletter subscriber, please sign up here. It's free and you can cancel anytime.)
But truthfully, Meta's ban will dent our reach and revenues.
And as Tyee publisher Jeanette Ageson has said in testimony to the Senate and in recent media appearances, the shift by Google and Meta could prove "existential" for many independent online publications that rely on the platforms to find audiences.
Even worse, it would effectively curtail the kind of news industry innovation needed right now. Why would anyone risk the time and money to start up a new digital news source in Canada if it wasn't searchable or shareable on the biggest platforms?
Meta and Google therefore are poised to tilt the playing field dramatically to news sources in the U.S. and elsewhere who would be able to penetrate our market without Canadian competition on Google and Meta.
It's no exaggeration therefore to say that the two Silicon Valley mega-corporations are poised to damage Canada's political culture.
Google was first to flex. In February, it launched a trial run of blocking a small slice of its Canadian audience from being able to search Canadian news but ceased after about five weeks. Then, in June, Meta fired a similar warning shot.
Yesterday, Meta trained its sights on The Tyee, as our social media manager Sarah Krichel learned when she went to post our news stories on Instagram.
When Krichel tried to view our Instagram profile, half of the posts had disappeared, and by the time she refreshed the app a few times, the entire feed disappeared.
A notice popped up, which read: "People in Canada can't see your content. This account is a news publication. Content from news publications can't be viewed in Canada in response to Canadian government legislation."
(Note the vague wording, leaving the impression that the legislation is what banned the news content, rather than the hardball players high up in Meta's glass offices.)
Sarah Krichel is nothing if not resourceful and persistent. Using a different mobile device, she was able to reshare the infographic we showed you above — the one communicating to our Instagram followers how they can stay in direct contact with The Tyee before Meta and Google block us from their feeds, too.
Just moments after posting those final calls to our followers to find a different route to our stories, Krichel's second device was blocked out too.
Hey, this gives us another opportunity to share that graphic, so here goes: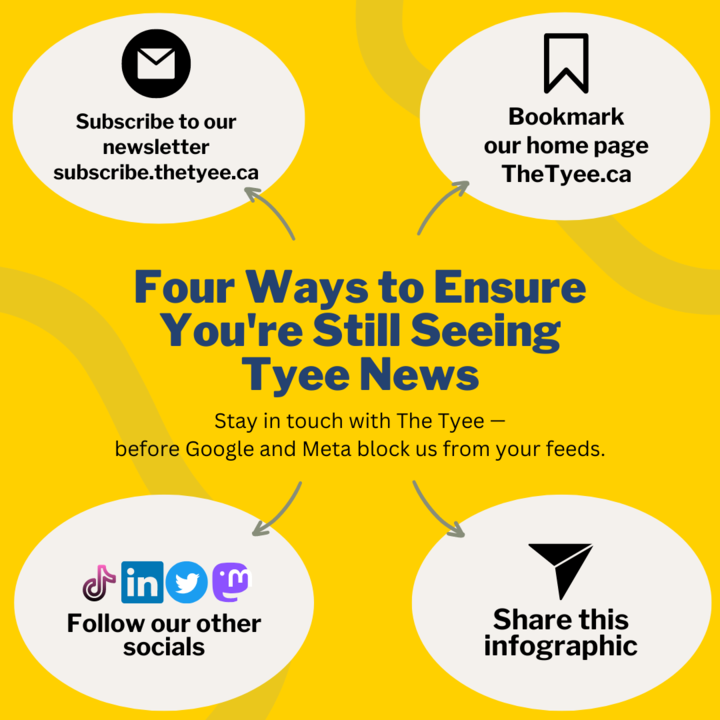 And what about Threads? We did make a short-lived start on Meta's new alternative to Twitter. We posted on Threads about Meta blocking our content on Instagram — before, you guessed it, we got blocked on Threads, too.
And so it goes. Check back here at The Tyee for regular reports from the frontlines in the fight to preserve a healthy digital news ecosystem in Canada. Just don't expect to see our reports pop up on your Meta accounts.