[Editor's note: Steve Burgess is an accredited spin doctor with a PhD in Centrifugal Rhetoric from the University of SASE, situated on the lovely campus of PO Box 7650, Cayman Islands. In this space he dispenses PR advice to politicians, the rich and famous, the troubled and well-heeled, the wealthy and gullible.]
Dear Dr. Steve,
Much of the U.S. has been blanketed in thick smoke from Canadian wildfires. A New York Post headline read, "Blame Canada!"
Will this impact our bilateral relations?
Signed,
Hazel
Dear Hazel,
Look, it's not as though Canada has a clean record here. It was a mere 211 years ago we burned the White House. And it was not so long ago the president of the United States referred to the Canadian prime minister as "two-faced." Could this be our delayed, passive-aggressive response?
At any rate, New York is truly the Big Smoke now. The Big Apple is orange, and Canadians there must keep a low profile. Vancouver broadcaster Rhona Raskin was in New York this week. "I'm keeping mum about my citizenship at this point," she tweeted. "You wouldn't believe how often I hear the word 'Canada' mumbled on the streets…"
Congressmonster Marjorie Taylor Greene is certainly not pleased with us. She tweeted: "New York has the worst air quality in history due to wild fires from Climate Cult Canada."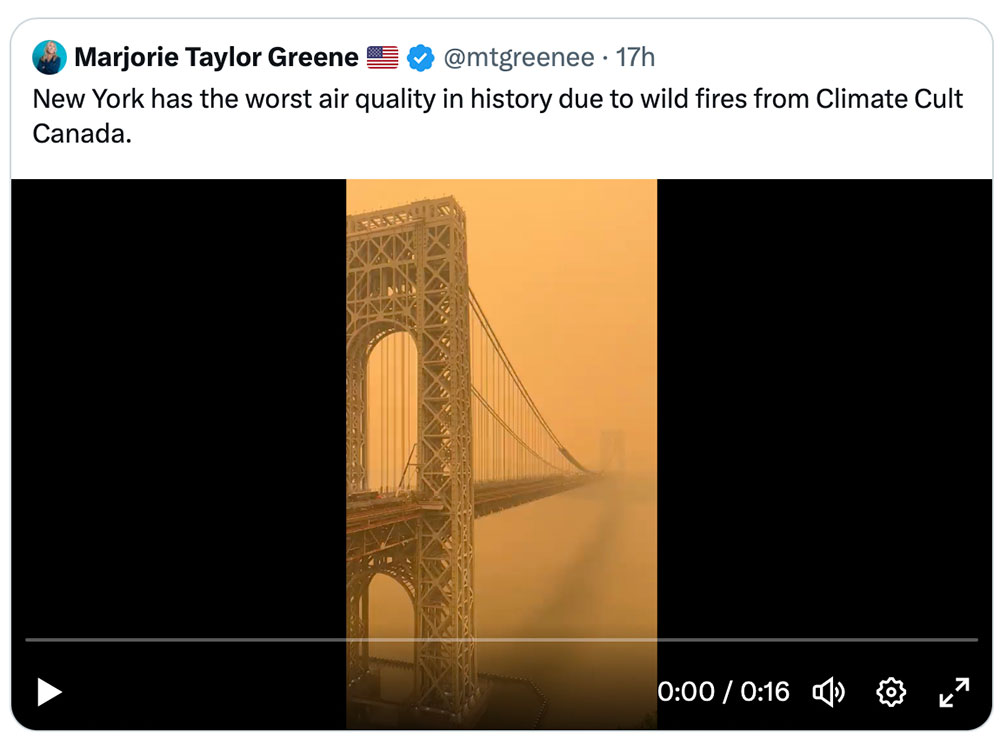 Dr. Steve is trying to wrap his head around MTG's tweet. But honestly, nobody has enough head wrap for that. She is blaming Canada for — what, exactly? Caring? Having trees? Is she suggesting that climate change is like Beetlejuice — talking about it makes it appear? At any rate, Taylor Greene is missing the more obvious explanation for why Washington and New York have been sunk into a pall of sulphurous yellow fumes — namely, God's wrath for the indictments of Donald Trump. She'll get around to that line eventually, and of course Canadian Jewish space lasers.
MTG surely isn't the only one upset with Canada. The producers of the movie Blade Runner 2049 will shortly be suing us for ripping off their set design, not to mention completely screwing up their timeline. The sky wasn't supposed to turn orange for another two decades.
Anyway, all this smoke is not a problem. Fox News says so. Appearing on The Ingraham Angle, former Trump administration member Steve Milloy assured the audience that the smoke was "innocuous" and posed no risk to health. There is probably a "No Smoking" sign in the Fox studio, which explains why Milloy wasn't huffing three Marlboros while chatting with Ingraham.
Meanwhile over on Newsmax, Greg Kelly said the smoke coming from "woke" Canada was really rather pleasant. What a charming optimist. And Kelly will be glad to know that once the coastline is under three feet of rising sea water, fires are not going to be nearly as big an issue.
It makes sense that Canadian smoke would cross the border, though. Fossil fuels are Canada's top export to the U.S., so now we're also sending along secondary products derived from those raw materials. It's an economic strategy, what they call value-added exports. There was also a recent report of a bear on the streets of Washington. Let's not forget to invoice them for that.
Canada has a dairy industry as well. And what goes well with smoke and the Big Apple? A nice block of cheese. How about Big Apple Wood Smoked Cheddar? Synergy in a brave new world!
You do want to stay indoors when it's so smoky out. Thank goodness for hockey. It's always awkward when smoke season and hockey season overlap, but we should all get used to it. The NHL in fact is way ahead of the curve this year — the 2023 Stanley Cup final, featuring the Florida Panthers and the Las Vegas Golden Knights, is a preview of a coming era where every NHL city will see average playoff temperatures approaching 30 degrees. Hockey equipment stores will be selling flippers and fog lights.
International boundaries are going to become less and less important as time goes on. Smoke needs no passport, and the Statue of Liberty looks pretty similar to the CN Tower and the Lion's Gate Bridge when they are all vague shapes in the haze. With apologies to Ron DeSantis, Disney said it best: It's a small world after all.