What kind of city do Vancouverites want? We envision a Vancouver transformed to be the "Five Minute City."
By this we mean a city of neighbourhoods, each home to locally owned shops and services, public amenities including parks, schools, community centres, childcare facilities, seniors centres and libraries. Neighbourhoods would include a mix of densities including rental or below-market housing units, more closely aligned with incomes, and all within a five minute walk of shopping, work, schools.
How do we achieve this fairly and democratically? That raises another question. Given that housing and transportation have emerged as top contentious issues in the current Vancouver municipal election campaign, how can we renew the city's official community plan and radically improve the urban design process for the benefit of all Vancouverites?
Leaders of Vancouver have long claimed to be striving to make the city one of the world's most livable. But how will we know when we've arrived?
There are five fundamental aspects of great, livable cities: robust and complete neighbourhoods, accessibility and sustainable mobility, a diverse and resilient local economy, vibrant public spaces and affordability. When we superimpose these characteristics on the map of Vancouver, a pattern is revealed of approximately (120) five-minute "walkability catchments" that blanket the city. At each catchment's centre is an existing shopping area (think 33rd and McKenzie) located on a distributed transit network that already exists. There are 110 schools that align with this citywide pattern. A system of parks also reinforces more local recreation and open space enjoyment.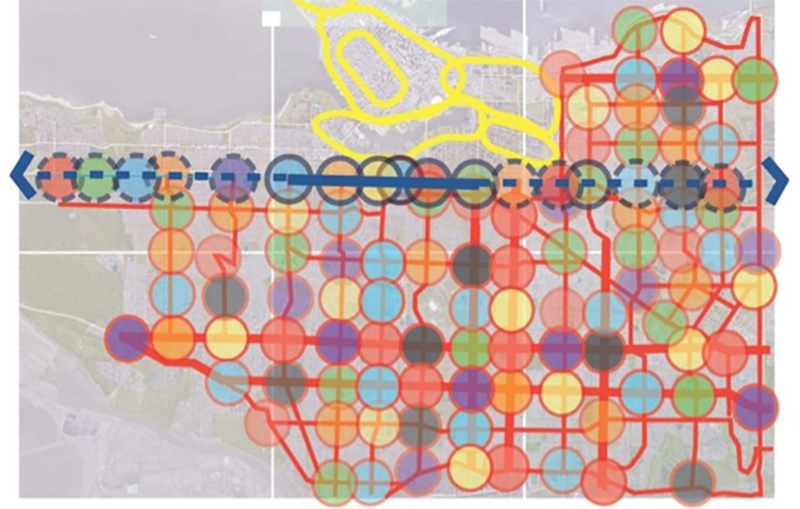 Thus, any successful citywide planning exercise needs to contemplate diversity at the hyper-local level, starting with five-minute walkable catchment areas, combined upward into broader neighbourhoods, and ultimately coming together at the citywide level ensuring livability is a significant consideration for every aspect of running the city. Support for a citywide plan will be conditional on a complete change in how planning is done so that communities have a collaborative role with the city in a process that directs the outcome, starting from conception.
A new way of imagining and planning
The Five Minute City is much different than the one suggested by this diagram, which represents the current planning paradigm: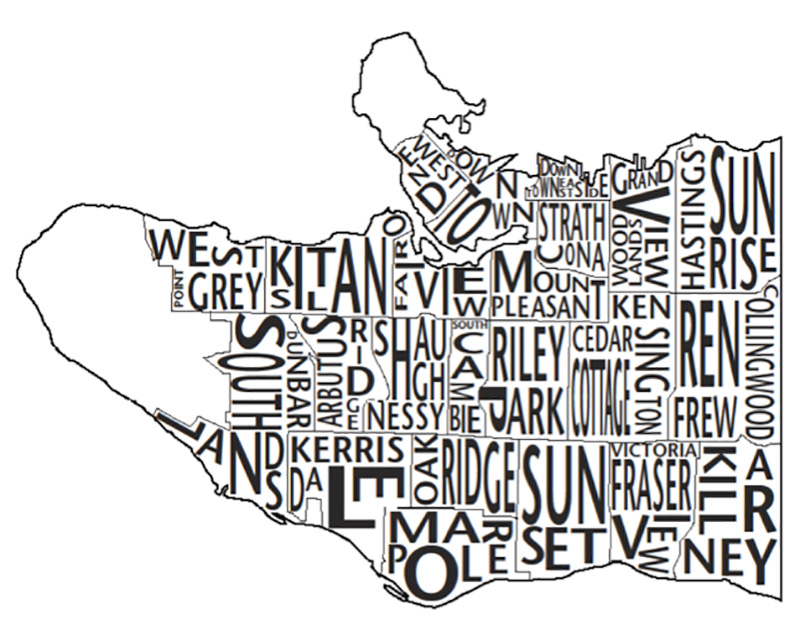 In contemplating the prospect of a citywide plan, we propose a revolutionary approach to organizing the city and consulting with communities to enable Vancouver to become a more affordable, livable city.
The Five Minute City diagram "colours" each of the 120+ catchments differently, symbolizing a hyper-local physical and social context that is much more intimate, connected and socially productive. The Five Minute City would be supported by a regulatory approach that recognizes each catchment's DNA (Distinguished Neighbourhood Attributes) including built form and character, important features, special stores and places, and history.
And it is affordable. The suggested, hyper-local, Five Minute City relies on more intense urban fabric achieved through missing middle strategies, especially in under-performing single-family neighbourhoods. New forms of housing, combined with clear minded economic motivation, has the wonderful potential of producing a more social city that compels compassion through stronger connectivity. Introducing new housing forms on unassembled lots will underpin these connections, enhancing how we care for the young and the old and each other.
Democratizing who plans the city
In order to deliver these desirable community attributes, we should pursue the notion of greater neighbourhood influence by enabling residents to thoughtfully deliberate new urban patterns, and related development proposal impacts, towards reconciling local, citywide and regional impacts of the decisions that elected officials must make. Each hood would be dynamically connected through a civic network that provides real time sharing of insights, ideas and resources.
In contrast to social networks, where people connect with like-minded individuals all across the world, civic networks are online networks that are tied to place-based communities, such as streets, neighbourhoods, schools, stratas, homeowner/renters' associations, and more. Civic networks provide a hub for people to engage with all types of civic-related activities in their community — from providing public input to interacting with neighbours to grassroots organizing. In order to manage the relationship between the public in their neighbourhoods and the public sector broadly including all city departments, the city needs to develop a participatory process that is citizen-centred, based on where people live.
To conduct a legitimate public process, neighbourhood engagement would occur in-person and via authenticated online interaction as a more dynamic and transparent approach to keep residents informed, involved and empowered. Neighbourhoods would be able to more substantively shape housing form, tenure and amenities under the auspices of a citywide plan. At this critical junction, where citizens simply do not trust that their voices are being reflected in development or policy outcomes, it is more crucial than ever to be able to prove that the input that is being considered is coming from the community. From budgets to bike lanes, from parks and recreation to public safety, both decision-makers and community members need to be confident that the feedback used to influence outcomes, especially on controversial issues, is coming from real residents — not from bots, trolls or those with specific economic interests.
The ability to establish online proof of residency and connect participants to their physical location (e.g. residential address) allows for authentic and progressively more in-depth digital connections between individuals and their communities. Once an individual is confirmed as a resident (including renters) within a defined area of interest, they can be kept informed of new initiatives and be notified of opportunities to participate on an ongoing basis — beyond the initial city plan. They can be empowered to collaborate with decision-makers and other community members — to shape the future of the communities where they live, work and play. A governance model that treats citizens as equal partners in decisions that affect their neighbourhoods is the first step towards re-establishing the public's trust in government by providing mechanisms for accountability and transparency.
Directions to Five Minute City
A Five Minute City is about people on the ground, their daily experience, sharing and supporting each other. A Five Minute City helps organize neighbourhoods to generate more social capital by building a shared and relevant future together. A successful citywide planning exercise, building on the previous achievements of the 10-year CityPlan process, needs to identify and reinforce connections at the hyper-local level, combined up into broader neighbourhoods, and ultimately coming together at the citywide level. The strength of community achieved through this sharing will enhance self-reliance, community resilience and intergenerational support for the young and old as well as marginalized populations.
And, in just five minutes of stress free walking, you'll be able to get to most places you want to be.