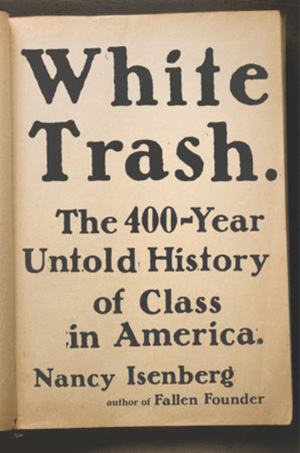 White Trash: The 400-Year Untold History of Class in America
Nancy Isenberg
Viking (2016)
This is a big, important and very angry book. Its enormous documentation makes it inarguable above the level of "Oh, yeah?" It will make readers in the U.S. especially angry, because it throws out the received wisdom of American egalitarianism and democracy, showing their 21st century country to be the creation of 16th century English social engineers.
Perhaps most disturbingly, Nancy Isenberg's White Trash shows how those engineers created the culture in which American classes and races come into endless conflict -- right up to recent police shootings of black men, and the deaths of five Dallas police officers.
Isenberg, a professor at Louisiana State University, makes a persuasive case that 16th century England saw North America not as a source of wealth like Mexico and Peru, but as a dump. Colonization advocates like Richard Hakluyt proposed exporting petty criminals, prostitutes and those who were simply poor, just to get them out of the way.
Hakluyt and his colleagues saw them as "manure," better exploited overseas than costing money in British jails. Their function would be to clear land and push the Aboriginals back. The survivors would breed new generations that could be impressed into the army and navy as cannon fodder.
As Isenberg observes, British and colonial governments usually described poor white settlers in excremental terms. Poor whites were "offscourings," a word for human feces. They were also "squatters" and "crackers" (derived from the expression "crack a fart"). They were human waste, trash -- at best, compost to support worthier people.
Poor whites had formed a kind of slave class in the early years of the colonies, before Africans largely displaced them. They weren't even considered much use. Their children were malnourished and sick. Today we would call them stunted, kept from full physical and intellectual growth by lack of food.
The idea of being "equal" to such people was unthinkable to middle class and landowning colonists. In an economy based on farming, they thought of poor whites (and blacks) as livestock. But while you could selectively breed good horses to produce thoroughbreds, you couldn't breed a thoroughbred out of a sick donkey.
When breeding was everything
"Breeding" applied to the ruling class as well. A "gentleman of breeding" was innately superior to most people, and such gentlemen sought wives from "good families" to ensure the continued superiority of future generations. Women of all classes and races were considered breeders, whose duty was to produce as many children as possible. Black women would breed more slaves. Poor whites would breed more pioneers, to drive Aboriginal people further west and clear the land for the real masters and their numerous superior children.
The Founding Fathers believed in class and race divisions as sincerely as anyone. Equally sincerely, they believed their own class had been bred to rule; "democracy" was a dirty word. Thomas Jefferson, the principal author of the American colonies' Declaration of Independence, supported a vague ideal of "yeomen" farmers, free whites who would support their families on their own land, fight the wars of the ruling class, but never challenge their rulers.
The reality, of course, was a handful of great landowners employing a landless class of poor whites, and not a yeoman in sight. (The great 18th century criticism of slavery was that it undercut poor whites' willingness to do the same work done by slaves.)
The concept of inbred superiority and inferiority persisted through the 19th century, through waves of immigration, a civil war, expansion to the Pacific and rapid technological change.
Democracy only seemed to prove the concept: when landless white males finally got the vote in the first decades of the 19th century, they elected one of their own -- Andrew Jackson, a violent man with little respect for the laws and institutions the Founding Fathers had established.
And inbred superiority is clearly at the heart of American (and Canadian) dynastic politics: the Kennedys, Bushes, Clintons and Trudeaus are all assumed to be apples that didn't fall far from the tree.
Southern slave owners faced their own "white trash" problem when they seceded from the Union to protect their "peculiar institution." Landless whites saw little reason to fight for the rich when they had nothing. The Confederate government even offered a tax break for first-time slave purchasers, to give poor whites a stake in the struggle.
The Anglo-Saxon superman
Unsurprisingly, many American whites were early adopters of Darwinian evolution, which they saw as survival of the fittest. They also liked the idea of the Anglo-Saxons as the fittest of them all, destined to rule over everyone else.
Educated whites therefore welcomed the idea of eugenics, the idea of breeding the best and brightest. Even the U.S. Supreme Court liked the idea, and eugenics laws remained on the books in the U.S. and Canada until well into the second half of the 20th century.
The Depression in some ways saved the poor whites of the south. (Once saved, though, they rejected the idea of Big Government.) The New Deal brought in projects like the Tennessee Valley Authority, which provided thousands of jobs and rural electrification. They continued to vote for entertaining demagogues like Huey Long, but at least they were entering the mainstream as something more than hillbillies.
A key weakness of Isenberg's book is that she fails to explain how poor whites made the transition from the Depression to a postwar America in which they became a major political and economic factor. Perhaps the war itself, and continuing postwar prosperity, sustained poor whites, exposing them to more education and opportunities than their parents had ever seen.
Prospering on stereotypes
Whatever the reasons, their success was clear. They had political clout, supporting segregationist governors and migrating from the Democrats to Nixon's Republicans after Lyndon B. Johnson signed the Civil Rights Act. They also migrated from the south and midwest to California and the southwest. Their entertainers, from Elvis to Dolly Parton on down, were international stars. TV shows from The Beverly Hillbillies to The Dukes of Hazzard to Trailer Park Boys and Here Comes Honey Boo Boo prospered on white-trash stereotypes. So did authors like Harper Lee.
As Isenberg notes, poor whites were able "to refashion the redneck and embrace white trash as an authentic heritage." By the end of the 20th century, Bill Clinton (a white trash Rhodes Scholar) was both president and "Slick Willie," attracting voters by entertaining them with his sax playing and his sexual adventures. Then came Sarah Palin, and now Donald Trump.
But these were all exceptions. Most poor whites settled for regular blue-collar jobs. When the economy became stagnant in the 1980s, they saw their real incomes stagnate also -- assuming their jobs didn't move to Mexico or China. They found themselves competing for jobs with black people.
As Lyndon B. Johnson once observed, "If you can convince the lowest white man he's better than the best colored man, he won't notice you're picking his pocket. Hell, give him somebody to look down on, and he'll empty his pockets for you."
Despite all the scientific evidence for racial equality, millions of white Americans (and Canadians) still cling to the racist, classist ideas fostered over four centuries. After all, it gives them somebody to look down on. To them, the science is just "political correctness"; the truth, to them, is that some races and classes are a threat and need to be controlled -- with violence, if necessary.
Some working-class whites who go into police work bring such an attitude with them and find it often intensified by police culture itself. Hence the tendency of white American police officers to shoot black American civilians in disproportionate numbers: 102 unarmed blacks in 2015, five times the rate of killing unarmed whites. Black hostility to police is therefore predictable.
The current spate of police killings, and the killing of five Dallas police officers by a black army reservist with mental health problems, are also predictable. Isenberg's book, a chronicle of deaths foretold, shows how such violence became not only predictable but a way of life.
What is impossible to predict is a way out of this four-century nightmare.