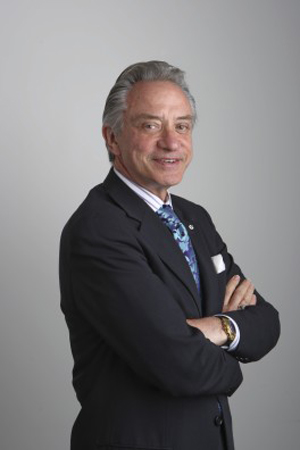 One thing you can say for Canada's press barons: what they lack in concern for the public good, they make up in chutzpah.
Of course our most famous press baron, Lord Tubby of Fleet -- or as people who aren't journalists call him, Lord Black of Crossharbour -- no longer owns newspapers. Or a Canadian passport. But he lives here. And I couldn't help noticing that despite our kindness in giving him a place to land (after he kicked us to the curb in favour of a British title) he now stands accused of stiffing the taxman. To the tune of about $15 million.
That's just cheek. Especially given that we were (stereotypically) polite about the former media mogul's creative business practices. Unlike those Americans, whom he once revered, who tossed his ass in the hoosegow for a couple of years for fraud and obstruction of justice.
But when it comes to gall, the champion has to be Postmedia's Paul Godfrey. His breathtaking audacity was on display earlier this month when he appeared before the Commons Heritage Committee on the state of news media (chaired by Vancouver Centre Liberal MP, Hedy Fry). He asked for more tax advantages, more government advertising, and access to an arts funding program for book and magazines publishers.
That's right: the guy who controls more than 180 newspapers so wealthy they can pay him, alone, $1.7 million needs more government handouts and protections.
I'm not even going to get into the irony of this request coming from a guy who, in a previous life, was the sort of right-wing politician (in Toronto) who railed against arts funding. Nor do I have time to mention that the former Toronto Sun publisher ran columnists who glorified the idea of a free market that favours the most predatory player with the least conscience.
But it is worth mentioning that last year, the Competition Bureau approved Postmedia buying its major competitor, the Sun Media newspaper chain, which contains more than 100 outlets, for $313 million.
The man now controls about 300 news outlets. I'll be blunt: if he can't make a profit off that much property, he's a disgrace to capitalism and should be put out of business, not given more government handouts!
Newspapers made into marketing platforms
Critics often complain that Godfrey earns increasing financial rewards as the newspaper chain is destroyed piece by piece. They have steadily sold the presses and the real estate and laid off the talent since 2010, when they launched Postmedia from the ashes of bankrupt Canwest.
But I think his ever-increasing pay packet tells us that he's doing exactly the job his bosses want: helping U.S. hedge funds strip the Canadian assets for cash.
It's clever. Technically, Postmedia is a Canadian-owned company. Which means it can take advantage of all of our so-called cultural protection laws: a mix of tax advantages and grants. But Postmedia was actually bought with a lot of American money, much of which came in the form of high-interest loans -- about eight per cent. Every time they call a loan payment, Postmedia faces pressure to liquidate an asset and the U.S. hedge funds profit.
But the most important issue in this whole discussion is one that gets almost no consideration at all: what does the word ''newspaper'' really mean? I suspect that when the brazen Mr. Godfrey asks Fry's committee for more public support, he is counting on them to have some romantic, mid-20th century, Woodward-and-Bernstein, speaking-truth-to-power idea of what business he's in when he says the word.
But ''newspaper'' hasn't meant that for some time in Canada -- if it ever did. Certainly newspapers' former role as the watchdog of society has been diminishing in Canada since the concentration of ownership that both the Davey Commission (1970) and the Kent Commission (1981) warned us about.
And at this point, I think it's fair to say that many if not most so-called newspapers are misnamed: they deliver less and less news (as defined by journalists) while filling their pages with ''content'' -- a word that could mean anything from listicles to infotainment to advertising written to masquerade as a news story.
In short, most newspapers have morphed into marketing platforms. Remember Postmedia running front-page ads for the Harper government in the last election? In another era, that would have devalued their product -- the journalism. But since marketing is the now their primary business, not journalism, it was a smart business move.
Demise of the independent voice
But even other newspapers don't realize that ''newspaper'' no long means newspaper. Earlier this month, the Washington Post gave Postmedia's National Post a lecture on journalism ethics and standards, which I'm not quite sure was fair. But it is certainly illuminating.
The kerfuffle began after NaPo's Dustin Parkes, whose job title is ''executive arts producer,'' un-published a critic's review after receiving a complaint from the Canadian Opera Company.
''I really hate running reviews for the performing arts,'' Parkes tells the publicist. ''They simply get no attention online, and almost always end up as our poorest performing pieces of digital content. On the other hand, I really want to give attention to performing arts, especially for the best stuff this country is producing. I think the way to best do this, and get eyeballs on the content as well, is to emphasize the visuals being created, either through photography or video.''
Parkes goes on to wheedle some free tickets to the show, and he and the Canadian Opera's media manager Jennifer Pugsley agree to meet at some future date to discuss the critic's ''baffling'' reviews and look at how NaPo can do more to get ''attention'' for the Canadian Opera. When the goal is getting attention for an enterprise, another word for that is publicity, which is something different from news or independent criticism.
I urge you all to read the full correspondence -- which the publicist sent to the Toronto music blog Slipped Disc -- because it sheds light on how most corporate newspapers now conduct their business.
Personally, I've always been confused over why corporate newspapers think anyone would pay to read marketing bumf, but no one asked my opinion.
They didn't ask the opinion of Washington Post journalist Anne Midgette, either, but being an arts critic, she decided to review the National Post anyway.
Under the headline ''Why a newspaper trashed its own opera critic,'' Midgette explains what was once the accepted view of arts criticism among journalists, and what their readers expected. (But, to be fair, this hasn't been true in many news outlets in Canada for at least a decade.)
''Photography and video are well and good. But running them in lieu of a review is tantamount to simple PR,'' Midgette writes. ''And creating PR for arts institutions isn't a newpaper's, or a reviewer's, job. Informed coverage is: which means reporting on what happened and placing it in a larger context for readers -- with the understanding that, whether you're writing about David Alden's ''Maometto II'' or Bernie Sanders, your coverage is likely to provoke a range of reactions and stimulate debate, and the person you're writing about isn't always going to like it.''
Midgette is speaking as a senior journalist in one of the most respected newspapers in the world. WaPo earns Pulitzer nominations for everything, including its cultural writing.
Real journalism isn't free
The Washington Post is, as we say, a serious newspaper. The National Post, by contrast, is a marketing platform that still runs a little journalism. Some of which is penned by superb journalists, including two of my favourite scribes in the whole newspapering universe -- Andrew Coyne and Terry Glavin -- both of whom delight in providing something to offend everyone. (Long may they publish!)
I'm not knocking NaPo's remaining journalists. I'm saying that only a tiny percentage of what you see in any Canadian ''newspaper'' is journalism -- by which I mean, news and analysis written in the interests of citizens. Not advertisers. Not cronies.
Now, if we want to talk about a way we can use well-established cultural protection funding schemes to do real journalism -- by which I mean public service reporting done by journalist-owned-and-operated newspapers -- then I think that's a discussion worth having. As corporate newsrooms cut the few remaining reporters and replace them with marketing writers, it's going to be increasingly hard for the public to find out what is happening in government and business both.
But, personally, I object when a corporate CEO starts asking for more government handouts to subsidize his billion-dollar marketing business. Especially in the case of Postmedia, which is putting that cash into the hands of U.S. vulture capitalists.
The whole point of our cultural protection schemes was to support small businesses delivering Canadian arts and ideas to the tiny Canadian marketplace so they could compete with big American corporations.
So, to recap: Mr. Godfrey, who earned $1.7 million last year, is trying to convince government to take cash from tiny Canadian book and literary magazine publishers so he can to put it in the bank accounts of those very American corporate interests it was intended to withstand.
That is the very definition of chutzpah. Still, his audacity is so dazzling that part of me wants to award him some sort of prize for being the most outrageous press baron in a country known for producing plenty of them. Well, anything short of a cash prize, that is.
© Shannon Rupp. For permission to reprint this article please contact the author: shannon(at)shannonrupp.com.