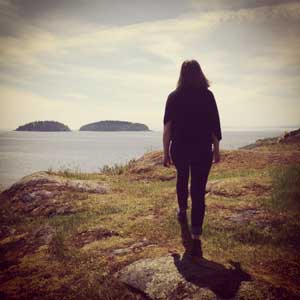 I've been reading Roberto Bolano's Amulet. But this isn't Mexico City, 1968. I haven't locked myself in the university bathroom to avoid soldiers, like the "mother of Mexican poetry." This isn't Ferguson, Missouri, either, where so many have gathered to protest the murder of unarmed Mike Brown. And this certainly isn't Gaza, where, as of a few days ago, 1,948 people have been killed in the recent conflict, with countless more injured and displaced.
This is Canada. It's Saturday morning and I've just finished my coffee. My cat is meowing on the balcony and I'm checking Twitter. I've just urged the Twittersphere, for the third time, to sign a petition telling Prime Minister Stephen Harper to please bring 100 children from Gaza for medical treatment in Canada.
Surprise: I grew up in a political family. I was born in the late 1980s, when pro-corporate conservatives were governing in the U.S., the U.K. and Canada. As a teen, my friends protested the war in Iraq, I wore a "love not war" button on my bag, we listened to Crosby, Stills, Nash and Young, and I had a subscription to Adbusters. That sort of upbringing.
After high school, I went to university to get a Bachelor of Fine Arts in film. My dad encouraged me to follow the likes of Michael Moore, Ken Loach, or at least Ken Burns. Instead I made a coming of age film set on Bowen Island. I didn't want to alienate viewers, I told myself, by troubling them with politics. I wanted to tell stories everyone could relate to.
By then, I had stopped going to protests. I didn't see the point.
In 2011, I signed up to Twitter to watch the Arab Spring unfold. I would sit in my editing suite at school, glued to the feed instead of working, in tears reading tweets about thousands of young people united in protest in Egypt. I was in awe, but kept it to myself. I lived with my boyfriend at the time, and we were more concerned with the state of Canadian art and building a life that included a wooden rowboat and trips to Seattle. I thought that to live a good life and to make art was a form of protest. I continued to go to art shows and keep my politics private.
Meanwhile, rent prices in Vancouver were quickly skyrocketing out of the grasp of ordinary people. We were relegated to the industrial, not-yet gentrified corners of East Van, our beloved underground venues were being shut down one after the other, our supposedly progressive mayor seemed increasingly friendly with condo developers. But my friends and I continued to lead largely apolitical lives.
Watching Though
I'd long since given up on Adbusters, I became aware of a mass protest movement in New York planned for September of that year. When it finally happened, I watched on Twitter as thousands of people gathered to denounce Wall Street corruption and injustice. But the media was silent. Here was a moment to show our political stripes, to unite young people across the world engaging in meaningful change. Yet I saw via Ustream as police chased these New York protesters onto the Brooklyn Bridge, arrested and intimidated them.
From the attic apartment in East Van where I was housesitting, I emailed The Tyee to ask that something be written about this burgeoning movement called Occupy. The editor wrote back and suggested that I write the article. Me, who had kept her politics mum for so many years. Me, who was lost somewhere at the end of a Fine Arts degree. I wrote the article, titled "Big Media Afraid to Take Wall Street Protest Seriously." By the time it was published, little blurbs regarding Occupy had been squished onto the inner pages of a few newspapers, but North America remained largely ambivalent. I don't need to remind you how Occupy grew, how it increased consciousness of the growing wealth gap. Local movements popped up in most major cities in North America. In Vancouver, my sister became deeply involved.
Here's the thing, though. While I wrote the article and attended a few Occupy meet-ups, I remained on the periphery. What I saw didn't inspire me in an overwhelming, all-or-nothing way. Some people wanted housing for the homeless, others fought for First Nations rights and recognition, the list goes on. While I generally supported those things, and while I admired the idea that the movement was leaderless, I didn't do much but occasionally tweet in support of the protesters.
Life went on. I watched in horror as videos were posted of the Maspero massacre in Egypt. I watched as Occupiers tried to sustain momentum. I watched as Stephen Harper was elected once again.
I moved to Toronto and started a master's degree, wanting to find my political voice, and write my thesis on the video collectives that had sprung up to document movements like the Arab Spring and Occupy. I realized, however, that hundreds of academics were already writing about these movements -- they were quickly being swallowed and canonized in the academic sphere. I didn't want to canonize.
Life went on. I watched as somewhere around a thousand protesters were killed in Raba'a Square in Cairo -- Egypt's Tiananmen Square. I watched as the war in Syria raged on. I watched as Harper continued (and continues) his attack on civil society in Canada. I watched as my new mayor became the laughing stock of North America and ran amok in my new city.
Find your voice
It's now summer 2014. I have a good job in my field and great plans for my thesis. I go to the park with my friends and sleep in on the weekends.
But I've changed.
Recently, I attended a rally in solidarity with Gaza. My first protest in years. I held a sign that read, "End Harper's complicity with Israel" and chanted pro-Palestinian slogans with hundreds of others. I met great people who cared about the same things I do. Sure, I remain mostly unscathed by Harper's neoliberal policies, and far, far away from the destruction and bloodshed happening in other parts of the world. I have a comfortable apartment, watch movies, take photos of my cat.
I don't think we need to stop doing any of these things to effect change. We don't need to become rabid political hounds. But we do need to do one thing: we need to vote come Oct. 27 in Toronto, and Oct. 19, 2015 in Canada.
I saw a beautiful thing the other day. People in Gaza were tweeting advice about how to deal with tear gas to protesters in Ferguson. Across the globe, people are coming together to fight injustice. And I'm not just saying that because I wear my progressive politics on my sleeve (finally).
It's inspired me to get back to work here at home. I want to vote in the Toronto election and see good transit and help for the homeless and unwell triumph over conservative policies, or at least over crack smoking. I want to vote in the federal election and make sure that we'll have pensions by the time we're in our 60s, and that corporate taxes finally get an overhaul.
And I want to say something to all of the other young people in Canada who quietly despair over the state of our country, and our world. Your voices are needed. Go to the park, Instagram your pets, or friends, or dinner -- but don't be afraid to stand up for your rights and the rights of others. Don't be afraid to show your political stripes. I wish I'd never stopped.