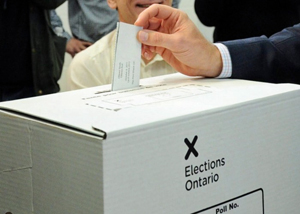 If you believe the polls forecasting the outcome of today's general election in Ontario, a winner is almost impossible to predict. According to a survey by Ipsos Reid released yesterday, Ontario's Liberals, Progressive Conservatives, and New Democrats are within three percentage points of each other in popular voting intentions.
While a clear winner seems unlikely, Ontarians are the losers in all of the likely electoral outcomes. If the polls are reasonably accurate, a party that at least 60 per cent of voters reject will be declared the winner tonight. This party will almost certainly urge its opposition to respect the vote by supporting its flimsy mandate. The next government will take responsibility for a province where seniors who can't afford to retire are working longer, where full-time jobs have been replaced by more precarious employment, where political turfs are sharply divided by geography.
There has never been a better case in Ontario to replace our first-past-the-post voting system -- which is designed to yield a simple majority in two-party contests -- with something that better reflects our diverse needs and priorities. Just don't ask the politicians to change anything: they are too busy fighting for their political lives to fix our fractured system.
Legend of minority cooperation
We have a legend in this province that minority government encourages legislative cooperation. During a 12-year period between 1975 and 1987, Ontario experienced eight years of minority parliament. Former premier Bill Davis, a Progressive-Conservative premier, served for six of those eight years and enlisted the cooperation of the NDP. Liberal premier David Peterson governed for two years with an explicit Liberal-NDP accord. By many accounts, these were times of productive governance in Ontario.
But since former premier Dalton McGuinty secured power with slightly less than half of the province's seats in the 2011 election, we have lived through "Ontario's disheartening experience with minority government," as Globe and Mail columnist Adam Radwanski has described it. McGuinty's opposition complained that he continued to govern as if he had a majority, and refused to seek compromise.
His successor, Kathleen Wynne, has found almost no common ground with her opposition beyond the 2013 budget. When the legislature was dissolved to call the current election, government bills on infrastructure, child care, waste reduction, environmental protection and municipal electoral reform were all scrapped.
We deserve better governance than this, and a system which enshrines the kind of political collaboration Ontario saw in the 1970s and '80s would help. In the 2007 contest that produced Ontario's most recent majority government, the McGuinty Liberals captured 66 per cent of the seats while earning only 42 per cent of the popular vote.
This is the prize awaiting any party that can rise just above electoral mediocrity, and they all know it. In the closing days of the campaign, Wynne, PC leader Tim Hudak, and NDP leader Andrea Horwath have all made loud noises about refusing to work with one another -- collaboration is an afterthought. Under a proportional system where parties' seat count matched their popular support, these divisive stances would be unnecessary and even counterproductive.
Tuning out
Of course this is not news to British Columbians, who have participated in two unsuccessful referendums on electoral reform. This first referendum, which received 58 per cent of popular support, failed because the governing Liberals set the threshold for change at 60 per cent. The second failed in part because supporters of the governing Liberals saw proportional representation as a threat to their power. McGuinty legislated that politicians be barred from campaigning on Ontario's failed 2007 referendum on proportional representation. In the wake of the proposal's defeat, CBC reported that many voters didn't even know a referendum was taking place.
Our politicians are too tied to the current system to give reform an honest chance, and they content themselves with increasingly narrow messages and campaigns. Ontarians appear to be responding by tuning them out: advance polls indicate a six per cent decline in voter turnout, in a province whose turnout fell to a new low in 2011.
Observers of the 2014 campaign have uniformly described an atmosphere of cynicism, disgust and helplessness among voters. Talk of declining one's ballot (and essentially voting none of the above) seems to be more prevalent than usual. Many who vote will do so reluctantly, and many will vote strategically to prevent an outcome rather than supporting a party more aligned with their values. We cannot go on like this.
In the aftermath of tonight's election, we may well be thrust into a new debate about partisanship. Or perhaps at least two of our parties will find some common ground and agree to work together. Either way, concerned residents of our province need to initiate a new conversation about electoral reform. Ontario's recent minority government has proven that leaving cooperation up to the discretion of partisans is a gamble we cannot afford.