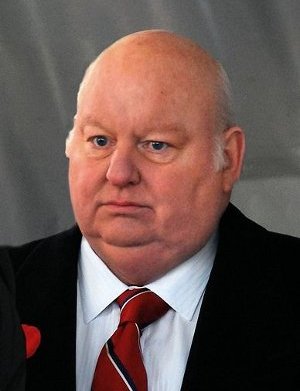 On June 24, RCMP Corporal Greg Horton filed an affidavit in Ottawa. It is 28 pages of single-space text, his detailed reasons for requesting a "Production Order" that will give him the full story of Senator Mike Duffy's public life since late 2008.
It is also the greatest threat that Prime Minister Stephen Harper and his government have faced, a threat they may not survive.
In saying that, I base my argument on what Corporal Horton's meticulous account says about him, the RCMP, and the Government of Canada -- and what it doesn't. As he himself says, "This is an ongoing investigation involving high-level political officials."
For that reason alone, a Mountie (or any police official) needs to have a very solid and detailed case. He describes himself as a 21-year veteran "with experience in major investigations and applications for judicial authorizations. ... I am currently assigned to Sensitive and International Investigations within the National Division of the RCMP, responsible for investigating matters of significant risk to Canada's political, economic and social integrity."
So he knows what's at stake. Horton's own career is very much on the line here. It speaks well for his professionalism and courage (and confidence in his legal case) that he has filed the affidavit at all.
A close reading of the document suggests that Horton himself wrote every word of it, with little or no help from others. It contains several grammatical errors and typos, and he consistently spells "publicly" as "publically." But he is clearly a cop, not a copy editor; these errors do not detract from his evidence, which he has meticulously footnoted.
One statement he does not footnote: "This investigation commenced in March 2013...." That is long before the Senate recommended the RCMP look into the matter, and Horton tells us he was following the news stories: "Because of the extensive media coverage, and the mandate of the National Division, I commenced this investigation in preparation of the release of the Deloitte reports."
The media called the cops
So it was not some aggrieved senator or Senate bureaucrat who called the cops; it was the media. And throughout the early part of his affidavit, Corporal Horton creates a detailed timeline of events based chiefly on media reports. He then focuses on specific topics, such as the Deloitte Report, which analyzed Duffy's activities and whereabouts at times when he claimed to be on Senate business, and Duffy's own expense claims.
These claims, Horton explains, were among the records on a CD he received from the Senate on June 10. It also included Duffy's yearly declarations of primary and secondary residence for 2011 and 2012; a May 28 report of the Clerk of the Senate, summarizing the Senate's findings after a review of his expenses; and copies of all Duffy's expense claims submitted during the 18 months under question.
Based on the CD's records, Horton lists 10 incidents when Duffy filed "Senate business" expenses when he was campaigning in the 2011 election or simply on vacation in P.E.I. or Florida. He goes on to say: "All of the above expenses are part of the named offence of Breach of Trust."
He also cites the Report of the Clerk of the Senate where Ms. Proulx had stated that Duffy's NCR claims while he was in Florida were "not an isolated incident," and that they formed a "pattern that raises concern."
In the section of the affidavit dealing with Nigel Wright and the $90,000 gift to Duffy, Horton drops several bombshells:
-- that Senator Irving Gerstein, controlling a Conservative fund made up of donations from supporters, was willing to pay $32,000 to cover Duffy's costs but refused to pay $90,000;
-- that Wright gave Duffy the money on two conditions: pay the money at once, and "stop talking to the media about it";
-- that "Wright and Duffy knew each other, but were not friends";
-- that "Some people within the PMO were aware of the arrangement, but Prime Minister Harper was not";
-- that Wright "recalls that he told the following people [three PMO officials and Senator Gerstein] that he would personally provide funds to repay Duffy's claimed secondary residence expenses"
Breach of Trust and Frauds against Government
Paragraph 45 of the affidavit sums up three allegations against Senator Duffy:
-- Breach of Trust related to his Ottawa housing allowance;
-- further Breach of Trust related to fraudulent per diem expense claims; and
-- Frauds on Government relating to his accepting the $90,000 from Wright.
Breach of Trust is covered under paragraph 122 of the Criminal Code. Frauds on Government are covered under paragraph 121.
Hence the request for a Production Order for copies of many more documents, relating to Duffy's claims from Dec. 22, 2008, (when he was appointed to the Senate) to June 1, 2013.
These include statements of residence and billing statements for Duffy's Senate-issued American Express corporate travel credit cards and mobile phones, as well as system generated reports of all expense claim payments made to Duffy since 2008 and all repayments Duffy may have made since then. Corporal Horton also wants "A copy of a cheque issued to the Receiver General of Canada, from Senator Mike Duffy, for a value of $90,172.24."
If Corporal Horton gets his Production Order (and a Sealing Order to keep all these items from public view during the investigation), that investigation is likely to be catastrophic for the Harper government, and for Stephen Harper himself.
Even while the investigation is under way, the media will still be free to dig into the subject, and to seek answers to some very important questions:
-- What was Mike Duffy not to speak to the media about? And, if Duffy and Wright weren't friends, why did Wright consider it necessary to pay Duffy but not the other Conservative senators with expense-payment problems? Who made that selective decision?
-- Did anyone else in the PMO, beyond those Nigel Wright "recalls" telling, know about the $90,000 gift to Duffy? Did anyone else in the Senate or Conservative caucus know about it?
-- If Duffy's expenses in retrospect were found unwarranted, why were they not flagged as such at the time?
-- What is Duffy's present tax status, given that he has not yet paid out of his own pocket for the $90,000 he was given for unwarranted expenses?
-- Are other Senators' expenses coming under similar scrutiny? If so, who are they and why?
What did Harper know and when did he know it?
The most important questions have to do with Prime Minister Stephen Harper and his role, if any, in this affair. The senators involved in the expenses scandal are his appointments; so are the officials in the PMO who were aware of Wright's payment, and of course Wright himself. So what does this say about Harper's own judgment?
It's a tradition that political appointees will sometimes take the fall for misdeeds done in their bosses' names. Will Harper's people risk five years in jail for any crimes found to have been committed? Or will they save themselves by implicating their boss?
As the scandal has unfolded, Harper and his spokespersons have retreated behind a smokescreen of talking points: First Duffy had shown "leadership" in paying back the $90,000. Then Nigel Wright had "honourably" paid his "friend" to protect the taxpayers. (If it seemed preposterous that we were ever in danger of having to subsidize Duffy ourselves, it came to light on July 4 that, indeed, Conservative Party operatives were ready to pay Duffy's tab with taxpayer-supported campaign funds, before the size of the $90,000 bill made them balk).
And on Saturday, July 6, Harper was quoted as saying "when I answered questions about this in the House of Commons, I answered questions to the best of my knowledge."
In effect, Harper has claimed innocence by claiming ignorance of what was happening on his watch, in his own office.
Corporal Horton, in paragraph 33 of the affidavit, notes that Duffy's administrative assistant has said "it was possible that he is being blamed for her errors." But Horton goes on to say that Duffy himself signed his expense claims; "any errors on her part does not absolve him of responsibility."
As with Duffy, so with Harper. His personal responsibility becomes a crucial issue. Ministers are responsible for their departments and their staff; a serious error or misdemeanor by their people means their own resignation.
The prime minister himself is responsible to Parliament, which means having the confidence of a majority of its members. Given the situation described by Corporal Horton's affidavit, that majority may not last for Stephen Harper. He has been the Conservatives' greatest asset. Now he may be their greatest liability.